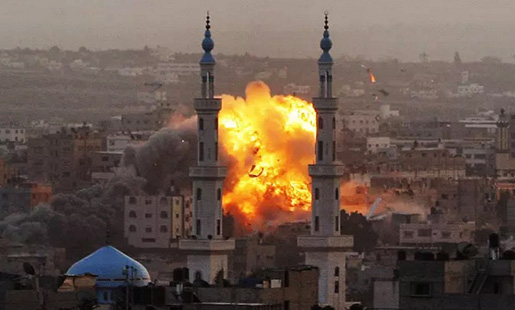 WASHINGTON – In a speech for the American Israel Public Affairs Committee (AIPAC), Democratic presidential contender Bernie Sanders said Monday that "peace [between Israel and Palestine] will mean ending what amounts to the occupation of Palestinian territory, establishing mutually agreed upon borders, and pulling back settlements in the West Bank."
AIPAC is not used to hearing such messages from political candidates.
It is the world's premier pro-Israel lobbying group. It supports and helps direct Israeli policy. It insists that Israeli control of Palestinian lands is a "peace keeping" measure, not an occupation. And, most important, most AIPAC participants tacitly support encroaching on Palestinian territory with more and more anti-Palestinian settlements.
Every four years, AIPAC invites all U.S. presidential candidates to speak at its annual policy conference, which is being held here this week. Conference participants expect the candidates to outdo each other in blind support of the policies of Israel's right wing premier, Benjamin Netanyahu.
Except for Sanders, this year's crop of candidates did not disappoint the AIPAC audience.
Hillary Clinton pointed to her long record of unwavering support for Israel and promised that as president she would be a "steady hand" in continuing the pro-Israel policies of the U.S.
Donald Trump was, of course, the most bellicose candidate. He pledged that "we will move the American embassy to the eternal capital of the Jewish people, Jerusalem."
This would be seen as an act of war and would be in violation of a long-standing United Nations resolution. Both Israel and Palestine consider Jerusalem to be its "eternal capital." To keep the peace, the U.S. embassy is currently located in Tel Aviv and the Palestinian Authority maintains its offices in Ramallah.
However, Trump implied that as president he would not necessarily honor any UN measure.
"The United Nations," he said, "is not a friend of democracy. It's not a friend to freedom. It's not a friend even to the United States of America, where as all know, it has its home. And it surely isn't a friend to Israel."
After Trump, Ted Cruz implied that Palestine had no right to exist and "didn't exist until 1948."
Cruz believes that the Second Coming will take place only when an apoplectic war takes place after Jews gather in "Armageddon," which he believes is located in Israel.
Not to be outdone, John Kasich reversed his position on the multi-national, anti-nuclear arms deal with Iran. Unlike every other Republican presidential hopeful, Kasich had not pledged to "rip up" the agreement on his "first day in office." But at the AIPAC event he called for suspending it in response to what he calls Iran's "violations."
On the other hand, Sanders said "I do not accept the idea that the 'pro-Israel' position is to oppose the [Iran] deal.
"If successfully implemented — and I think it can be — the nuclear deal will prevent Iran from obtaining a nuclear weapon. And preventing Iran from getting the bomb makes the world a safer place."
Sanders is the only presidential nominee candidate to have actually lived in Israel.
He could not attend the AIPAC conference because his priority was to campaign in Arizona, Utah and Idaho in advance of the primaries taking place there Tuesday, March 22.
AIPAC rejected his offer to address the conference through a remote hook-up, but Sanders delivered his speech anyway – in Arizona. It was widely carried by the press.
He said, "It is absurd for elements within the Netanyahu government to suggest that building more settlements in the West Bank is the appropriate response to the most recent violence. It is also not acceptable that the Netanyahu government decided to withhold hundreds of millions of shekels in tax revenue from the Palestinians, which it is supposed to collect on their behalf."
Sanders continued, "When we talk about Israel and Palestinian areas, it is important to understand that today there is a whole lot of suffering among Palestinians … Gaza unemployment today is 44 percent and we have there a poverty rate which is almost as high."
He called upon Israel to end its economic blockade of Gaza and to institute "a sustainable and equitable distribution of precious water resources so that Israel and Palestine can both thrive as neighbors."
Sanders stressed that peace "…will require compromises on both sides."
He said "I believe it can be done. I believe that Israel, the Palestinians and the international community can, must and will rise to the occasion and do what needs to be done to achieve a lasting peace in a region of the world that has seen so much war, so much conflict and so much suffering."
A sustainable peace, Sanders concluded, must include "security for every Palestinian. It means achieving self-determination, civil rights, and economic well-being for the Palestinian people."
Photo: Smoke rises in an explosion from an Israeli strike in Gaza City. Bernie Sanders took issue Monday with what he described as Israel's "overreaction" with its attacks on Palestinians in Gaza. | Hatem Moussa/AP