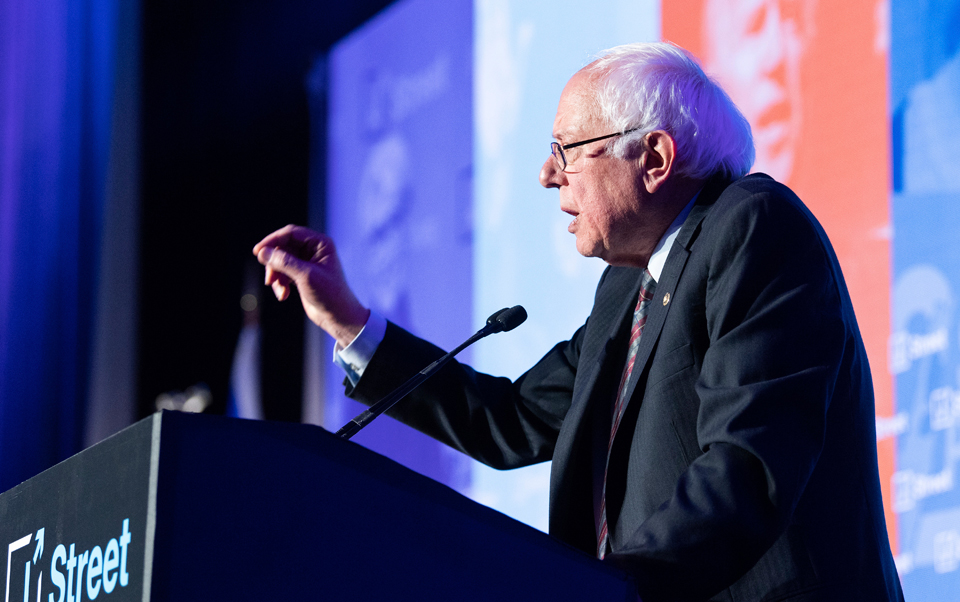 WASHINGTON—The avowed Jewish contender for next year's Democratic presidential nomination, Sen. Bernie Sanders, would use U.S. aid to Israel to force the Israeli government—when Israel forms one—to negotiate with the Palestinians, leading to a two-state solution of the long-running conflict.
Sanders received a thunderous welcome on Oct. 28 from some 4,000 attendees at the annual conference of J Street, the progressive, pro-democracy, pro-peace counterweight to the notoriously right-wing American Israel Public Affairs Committee (AIPAC).
J Street is also a counterweight to AIPACs political favorites, the equally notoriously right-wing Israeli Prime Minister, Benjamin "Bibi" Netanyahu, his Likud Party, and U.S. President Donald Trump and his fellow right-wing Republicans.
The Vermont Independent's warning came as he and three other Democratic presidential contenders—Sen. Michael Bennet of Colorado, former Housing Secretary Julián Castro, and South Bend, Ind., Mayor Pete Buttigieg—answered questions from two expert panelists. Castro opposed annexation of Palestinian territory and said he would condition U.S. aid on that issue.
Bennet mentioned his grandparents and mother are Jewish, though he lists himself as "unaffiliated" on surveys of lawmakers' religion. He said he would look at a wide range of factors before conditioning aid, including whether U.S. strings could boomerang in Israeli politics by strengthening the right.
Sanders declared he's proud to be Jewish and that Jews, of all peoples, have the best and greatest reasons to stand up for peace, against xenophobia and racism, and for a two-state solution. Sanders's father's family were murdered in Hitler's Holocaust.
Then, marching around the stage, Sanders went after Netanyahu and Trump.
"I believe absolutely in the right of the Israeli people to live in peace and security" in their own state. "And I also believe in the right of the Palestinian people to live in peace and security" in their own state, Sanders said. And after openly stating "it is not anti-Semitism to say the government of Netanyahu is racist," Sanders lowered the boom on using aid to Israel as leverage.
"We spent $3.8 billion in military aid" to Israel in the last fiscal year, he declared. "And we have the right to say we will not accept racism or totalitarianism—and that we demand the Israeli government sit down and negotiate an agreement in the interests of all people in the area. $3.8 billion is a lot of money."
It's also the largest amount of U.S. military aid to any nation.
Sanders got a roar of approval.
Netanyahu and Trump have basically trashed the two-state solution to the decades-old Israeli-Palestinian conflict.  Trump also undertook moves that further alienate the Palestinians.
They include turning a blind eye to Netanyahu's attempt to degrade Israeli Arab citizens, including Palestinians, into second-class status—or worse. Trump also moved the U.S. Embassy in Israel to the western section of Jerusalem, while closing the East Jerusalem U.S. consulate that provided diplomatic relations with the Palestinians.
And Trump's envoys openly support Bibi's continued "settlements" of right-wing Israelis on the West Bank and in East Jerusalem, areas scheduled to be part of the Palestinian nation-state, along with Gaza.
Sanders denounced all those Trump moves, too, and said he would undo them. He did not say when.
Check out these other recent People's World stories:

> How Donald Trump killed hope for a Palestinian state

> Jewish Americans and Israel/Palestine: Pressures and fissures heading toward 2020

> Netanyahu fails to form a government after Israeli election—What happens now?
"What Trump has done is disgraceful," said Sanders, while admitting the Palestinian Authority (PA), which runs the West Bank, and which won a 2007 election there, has problems with corruption. Hamas, branded a terrorist group by both the PA and the U.S., was elected in 2007 to run Gaza.
But to make sure he got his point across, Sanders said that as president, he would immediately convert some U.S. military aid dollars to Israel into humanitarian dollars for Gaza. "My solution is to say to Israel, 'If you want military aid, you have to change your relationship with the people of Gaza.'"
At 141 square miles, Gaza now houses two million Palestinians, and it would also become part of the Palestinian nation-state. Now, Israel controls Gaza's commerce, water, and electricity; the Israeli Air Force and Navy blockade Gaza; and jobs are hard to come by. Sanders estimated youth unemployment there at 60-70% and overall joblessness is 43%. Gaza is also semi-arid and has little in natural resources.
Trump came in for his share of Sanders's criticism, too, and not just for backing Netanyahu and tweeting that Jews who vote Democratic are anti-Israel. "If there is any people who should fight against Trump's divisiveness and racism and hatred, it is Jews," Sanders said, without mentioning the past results of such hate upon Jews, up to and including the Holocaust. With the J Street crowd, he didn't have to.
And Sanders pointed out that being Jewish "may be helpful" in changing what his questioner called "the toxic and cynical conversation" about Israel in U.S. political circles. Making support for Israel partisan "is what Bibi has done and Trump has done," Sanders explained.
"But look at these two leaders," Sanders said with a smile. "One's going to be impeached" (Trump) "and the other (Netanyahu) will wind up in jail." Israel's attorney general has already indicted Netanyahu on multiple corruption counts.
"And if anyone doesn't think there's not a coordinated effort among the wealthy and powerful authoritarian leaders"—Sanders named Trump, Netanyahu, Hungary's Viktor Orban, and Russia's Vladimir Putin—"you don't know what's going on." Their coordination must be met with a worldwide progressive movement, the senator asserted.
Sanders also reminded the crowd that he voted against Republican President George H.W. Bush's Middle Eastern war in 1991, and President George W. Bush's Iraq War in 2003, though he said "there is no magic bullet" to help eliminate terrorist groups.
But, Sanders said, he told his Senate colleagues during debate on the second war that launching it would only breed more terrorism—a prediction that has since come true.
Besides Sanders, other speakers included Saeb Erakat, the lead Palestinian negotiator in the now-dead talks for a two-state solution, and Ayman Odeh, leader of the 13-member Joint List of Arab parties in the 120-person Israeli Knesset (parliament). The Joint List is the third-largest bloc in the Knesset and no party has a majority.
Netanyahu, whose Likud has 32 seats, tried twice to get to a 61-seat coalition and failed. Former Israeli Gen. Benny Gantz, whose Blue and White coalition has 33, is trying now. Odeh said nine of the 13 Joint List lawmakers will vote for Blue and White, but will not join the government. The Communist Party of Israel, which is majority Arab Israelis, leads the Joint List.