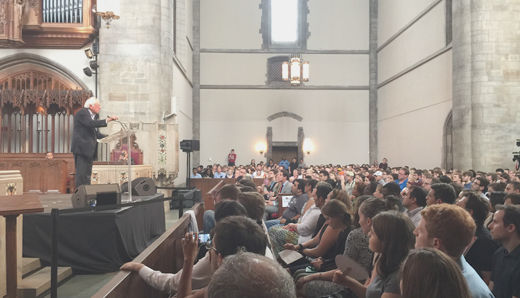 CHICAGO – Presidential candidate Bernie Sanders made a brief appearance at the University of Chicago on Monday to address the congregated student body in Rockefeller Chapel. The event itself, squeezed between a tight Iowa campaign schedule and a pressing vote in the Senate, was ticketed entry and resulted in a standing room only crowd.
David Axelrod, famed Democratic strategist and now Director of the Institute of Politics at the University of Chicago, introduced Sanders by running down his accomplishments at U of C and beyond. He noted that Sanders took part in the first sit-in for desegregation of housing at the University of Chicago.
"I think about the many many hours that I spent in the basement of Harper Library reading everything, except books that I was supposed to read for the next day," Sanders shared, arousing knowing giggles from the predominately young crowd.
The first part of the speech was broadly themed around the progress that the United States has made in the areas of women's, LGBT, and civil rights since Sanders' walked for graduation in that very chapel back in 1964. After that brief look backwards, Sanders shifted gears towards talking about his policies for the future in his trademark campaign style: paid family and medical leave, expansion of Medicare, and the fight for public elections.
"As a result of the disastrous decision in the Citizens United case, the American political system has become totally corrupted," Sanders proclaimed. The gathered mass responded in cheers of affirmation at his use of no uncertain terms.
"I cried. That was the first time I've cried for a good reason. There's plenty of politicians that have made me cry for other reasons," said Katherin Wuthrich, a life long resident of Chicago. She was impressed by Sanders' willingness to take on the fundamental issues like campaign finance reform without a Super PAC to back him up.
"I've been following him ever since the 80s when he worked on Jesse Jackson's campaign," said Carolyn J. Ruff, another long-time resident of Chicago, but she was aware that many in her community have not.
"A lot of white people know who he is, not African Americans. That's why I'm trying to introduce him to the African American community." She went on to say that she hopes that she will be able to get Sanders to address her church congregation at Trinity United Church of Christ in Chicago.
Ruff was not the only person who spoke to People's World to relate a hope that Sanders would begin to expand his campaign stop schedule into more diverse communities, specifically working class communities of color.
Photo: Patrick J. Foote/PW