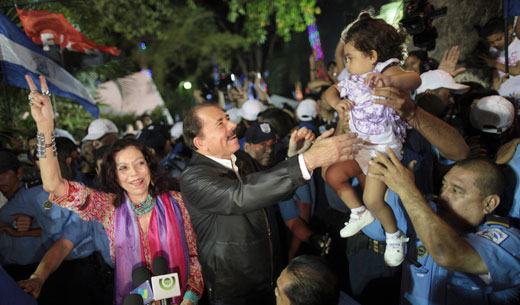 Nicaraguans lined up last weekend to cast their ballot in the nation's first presidential election since the Supreme Court abolished term limits in 2009. The Sandinista National Liberation Front (FSLN), which in 1979 led a revolution that toppled the U.S.-backed Somoza dictatorship, won a landslide victory in the largest nation in Central America.
The Supreme Electoral Council reported that 62.66 percent of the nearly 2.5 million voters who turned out in Sunday's election voted for Daniel Ortega, followed by the center-right candidate Fabio Gadea at 31.13 percent. FSLN deputies also consolidated their majority in the National Assembly with 60.76 percent of the votes, and the Central American Parliament with 60.86 percent.
This year's election marks Ortega's second consecutive win, and third term as president of one of the least developed countries in the Western Hemisphere. Much of FSLN's support stems from the large working class, which has benefitted from Ortega's economic policies. Since returning to power after 16 years in the opposition, the Sandinistas have enacted laws expanding access to health care, housing and education, lifting many out of poverty.
President Ortega's victory was the latest chapter in the region's debate over the appropriateness of term-limits in a democracy. Critics say the Supreme Court's decision to strike down term-limits was unconstitutional and could pave the way for the former Cold War revolutionary to become "president for life." Ortega's close ally Hugo Chavez will also run for a third consecutive term next year after a constitutional referendum which made it possible was approved by the electorate in 2009.
The Sandinistas' close ties with Hugo Chavez have been strengthened by the country's membership in the left-leaning regional trade bloc, the Bolivarian Alliance for the Americas (ALBA). Assistance from Venezuela in the form of loans and subsidies has helped boost Nicaragua's economy, which, in 2010, grew by 4.5 percent. Cuba, which is also a member of ALBA, frequently sends doctors to treat poor patients in Nicaragua.
Criticism of the electoral process has mostly come from opposition leaders and Western observers. Fabio Gadea, the radio personality who came in second place, has called the election fraudulent. Deputy Foreign Minister Orlando Gomez pointed to the Organization of American States (OAS), which has accepted the results of the election as legitimate. It attributed any irregularities to flaws in the electoral system that were in place before Ortega was elected in 2006.
Deputy Assistant Secretary of Central America Julissa Reynoso said, at Tuesday's assembly of the Organization of American States, that the U.S. State Department is deeply concerned over Nicaragua's electoral process. He cited "procedural irregularities" and problems voters faced in obtaining voter identification, even as state lawmakers in the U.S. use similar tactics to attack voting rights.
Republican Rep. Ileana Ros-Lehtinen (FL-18), chairwoman of the House Foreign Affairs Committee and sympathizer with the right wing Cuban-American lobby, wrote to Secretary of State Hillary Clinton that she is "gravely concerned" over the elections in Nicaragua. In the letter, she urged the State Department to "condemn the recent actions by Daniel Ortega to manipulate the democratic institutions of Nicaragua to serve his own authoritative aspirations."
Photo: Nicaragua's President Daniel Ortega and his wife Rosario Murillo, left, greet supporters after delivering an address to the nation in Revolution Square in Managua, Nicaragua, Nov. 8. (Esteban Felix/AP)