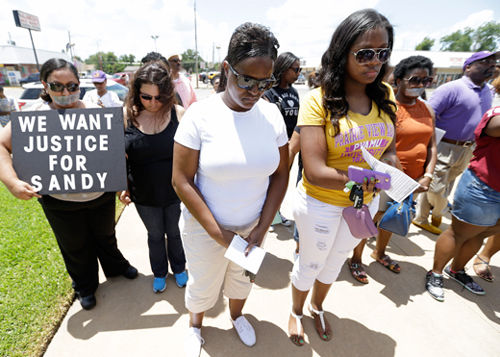 I wrote for PW some time back about the cops stopping a car I was in back during my college days in Odessa, Texas. I recalled the verbal humiliation and threats that the cops issued toward the gay men I was with, and the insulting remarks they directed at me. One of the gay men lost it, practically groveling; however, my friend Big Richard yessirred like I did but he kept his chin up. It marked a certain triumph on his part. He didn't give the police the pleasure of seeing him cry.
None of us felt able that night to show the courage it took Sandra Bland to speak up for herself. Some in the media have called her combative, yet the cop's behavior toward her was mercurial, abusive, and frankly racist. She had the choice of yessirring like so many of us do. Groveling to avoid a fine. She stood up to the cop, which enraged him. Threatening to "light her up" with a taser-would he have done that to a white man or woman of means? I doubt it.
I'm proud of her for taking a stand I was too afraid to take when I was nineteen. It is a tragedy that she was physically attacked for her courageous stand. Although she may well have been an emotionally fragile person, we do know that she didn't have a large bankroll or the connections to easily escape her predicament.
The evidence thus far proffered by Waller County is indicative of suicide, but who in reality killed Sandra Bland? Answer: Waller County, the state of Texas, the system that prefers to punish the poor over the wealthy, badge-wearing vigilantes like Brian Encinia, and, finally, the insidious, soul-damaging pressure all of this places on ordinary people.
When Sandra Bland, a stranger to the trooper, a fresh transplant to Texas from Illinois, is seen as nothing more an irritant and a target, as well as a source of funds for the county, that system is sick and in need of a radical cure.
Justice for Sandra Bland will come too late for her. For us, the living, who have seen far too many cases like hers, we can respond to the tears she cried in jail and the fears she felt while sitting behind bars.
We can't afford to be fearful any longer. If we helplessly agree to unjust searches and seizures, we may or may not escape maltreatment by law enforcement, but in a sense we're agreeing that they're allowed to do this.
We don't agree that they have carte blanche to tear through our homes and order us not to take legal actions in our cars.
We no longer assent to their legalized thefts; we no longer bow down. Law officers must accept that we are their equals, no matter what leeway the Supreme Court gives them on the Fourth Amendment's guarantees against unreasonable searches and seizures and the Court's weakening of probable cause.
When we are peaceful, when we are law-abiding, nothing more is required of us as citizens. No more bowed heads and groveling before the would-be tin pot dictators who rule our streets.
Some day a court case may rein in abuses by law enforcement. Some day organized dissent will change the system that allows cases like that of Sandra Bland to occur.
Let's make that "some day" happen sooner rather than later. Sandra Bland's family, bereft of their loved one, needs to know that she didn't die in vain.
Photo: Protesters outside the Waller County Courthouse after a march from the Waller County Jail in Hempstead, Texas, July 17, to protest the death of Sandra Bland, who was found dead in the jail. Waller County District Attorney Elton Mathis said there were no cameras in Bland's jail cell to show if the Illinois woman hanged herself in the lockup as a medical examiner has ruled. Her relatives and supporters dispute the finding. (Melissa Phillip/Houston Chronicle via AP)