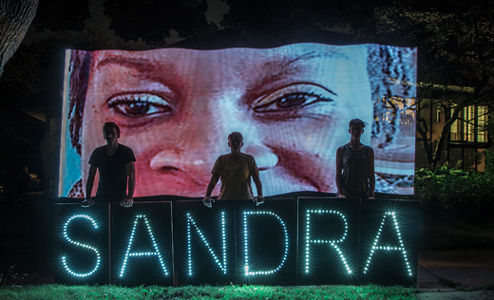 Waller County's law enforcement officials continue to give their spin to the jail suicide of Sandra Bland.
The Illinois native was arrested July 10 in Texas after a verbal confrontation between her and trooper Brian Encinia turned violent when he slammed her to the ground.
Preliminary results of her autopsy have been released. Marks around her neck were consistent with suicide by hanging, Waller County prosecutor Warren Diepraam said in a press briefing. Some lacerations or abrasions were found on her wrists, which Diepraam described as being consistent with a struggle while being handcuffed. There was also bruising to deep muscle tissue in Bland's back, consistent with the officer having his knee there, as seen in eyewitness footage of the incident.
Sandra Bland supposedly was high on marijuana, according to Waller County District Attorney Elton Mathis. Mathis reportedly said in a text message to an attorney representing the Bland family that the autopsy results and toxicology made it appear "she swallowed a large quantity of marijuana or smoked it in the jail."
The flaws in that statement are many: Bland would have been searched before being placed in jail, and she was being kept in solitary confinement. Furthermore, marijuana lingers in the body for weeks after consumption, but its effects last only a few hours.
Given the amount of time she had already spent in jail, from Friday to the Monday morning she died, it seems unlikely that she would have been high at the time of her death. Finally, marijuana, which is legal in a number of states, although not in Texas, produces a mellow state that rarely on its own incites violence by the user nor does it typically produce in one suicidal thoughts.
As for the reason why she was in jail in the first place, the stated reason continues to be murky.
As seen in the eyewitness video, Bland believed she couldn't be ordered out of her car during a routine traffic stop.
However, according to the U.S. Supreme Court in Pennsylvania vs. Mimms, even for a traffic violation, a police officer can order a driver to get out of their car-without that order violating the Fourth Amendment's ban on search and seizure. Even so, a reason must be given for giving such an order.
The trooper had a warning in his hand, not a citation, which means his stated reason for the stop could not be used as an excuse to order her out of the vehicle.
The trooper plainly didn't like Bland's forthright defense of her civil rights. He defined her behavior as being combative, which in Texas counts as resisting arrest, despite the lack of physical contact at that point. In Texas, you can be prosecuted for resisting arrest even if the actual arrest was illegal.
Jim Harrington, director of the Texas Civil Rights Project, told the Texas Standard that the trooper didn't have the right to tell her to put out the cigarette, and that telling her to get out of the car, combined with his brandishing of the taser, escalated the confrontation.
LaVaughn Mosley, who says Bland left him a voicemail after her arrest indicating she was "at a loss for words" but not hinting about suicide, said it is all a shame-especially her death.
"Here is a young black female who was on her way to being successful," Mosley said. "I don't know what happened in that jailhouse, but obviously something went terribly wrong."
Texas Rangers and the FBI are investigating. The county district attorney has said the matter will be turned over to a grand jury for consideration later in the summer.
Photo: Sandra Bland is Her Name. Light Brigading