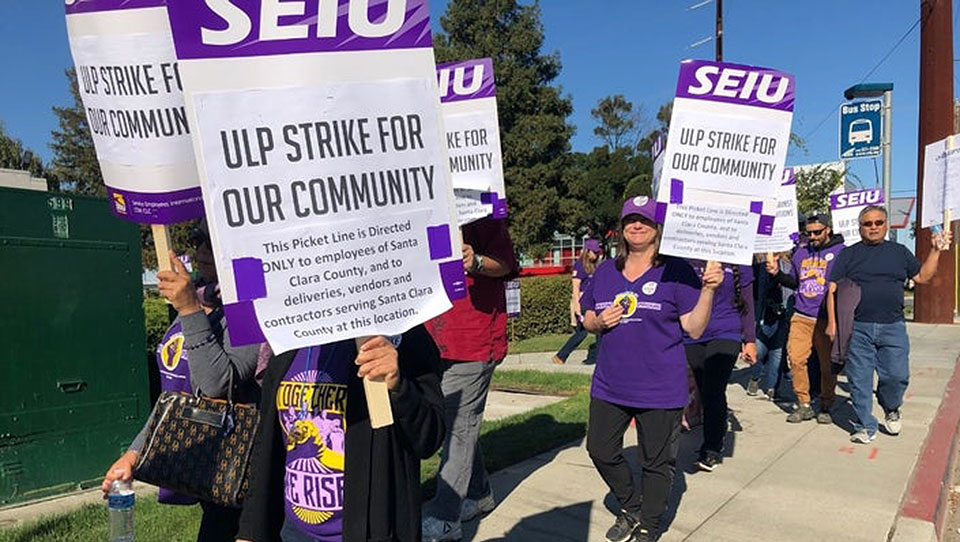 SAN JOSE, Calif.—The chant "What do we want? Contract! When do we want it? Now!" rang out over Valley Medical Care and other healthcare and social service facilities in Santa Clara County on Oct. 3 as SEIU Local 521 workers entered the second day of a strike. The workers, however, are concerned with much more than their contract; they are charging the County with unfair labor practices for restructuring the delivery of social services without bargaining with the employees who do the work, in the process harming the community that depends on those services.
Among other issues, the union charges that the County's plan to "relocate" the San Jose Family Resource Center actually amounts to a shutdown, cutting off access to the center's programs for those who most need it.
Santa Clara County CEO Jeff Smith has tried to frame the dispute as centered solely on wages, complaining that the County cannot afford the increases the union is demanding. The issues raised by the union, however, go far beyond wages to concern for the welfare of the residents that the County serves.
In addition to the relocation—or closure—of the Resource Center, the union's concerns, according to Valerie Pickering, a social worker supervisor, include mandatory overtime and unpredictable schedules for social workers. Pickering said that social workers often work 10-hour days, on top of two-hour commutes due to the astronomically high housing costs in the region; such schedules make it impossible for these workers to work effectively, impacting the quality of services that residents receive. The union is demanding a study to evaluate appropriate workloads and address the poor conditions endured by social workers and their clientele.
The strikers have received strong support from local elected officials and from the local labor movement. San Jose Councilmember Sergio Jimenez joined the strikers at a rally Wednesday and said, "What I want to express is simply this: We need the county leadership, the Board of Supervisors, Jeff Smith and everyone else involved to come to the table to negotiate and find a solution that is mutually beneficial to everyone."
"It really takes moral courage to give up pay and be out here on the picket line, not just in support of yourselves and your families, but in support of the whole community," South Bay Labor Council Executive Officer Ben Field told strikers that same day. "That's what this strike is about. And because this is about community, the entire labor movement is here to back you up on this picket line and on every picket line in this community."
This writer, following the Labor Council's call to come out to the picket line, found himself warmly welcomed and the strikers in high spirits, ready to continue the strike to a fair conclusion.