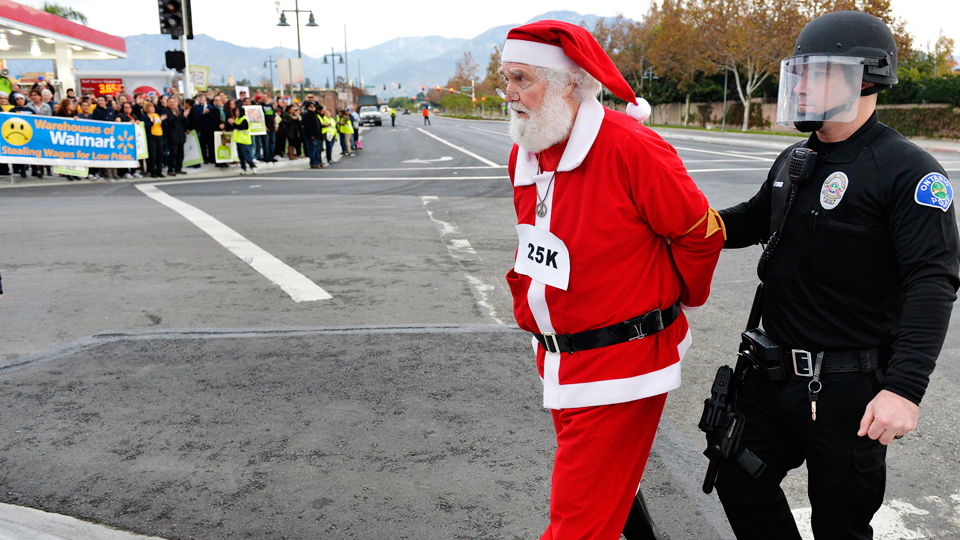 WASHINGTON, D.C. — As part of its 2017 holiday campaign, Making Change at Walmart (MCAW) will launch a nationwide series of strike actions at Walmart stores led by Santa Claus. The Santa Claus strike actions, which will be held in 13 cities across 11 states over the coming three weeks, will demand that Walmart bring back holiday pay for its 1.5 million workers.
Today's kick-off "Santa Claus on Strike" event will take place near a local Walmart in Phoenix, where Santa Claus and his holiday helpers will make all Americans who love Christmas aware of Walmart's "no holiday pay" policy.
"Santa Claus on Strike" actions will take place near Walmart locations over the next three weeks in areas including Las Vegas, Seattle, Portland, Cincinnati, and Memphis, as well as other cities and towns across America. The "Santa Claus on Strike" effort will also include targeted digital and social media, as well as a new holiday-themed targeted paid TV media campaign.
"Santa Claus is on strike for one simple reason, it's time Walmart do the right thing and provide holiday pay for its 1.5 million hard-working men and women—the same holiday pay it used to provide in 2015 before it decided to 'Grinch' it's workers," said MCAW director Randy Parraz.
"To be very clear, this initiative is about more than Santa Claus and Christmas, it's about the values that the holidays represent and which Walmart has chosen to ignore."
The "Santa Claus on Strike" actions are the second phase of MCAW's six-week holiday initiative that highlights Walmart's "war on the holidays." MCAW's holiday campaign has included grassroots events at Walmart stores, targeted public ads, aggressive social media, and outreach to civic and community leaders, all with the important goal of having Walmart end its policy of refusing to provide holiday pay to its workers.
"Walmart earns millions of dollars from not paying its workers holiday pay—this is wrong and it must stop. The extra pay millions of other American workers earn during the holidays makes a difference, and Walmart workers deserve no less," concluded Parraz.
MCAW is a campaign of the United Food and Commercial Workers International Union and is aimed at making Walmart into a more responsible employer and improving the lives of its workers.