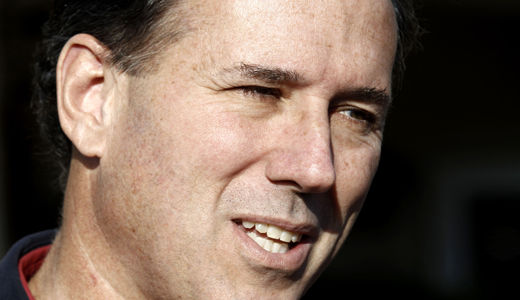 After verbally assaulting the EPA and insulting workers' intelligence, GOP presidential candidate Rick Santorum has set his sights on a new target: struggling African-Americans.
In what he claims to have been a tongue-tied moment, Santorum aimed a verbal low blow at Black people, and in the process, a racial assumption about people who receive welfare.
"I don't want to make black peoples' lives better by giving them somebody else's money," he said. "I want to give them the opportunity to go out and earn the money."
The word supposedly in question was 'Black,' with Santorum insisting that word was misheard. "I'm pretty confident I didn't say 'Black,'" Santorum argued during an appearance on John King USA. "I started to say a word – blah – and then sort of changed it; mumbled it and sort of changed my thought."
Despite his defense of the remark as a mistake, few, if any, seem to be buying his claim that he intended to say "blah people."
NAACP president Benjamin Todd Jealous, hearing "black people," not "blah people," called the comment "inaccurate and outrageous," and noted that "[Santorum] conflates welfare recipients with African-Americans, though federal benefits are in fact determined by income level."
Moreover, when CBS News looked into the statistics regarding the racial composition of food stamp recipients in Iowa; only nine percent of them were found to be Black while 84 percent were white.
Also noteworthy is that Santorum's original excuse for his supposed slip-up was that he had recently seen the film Waiting for Superman, which analyzed the U.S. education system through the eyes and stories of numerous students and their families. Notably, the students represented several races, not just African-Americans.
However, in his initial defense of the 'Black' remark, Santorum seemed unaware or unwilling to address that when he said, "Yesterday I talked about a movie called, um, what was it…'Waiting for Superman,' which was about Black children, so I don't know whether it was in response and I was talking about that…"
Later, when Santorum gave his second explanation of meaning to say 'blah,' he made no further reference to that film. It also took him three days to clarify that he supposedly meant 'blah' in the first place.
Photo: Winslow Townson/AP Photos