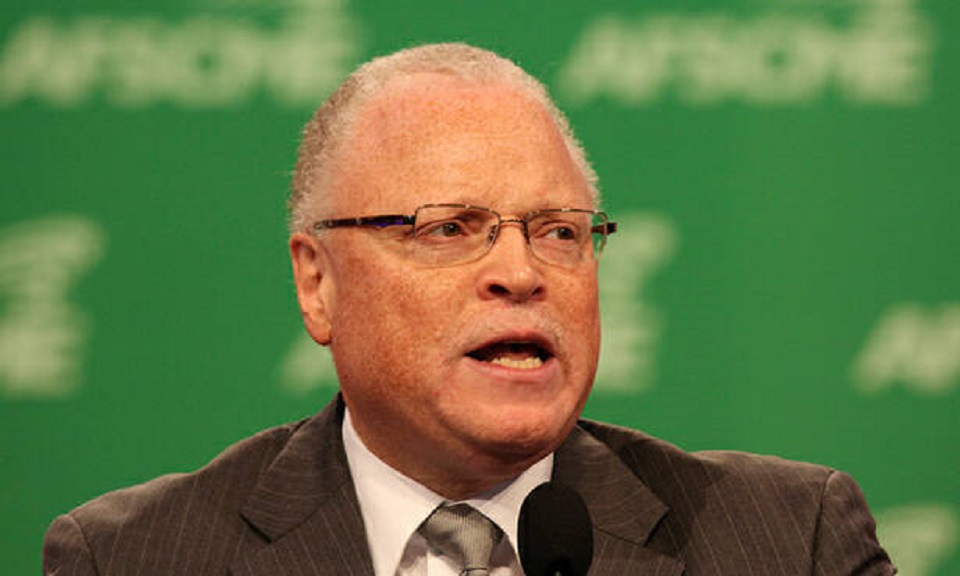 WASHINGTON—The State, County and Municipal Employees union is working its way back from the huge cuts in local and state jobs the coronavirus (Covid-19) pandemic imposed, union President Lee Saunders says.
And, he adds, the governors, mayors and county officials he regularly talks with and works with desperately seek workers to fill thousands of vacancies. If they find them, that could benefit AFSCME.
Saunders reviewed that state of his union, which now has 1.4 million members, in an informal walk-and-talk with several reporters at a small reception on the top, private floor of a D.C. bar.
He explained that when the five-justice Republican-named majority ruled in the Janus case that every single state and local worker in the country could become a "free rider," commentators expected AFSCME and other public worker unions to take a big hit or worse.
The right-wing foes of unions, of course, rooted for a collapse in worker power. It didn't happen. If anything, at least in the private sector, union numbers are growing as workers used newfound strength to fight back against exploitation by unionizing, leaving for better jobs, or both.
Saunders said AFSCME weathered Janus because the union prepared in advance, going to a million members on a nationwide listening tour. It used responses to adjust its goals and tactics.
But then Covid came along and state and local employment crashed just as demand for those workers' services skyrocketed. "The pandemic hit and we lost more than a million public service jobs nationwide," union and non-union, Saunders said. Not all have returned.
Even after two years of recovery from the depths of the Covid-caused depression, the public sector is still short 362,000 jobs, compared to February 2020, the last pre-Covid month, federal figures show. Two-thirds of the gap is in state colleges and universities and at local schools.
But the workload hasn't shrunk, even as the virus has receded. "So our members are under tremendous stress" to make up the added work missing colleagues otherwise would shoulder.
Thus AFSCME is trying to help the mayors and governors out by a new outreach program, going to high schools and colleges and urging students "to look at the civil service system and to consider the importance of public service."
That initiative, and others, are part of a multi-year effort the union has just launched to make civil service once again attractive, this time to Gen Z and following generations. And AFSCME is touting the union role in that attraction by pointing out that, unlike non-union shops, private or public, organizing and unionizing "gives the workers a seat at the table" on decisions affecting their lives.
The other prong for obtaining that seat at the table is politics, so AFSCME canvassers are talking about that year-round, too, he explained. They're again coming at it by asking questions.
AFSCME's canvassers want to know "What's important to you?" he said. That engages people, and the canvassers record the answers, before showing how the union could help.
But to get the freedom to do so, even in hostile states, requires political activism, canvassers emphasize. And that's where electoral politics, from city hall and county courthouse up to Congress and the White House, comes into play, said Saunders, who chairs the AFL-CIO's Political Committee.
"We had numerous local races we were involved in," both for the U.S. House in 2022 and in this year's off-year elections, Saunders said. He particularly singled out the two highest-profile 2023 races nationally—the Chicago mayoral contest and the bitter battle to seat a progressive judge as the swing vote on the state Supreme Court in the key swing state of Wisconsin.
AFSCME canvassers hit the streets for Chicago mayoral contender Brandon Johnson, a Chicago Teachers Union member and Cook County Commissioner, and for Wisconsin Judge Janet Protasiewicz, whom state union leaders backed. Right-wingers opposed both. Both won.
Before that, in 2022, "we hit the trifecta"—total progressive, pro-worker control of governors' chairs and legislatures—in four more states: Maryland, Massachusetts, Michigan and Minnesota. Though Saunders didn't say so, results from those triumphs are already occurring.
Michigan's first totally Democratic-run legislature in 40 years repealed GOP-passed right to work laws and re-elected Gov. Gretchen Whitmer (D) signed repeal. Maryland, with a new Democratic governor, expanded worker protections, though a bill for the right to organize all county community college faculty members statewide stalled in committee, postponing it until next year.
If something works, keep doing it, Saunders says. "We've got to continue that" type of effort "all across the country," and he expects next year the entire labor movement will do the same when—not if—Democratic President Joe Biden runs for re-election.
Saunders also discussed the new "I Am Story" union podcast, at www.iamstory.com. It features interviews of Memphis, Tenn., workers, plus civil rights leaders, union organizers—including retired AFSCME Secretary-Treasurer Bill Lucy—and religious leaders about the 1968 sanitation workers strike in the Tennessee city. The workers, seeking respect on the job, safety, better pay and an end to racism, launched the famed "I AM A MAN" campaign. They wanted to join AFSCME.
That strike in the Deep South brought Dr. Martin Luther King Jr. to Memphis emphasize a point many people who now deify King forget: "Economic rights are civil rights," as Saunders put it.
White nationalist James Earl Ray murdered Dr. King there 55 years ago, changing the country. The rights linkage is forgotten. The need for unions protecting workers in Memphis and elsewhere is still present, though. More evidence surfaced in Memphis just before Saunders's D.C. walk-and-talk. "A sanitation worker—not one of our members—was killed on the job today. And the workers walked off the job," he said. "We're committed to continue to campaign for justice."
We hope you appreciated this article. Before you go, please support great working-class and pro-people journalism by donating to People's World.

We are not neutral. Our mission is to be a voice for truth, democracy, the environment, and socialism. We believe in people before profits. So, we take sides. Yours!

We are part of the pro-democracy media contesting the vast right-wing media propaganda ecosystem brainwashing tens of millions and putting democracy at risk.

Our journalism is free of corporate influence and paywalls because we are totally reader supported. At People's World, we believe news and information should be free and accessible to all.

But we need your help. It takes money—a lot of it—to produce and cover unique stories you see in our pages. Only you, our readers and supporters, make this possible. If you enjoy reading People's World and the stories we bring you, support our work by donating or becoming a monthly sustainer today.