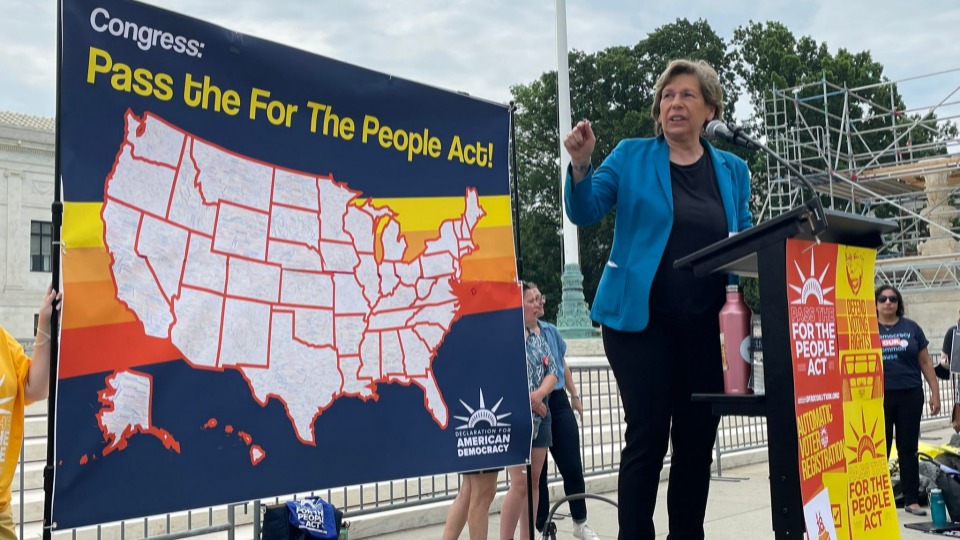 WASHINGTON—With a parade of progressive speakers, including Democratic Sens. Elizabeth Warren, Sheldon Whitehouse and Raphael Warnock, declaring U.S. democracy is in peril, a mass rally on Capitol Hill on June 9 opened a big final push to convince senators to pass the For The People Act.
But in a sign the efforts might fall short, even before the speakers orated for almost three hours in D.C.'s high heat and humidity, senators upheld a threatened GOP filibuster against a pro-worker measure, the Paycheck Fairness Act, to ensure equal pay for equal work.
Both independents and 47 Democrats lined up for equal pay, which the House previously passed. Sen. Kirsten Gillibrand, D-N.Y., missed the 6:42 pm vote on June 8.
All 50 Republicans opposed ensuring women get equal pay for equal work, and the measure needed 60 votes in the 100-member Senate to shut off the GOP threat. The For The People Act (HR1/S1) may face the same fate when Senate Majority Leader Charles Schumer, D-N.Y., brings it up at the end of June. The House passed it on a party-line vote on March 3.
Which is why hundreds of people, organized by a large coalition, gathered across the street in front of the Supreme Court to launch the latest campaign. It will continue from now through the end of the month with phone banking and text messaging. Details are at mobilize.us or via groups. They also unrolled a petition for the bill, with 200,000 names.
The key, however, is to get every Democrat on board. That includes holdout Sens. Joe  Manchin, D-W. Va., and Krysten Sinema, D-Ariz. He represents a deep-red state and openly opposes the measure—and abolishing the filibuster to get it passed. She's from a swing state and is uncommitted so far.
The solution to passing the bill by bringing them around, Communications Workers Secretary-Treasurer Sara Steffens, a News Guild member, said in an informal talk before she spoke, is "to keep the pressure on."
"Inaction is simply not an option," Steffens said in her talk. "If not us, then who? If not now, then when?" asked first-year Rep. Mondaire Jones, D-N.Y., a new member of "The Squad" of progressive lawmakers of color.
"This is urgent. This is a 9-1-1 fire," even in deep-red Kansas, said Democratic Rep. Sharice Davids. "If we don't do this now, we won't have a democracy."
That's because one of the many anti-democracy moves the GOP is writing into state laws around the U.S. would enshrine gerrymandering, where politicians "choose their constituents and not the other way around," she added.
"Already, we've got folks who are scared about being freely able to cast their ballot," said Davids, a Native American and the only Democrat in the Kansas delegation. The heavily GOP legislature "has been quite explicit about" gerrymandering her out of office and depriving her Kansas City-area voters of their voice.
And that's the point of the For The People Act's many provisions—ensuring voters keep their voice, and not have it drowned out by special interests, Republicans afraid they can't win if everybody votes. One speaker noted foes include the white nationalists who invaded the Capitol Jan. 6.
Besides mandating nonpartisan redistricting commissions, it would renew and strengthen the Voting Rights Act. It also would bring right-wing "dark money" from corporate special interests into the open, encourage small-money donations, ease registration and voting—including early voting and absentee voting—and ban all the voter repression moves the GOP enacted, aimed at women, youth, voters of color, and workers.
"The Koch Brothers," right-wing multibillionaires, "are investing millions" in their campaign to kill the For The People Act, HR1/S1, said Ben Jealous, head of the NAACP. "And their own political strategist said a few days ago that 'We shouldn't talk about what's in the bill,'" when opposing it. "Even Republicans support what's in the bill," the strategist added, referring to opinion polls of rank-and-file voters, including a large majority of GOP voters.
Steffens told the crowd CWA "has been fighting for these reforms for more than a decade." Details of CWA's drive are on the union's website.  "We have seen corporations take more and more control over our lives by flooding our elections with money and drowning out our voices," she declared.
It's even more essential to pass the legislation now, because the workers who are getting disenfranchised are a large share of the essential workers who kept the country going during the coronavirus pandemic.
"Now is the time to recognize that essential workers are essential to our democracy. That's what the For The People Act is all about: Restoring power to America's working families." Getting "big money out of our political system…will ensure we have a democracy" that reflects workers' concerns.
"I'm a social studies teacher," said Teachers (AFT) President Randi Weingarten, the other union leader who spoke. "The same forces trying to oppress the vote are trying to silence what social studies teachers are trying to teach their students" about voting rights and civil rights.
"The people are about to be robbed of their voice. The people are about to be robbed of their vote. The people are about to be robbed of their democracy.
"Are you willing to stand up and be heard?" she challenged. "Are you willing to march on Congress every day? If we do that, we will cross that bridge" to freedom and protection of the right to vote "that Sen. Warnock talked about—and save democracy."