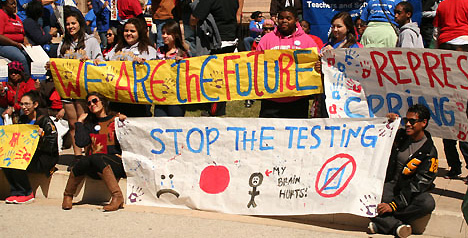 About 3,000 school workers and their allies rallied at the Capitol in Austin March 11. Buses came from all over the state. Many of us thought it was even larger than the recent big pro-school rally earlier during this legislative session.
Participants began their activities with individual visits to their representatives. We were bumping into one another all through the main building and the extension. Our message was to restore the $5.4 billion underfunded by the previous legislature two years before. We also asked for fair treatment for retirees, smaller class sizes, less emphasis on standardized tests, and an end to constant efforts to undermine public education with vouchers, charter schools and privatization schemes.
Rally with and for Texas students
The Texas Federation of Teachers, state affiliate of the AFT, organized a big rally on the South Capitol steps for that afternoon. State Senator Wendy Davis, whose singlehanded filibuster last session delayed the education cuts, was the first speaker. She accused Comptroller Susan Combs of a "colossal bad job" in estimating available funds by $8.8 billion during the previous session. Her underestimation gave anti-school politicians steam in their efforts to make giant cuts that ended up raising class sizes and causing 25,000 school layoffs before the present session began.
Labor weighs in for schools
President Becky Mohler of the Texas AFL-CIO addressed the need to protect school workers' pensions from larcenous Texas politicians. She said that certain politicians wanted to set up "sink-or-swim investment accounts" rather than letting the Texas Retirement System continue to provide defined-benefit pension plans. "If it ain't broke," she said with apologies to grammar teachers, "don't fix it!" Such risky schemes against pensions are rampant in the private sector.
Savage attacks and brilliant defenses continue in the legislature
Attempts to undermine and do away with public education in Texas continue daily. Coincidentally on the same day as the teachers' rally, the United Union Labor Committee registered opposition to four anti-school bills. One of them would provide an "alternate system of governance" that would do away with state regulations on class size, certification, and other important standards. Another would allow certain activist parents to circumvent the democratic processes of school districts in order to shut down schools or substitute different management. Two others would use state tax money to strengthen private and charter schools.
At the same time, the minority Democrats in the Texas Legislature have put forward a large number of progressive bills. The labor committee endorsed 15 positive bills that would protect the schools, help the students, and extend the rights of school employees. Some of the bills would provide for improvements in pre-kindergarten efforts along the lines of those recently approved in a San Antonio election. They would also de-emphasize standardized tests and re-emphasize education in Texas.
Photo: Jim Lane/PW