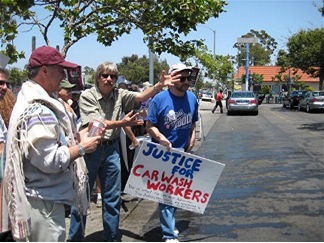 It was just another summer backyard barbeque. A few veggie patties followed by a few burgers on the grill. Some drinks. Some salads. Maybe a couple dozen people. There were neighbors, several community activist types, a couple of clergy and a handful of other religious folks, plus a few workers from a local hotel and some iron workers. Wait, who?
Yes, the gathering was called together by CLUE – Clergy and Laity United for Economic Justice – in a supporter's back yard. We met to share some summer food, deepen our friendships and to mark some victories that might otherwise go without notice – benchmarks that shouldn't be forgotten so quickly.
One victory involved a Santa Monica hotel. Workers there secured a "labor peace agreement" with management that protects some basic worker rights. Employees can now post signs about the benefits of a union knowing they will not get torn down and destroyed. They can hold meetings on-site rather than needing to meet secretly somewhere else. They can talk with other workers about seeking a union contract without fearing retaliation through demotions or terminations. Beyond those rights, they have won something no one else in the country can claim: The arrangement specifically includes "contract workers" – employees who work at the hotel through a temporary employment agency.
This last part of the agreement is particularly crucial. More and more companies – especially hotels, although this practice is not limited to the hospitality industry – hire so-called "temporary" workers through an agency not owned by the employing company. Although the workers may be employed at the same location for years, they have no rights, are seldom included in a labor contract, usually have no health care, and can be terminated at the whim of the employer. They actually "work for" the temp agency, even though they are told when to work and what to do by a hotel or other employer. The victory in Santa Monica shifts the role of workers from virtual serfs to respected employees.
Hotels are not the only workplace to see new rights for employees. Down the street and around the corner stands the first car wash in the nation to sign a union contract. That occurred three years ago. This year Bonus Car Wash workers signed their second contract with management, and according to both workers and managers, everyone is happier, business is stronger and they are moving forward as a team.
Now comes another victory for the car wash and its workers. Just this summer the City of Santa Monica chose Bonus to wash the city's vehicles. This is not a huge contract, but it is significant. It demonstrates that a city can choose to contract for services with a business that pays its workers a decent wage and treats them with respect. Most car washes can't legitimately claim that. Instead, employees complain of bounced checks – or no checks – as well as no health care coverage or even a rest room break.
A third victory has involved iron workers. These guys place and tie off rebar for reinforced concrete at big construction sites. They work for subcontractors who seldom get the careful monitoring that larger contractors receive. Dangerous working conditions and irregular paychecks make for egregious practices at many work sites. So, delegations of workers, faith leaders and community activists have met with several developers and general contractors to make them aware of these problems. In meetings I have attended, our group assumes that these employers would not want this behavior on their job sites if they knew about it. It turns out our assumption is usually accurate. In this case, two developers and a general contractor agreed not to allow one particular company that practices and perpetuates unjust working conditions to work on their projects.
Of course, these victories did not happen just because a bunch of religious folks showed up to press an issue of justice. They did not happen because a union targeted a worksite. They did not happen just because a few community activists took on a problem. These victories were possible because all those people worked together, including people not in that backyard sharing barbeque.
Some of those absent were elected officials – members of Santa Monica's City Council and school board – who saw the justice in these concerns and worked behind the scenes with staff to help employers understand the issues at stake and make something happen that would have been lost along the sidelines. Whether they were present or not, it was a barbeque for victories that we can all share and celebrate together.
Reposted from Capital & Main with permission. The original publication can be found here: Capitalandmain.com
Photo: Capitalandmain.com