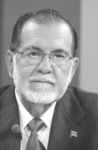 Tributes from around the world flooded in to the Frente Farabundo Martí para la Liberación Nacional (FMLN) last week on the death of Schafik Jorge Handal, a distinguished revolutionary leader in El Salvador.
On Jan. 24, Handal collapsed and died of a heart attack at Comalpa Airport in San Salvador on his way home from the inauguration of Evo Morales in Bolivia. He was 75.
Schafik Handal was born in El Salvador on Oct. 14, 1930, the son of immigrant Palestinians from Bethlehem. From a young age he was involved in the struggles against U.S.-installed military dictatorships in his country, eventually becoming the general secretary of the Communist Party of El Salvador.
Like many of his compatriots, he was detained, tortured and eventually exiled. He returned to the country clandestinely, and in 1980 he helped form and became one of the leaders of the FMLN, a national liberation movement.
After a 12-year civil war, in a stalemate between the U.S.-backed Salvadoran military and the FMLN, Handal participated in the signing of 1992 Peace Accords. He then went on to lead the FMLN in making the transition from a guerilla force to a left political party.
Handal was elected to the country's Legislative Assembly in 1997. In 2004 he ran for the nation's presidency. He was defeated in that race by the candidate of the U.S.-backed, right-wing ARENA Party, whose campaign was aided by Bush administration threats to cut off economic aid to El Salvador if Handal were elected.
Handal was an internationalist. He was solidly supportive of the Cuban revolution and all progressive movements in Latin America. He was a man of principle; he was a revolutionary. His death is a great loss to El Salvador, Latin America and all progressive peoples throughout the world.
Compañero Schafik Jorge Handal, presenté!