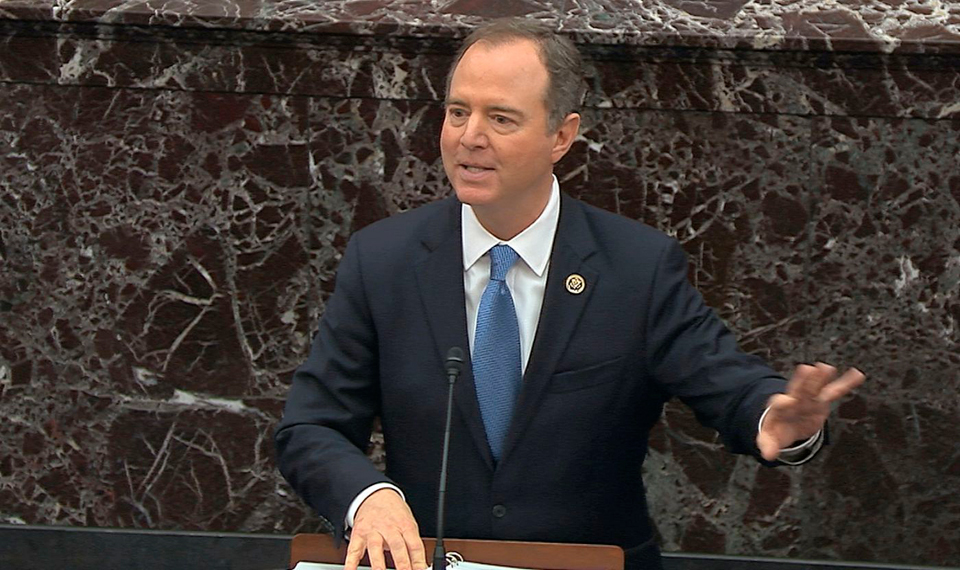 With the words "If right doesn't matter we're lost" the chief House impeachment manager, Rep. Adam Schiff, D., Calif., ended a day of testimony in the Senate chamber yesterday where lawmakers proved conclusively to anyone listening that President Trump is guilty of abuse of power.
Unexpectedly, at the very end of the day Schiff, in his closing remarks, blasted apart the argument so many in the GOP are making: "Yeah he probably did all these things but we have an election in less than a year so why remove him from office now?"
Schiff said he had to be removed because he is dangerous to the country and can do immediate and irreparable harm to the nation.
He insisted, with power and emotion, that "right matters" and "we're lost" if we find that the president has done what he is accused of but we nevertheless say it is not a serious enough crime for him to be removed from office. That, he said, would be tossing aside the truth and saying that "right" does not matter.
"If right doesn't matter—if right doesn't matter, it doesn't matter how good the Constitution is. It doesn't matter how brilliant the Framers were," he declared.
"Doesn't matter how good or bad our advocacy in this trial is," he said, choking back tears. "Doesn't matter how well written the oath of impartiality is. If right doesn't matter, we're lost. If the truth doesn't matter, we're lost."
He challenged further the argument that many are making that guilt in these situations is not serious enough for removal from office.
"President Trump cannot be trusted to do what is right for this country.
"You know he can't.
"You know this.
"He'll only do what is right for himself.
He fought back tears again as he called upon the senators to remove Trump from office.
"This is why, if you find him guilty, you must find that he should be removed," Schiff concluded. "Because right matters, Because right matters. And truth matters. Otherwise, we are lost."
Against Schiff's appeal complaints coming from GOP lawmakers and Trump himself yesterday and today look petty and irrelevant to the historic choice facing both the Senate and the American people.
In a Twitter tirade this morning Trump complained that his lawyers will not be able to present evidence until Saturday when Americans, rather than watching the Trump lawyers on TV, will be going about their regular weekend business.
"After having been treated unbelievably unfairly in the House," wrote the president who obstructed the House investigation every step of the way, "and then having to endure hour after hour of lies, fraud & deception by Shifty Schiff, Cryin' Chuck Schumer & their crew, looks like my lawyers will be forced to start on Saturday, which is called Death Valley in T.V."
The rules for the trial were, of course, set by Trump's own acolytes who hold the majority in the Senate.
Once the Democrats finish their case tonight the Republicans will have the same 24 hours to mount their defense. It is almost impossible to imagine that they will need anywhere near that much time because they have yet to present a shred of evidence proving his innocence. Their entire arguments thus far have not challenged Trump's guilt but have instead attacked the impeachment process.
Republicans in the Senate have virtually promised the nation already that they will ignore the evidence and, despite his guilt, let the president off the hook. How happy will Trump be knowing that most Americans and most of the world, in fact, understand that he is really guilty? As House Majority Leader Nancy Pelosi said recently: "Trump is impeached forever."