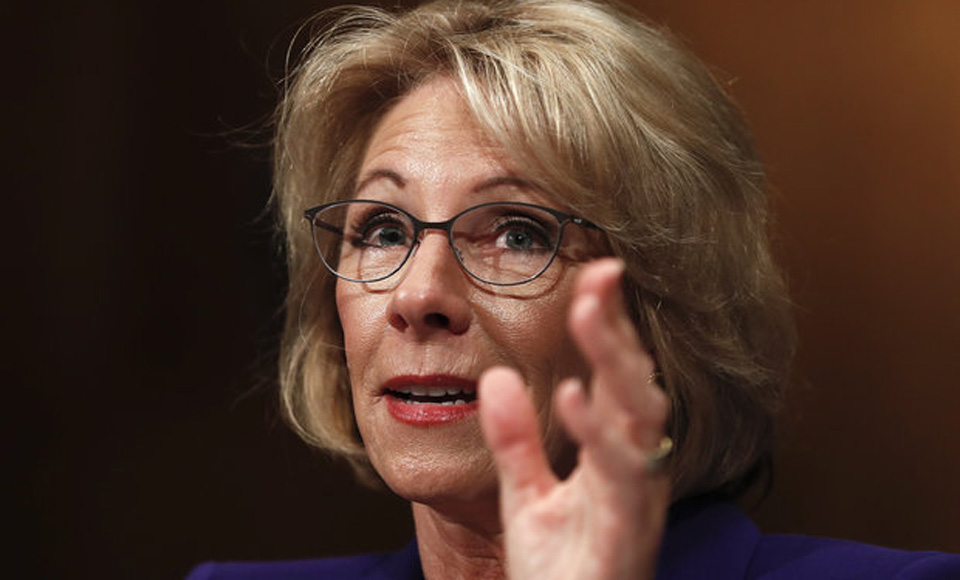 WASHINGTON (PAI)—The School Administrators, the AFL-CIO and AFSCME joined the mounting opposition to GOP President Donald Trump's nomination of Michigan billionaire Elizabeth "Betsy" DeVos to be the next Secretary of Education. They specifically cite DeVos' campaign to provide taxpayer-paid tuition vouchers to parents of private school students.
But the unions' opposition, plus that of more than 100 Detroit parents and students who crowded into the Senate hearing room where DeVos testified on Jan. 17 – to show how DeVos imposed a charter school plan that fails Detroit's students – apparently did not derail the panel's GOP majority. Led by Committee Chairman Lamar Alexander, R-Tenn., it seems determined to ram the DeVos nomination through on a party-line vote. He set no date, though.
DeVos is one of Trump's more controversial Cabinet nominees, given her past record of hatred of public schools, students and teachers, and her record of pushing vouchers, private schools, charter schools, so-called "school choice" and campaigns to abolish teacher tenure.
DeVos is the first Trump nominee whom unions oppose to testify before the Health, Education, Labor and Pensions panel. Rep. Tom Price, R-Ga., the nominee for the Health and Human Services Department, testified on Jan. 18. And fast-food mogul Andrew Puzder, the Labor Department choice, will testify on Feb. 2.
Unions and workers, including the two big teachers unions – the National Education Association and the American Federation of Teachers – have lined up against DeVos, with the NEA and AFT both campaigning to get members and everyone else to oppose her.
Using code words, DeVos endorsed alternatives to public schools in her opening statement. K-12 public schools educate 50.4 million kids, some 90 percent of all students.
"Parents no longer believe that a one-size-fits-all model of learning meets the needs of every child, and they know other options exist, whether magnet, virtual, charter, home, religious, or any combination thereof," DeVos said.
In their letter, AFSA and its allies focused on DeVos' backing for vouchers, which parents of private school students often use to send their kids, at taxpayer expense, either to religious schools, or, in the Deep South, schools with few or no minority-group students.
"Voucher programs are an ineffective and damaging education policy," they wrote. Other signers included the AFL-CIO, AFSCME, AFT, NEA and civil rights and religious groups.
Vouchers "divert desperately needed resources away from the public school system to fund the education of a few voucher students in private, often religious, schools," their letter
continues. "Study after study has shown private school vouchers do not improve student achievement or provide greater opportunities for the low-income students they purport to serve. And among their many additional flaws, they lack accountability to taxpayers, deprive students of rights provided to public school students, and threaten religious liberty."
The accountability point is particularly important in scrutinizing DeVos' record in Michigan. The state-imposed charter school system in Detroit, which DeVos strongly pushed, lacks standards for closing failing charter schools.
"Calling vouchers 'school choice' is a misnomer as they do not provide quality education choices to most families," the group's letter continues. "Schools that accept vouchers are not required to admit all students. And studies show the voucher programs often fail to provide adequate, objective, and language-appropriate information to families in order to allow them to make such an important and critical decision for their child. This leaves any real choice with the private schools, rather than with the parents or students."
Senate Labor Committee Democrats didn't particularly take to DeVos, either. Sen. Patty Murray, D-Wash., the panel's top Democrat and a former preschool teacher, doubted DeVos' commitment to public schools. Sen. Tim Kaine, D-Va., finally got DeVos to admit she does not favor the same accountability for charters and public schools, though both get taxpayer money.
"My first question for you really is – yes or no, that's all I want is a yes or no – do you believe that the mission of the Department of Education should be to strengthen public education for all of our students?" Murray asked. DeVos replied: "Yes, I do."
"Good," Murray said. "So can you commit to us tonight that you will not work to privatize public schools or cut a single penny from public education?"
"Thanks for that question," DeVos replied. "Um…I look forward – if confirmed – to working with you to talk about how we address the needs of all parents and all students, and we acknowledged today that not all schools are working for the students that are assigned to them, and I'm hopeful we can work together to find common ground and ways we can solve those issues and empower parents to make choices on behalf of their children that are right for them." DeVos' use of "choices" is another GOP code word for charters and vouchers.
"I take that as not being willing to commit to not privatizing public schools or cutting money from education?" Murray asked. "Well, well, I guess wouldn't characterize it in that way," DeVos replied.
DeVos "repeatedly refused to answer questions, let alone offer specifics," said Sen. Al Franken, DFL-Minn. "That was not what the American people needed to hear." Families should know if DeVos "understands and can successfully address the profoundly difficult challenges ordinary families face" in U.S. schools: "Things like making sure their kids are prepared for the 21st century economy, addressing student loan debt, and ensuring kids feel safe in school."