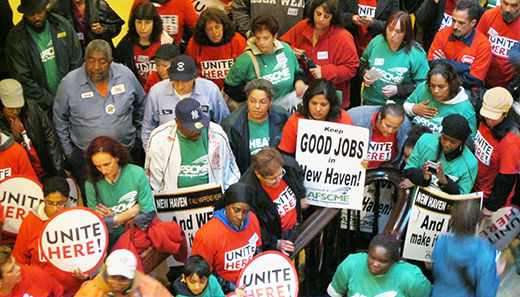 NEW HAVEN, Conn. – Over 200 municipal workers marched and rallied at City Hall Tuesday to protest proposed privatization of school custodial services. Child care workers, library workers, paraprofessionals and food service workers joined with custodians to demand that their jobs be saved.
The march from the High School in the Community was timed to coincide with "Mayor's Night In," a monthly event when Mayor John DeStefano listens to concerns and complaints from the public.
The custodians, members of AFSCME Local 287, are angry with the mayor because he has not agreed to abandon his plan to privatize services, claiming it would save money. However, it is anticipated that privatization would put current workers off the job and bring in new workers at a lower wage.
School cafeteria workers represented by Unite Here Local 217 also joined the march, angry that the city is insisting on cutbacks of health care and pensions in ongoing contract negotiations.
Like all cities, New Haven is facing a budget deficit and tax increases are overwhelming working-class residents. Federal assistance has helped save some jobs, but much more is needed.
Workers say they refuse to have their jobs and livelihoods pitted against rising taxes.
When the city privatized school services several years ago, it took a major struggle involving the workers and state Attorney General Richard Blumenthal, now a candidate for U.S. Senate, to end the contract with Aramark Corporation. Aramark's mismanagement in the interest of private profit cost the city millions of dollars.
At a spirited labor election rally for Blumenthal the next night, Robert Proto, president of Unite Here Local 35, expressed appreciation for the Attorney General's consistent stands on behalf of working people including his stand against Aramark. His opponent, Linda McMahon, supported by the tea parties, is former CEO of World Wrestling Entertainment. She recently implied that she would consider lowering the minimum wage in response to the economic crisis.
"All you are trying to do is raise your family and pay your taxes," Connecticut AFL-CIO President John Olsen told the workers at the City Hall rally. "We stand with you in the fight against poverty and injustice," he said, pointing out that "we are in a recession, but there are more millionaires in Connecticut than a year ago."
At a Board of Education meeting earlier this year, custodian Trina Howard issued a challenge to do better. ""I work hard to keep my school environment clean and healthy. I am accountable every minute of every day," Harold testified. "If the city privatizes school custodial services, I will be out of a job and unable to continue sending my child to college. Please explain to me how wrecking good-paying, family-supporting jobs will help New Haven move forward."
Sal Luciano, executive director of AFSCME Council 4 which represents the custodians, described the many jobs his union members carry out to keep New Haven clean and safe. "Our reward is the knowledge that we are the workers who keep this city fit and fine," he said. "So, when this mayor seeks to turn our work over to those who would profit from it, with indifference to the needs and fabric of this great city, we are alarmed."
"We will not tolerate it," he concluded.
Photo: Art Perlo
Hundreds of New Haven municipal workers crowd City Hall demanding good contracts and no privatization.