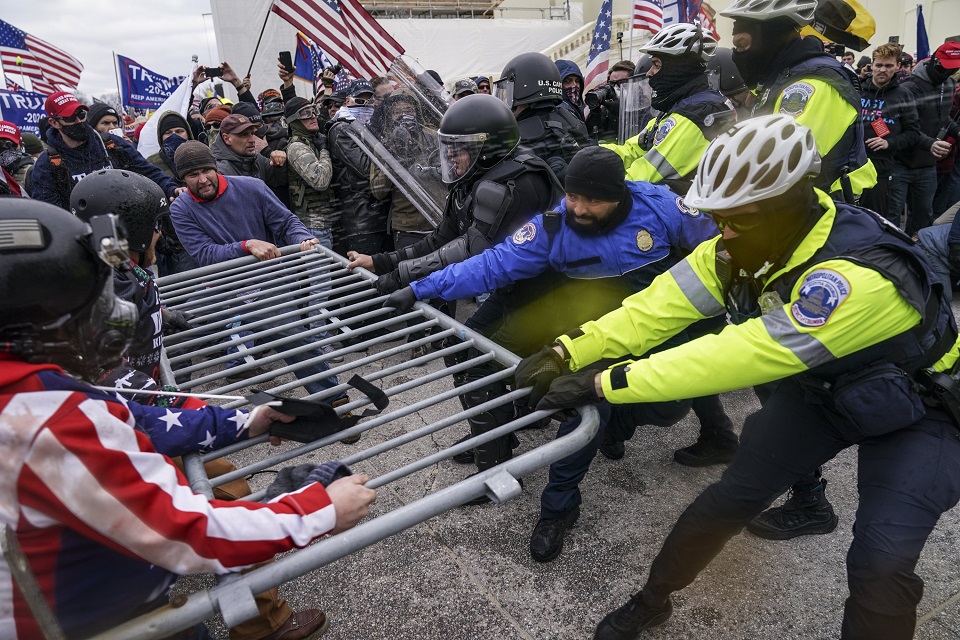 WASHINGTON—Fox ideologue Tucker Carlson's lies about the Jan. 6, 2021, Trumpite coup d'etat try—doctoring tapes he got from Republican House Speaker Kevin McCarthy—could lead to a rerun of that insurrection and invasion, Senate Majority Leader Charles Schumer says.
And the irony of the whole controversy is that behind the scenes in a court deposition, Carlson himself has testified he hates Donald Trump.
Senate Majority Leader Schumer's warning comes as complaints are rising about the slow pace of the federal investigation of Trump's instigation of the insurrection. As of Feb. 16, 2023, 1,003 invaders have been indicted and 476 have either been convicted or pled guilty and are serving various jail terms. But not Trump himself.
Other investigations of Trump, in Atlanta about his scheme to change Georgia's electoral votes,  and elsewhere of his check to pay off former stripper Stormy Daniels, may produce results before the federal probe achieves his indictment, if it does.
The former Oval Office occupant's "Big Lie" about the "stolen" 2020 presidential election and his "Be There! Will be wild!" tweet weeks before led the invaders to try to stop the electoral vote count, endangering U.S. constitutional government.
The controversy has grown for weeks after Republican House Speaker Kevin McCarthy turned over to Tucker Carlson alone thousands of feet of videotapes, compiled by the special House Jan. 6 investigative committee during the last Congress, to do with as he wished.
Carlson, who in public is a loud, opinionated, committed Trumpite, doctored the tapes to bolster his lie the 2021 invaders were "peaceful sightseers." Carlson's lie, Schumer told his colleagues, could spur the Trumpites to try again.
"I condemn Mr. Carlson for siding with the enemies of democracy," the New York Democrat told his colleagues. "I strongly condemn Speaker McCarthy's actions and fiercely oppose his decision to share this footage with Carlson. I urge Fox News to order Carlson to cease propagating the Big Lie on his network and to level with their viewers about the truth—the truth—behind the efforts to mislead the public.
"Conduct like theirs is just asking for another January 6 to happen."
It also endangers U.S. Capitol security, already tenuous as a result of the invasion, Schumer said.
Schumer is far from the sole critic of Carlson's doctored tapes. The Biden administration jumped on Carlson, too. So did Rep. Bennie Thompson, D-Miss., chair of the January 6 investigating committee.
And so did the family of Brian Sicknick, the most severely injured of the defending U.S. Capitol police and D.C. police who were overrun while defending the seat of government and the U.S. Constitution.
Sicknick died the next day, Jan. 7, 2021, from two strokes as a result of being beaten and sprayed with toxic chemicals during the invasion. He was the first of five officers to either die or become so depressed over their failure to stop the insurrection that they committed suicide. Some 140 were injured and dozens of them have had to retire on disability due to trauma over their failure to halt the mob, Carlson said his video showed Sicknick walking around inside the Capitol after the mob attacked him. "They knew he was not murdered by the mob, but they claimed it anyway," the Fox pundit said. He promised to show a second installment of his tapes.
"The footage does not show an insurrection or a riot in progress," Carlson told his audience before the airing. "Instead it shows police escorting people through the building." Carlson did not specifically name the police "escort."
Another strong condemnation came from Sen. Mitt Romney, R-Utah, one of seven Republicans who, after seeing the evidence Thompson's committee presented, joined all 48 Democrats and both independents in voting in 2021 to convict Trump of inciting the insurrection and violating the Constitution.
But the other 43 Republicans voted not to convict Trump, thus letting him escape that punishment. Conviction needs 67 votes in the 100-member Senate.
In his lawsuit deposition, Carlson told another Fox worker on Jan. 4, 2021, that "We are very, very close to being able to ignore Trump most nights. I truly can't wait. I hate him passionately." He also called Trump "a demonic force" and "a destroyer." Yet Carlson keeps boosting Trump, and boosted his lies, too, knowing full well that Trump is a ratings magnet for Fox, thus keeping dollars flowing in.
Schumer, led the charge against Carlson and Fox News, even before Carlson manipulated the tapes.
"Americans of all types and stripes and corners of this country–Democrats, Republicans, Independents–need to take a stand and call out Mr. Carlson's conduct for what it is: A dangerous, unforgivable attempt to destabilize our democracy and rewrite the history of the worst attack on our Constitution since the Civil War," the senator said.
"To say January 6 was not violent is a lie–a lie, pure and simple. I don't think I have ever seen a prime time cable news anchor manipulate his viewers the way Mr. Carlson did last night. I don't think I have ever seen an anchor treat the American people and American democracy with such disdain."
And two weeks ago, Schumer blamed McCarthy for the mess, too.
"The Speaker is needlessly exposing the Capitol complex to one of the worst security risks since 9/11," Schumer wrote his colleagues on Feb. 23. "The footage Speaker McCarthy is making available to Fox News is a treasure trove of closely held information about how the Capitol complex is protected.
"Its public release would compromise the safety of the legislative branch and allow those who want to commit another attack to learn how Congress is safeguarded."
As might be expected, one of Trump's staunchest congressional defenders, Sen, Josh Hawley, R-Mo., stuck to that stand and defended Carlson and Fox. But he admitted he hasn't reviewed the evidence.
Hawley became infamous for inciting the insurrectionists with his own incendiary speech to them, in front of the Capitol, before the invasion—then raising his fist in solidarity as he strutted away.
"I think the overwhelming majority were peaceful," Hawley said of the invaders and insurrectionists. "My friends on the left are melting down about this. 'We can't have that!' Well, why can't we? I thought it was critical that it all be put out there. What's on the tapes? I don't know, but I'm interested to see them."
People's World has an enormous challenge ahead of it—to raise $200,000 from readers and supporters in 2023, including $125,000 during the Fund Drive, which runs from Feb. 1 to May 1.

Please donate to help People's World reach our $200,000 goal. We appreciate whatever you can donate: $5, $10, $25, $50, $100, or more.