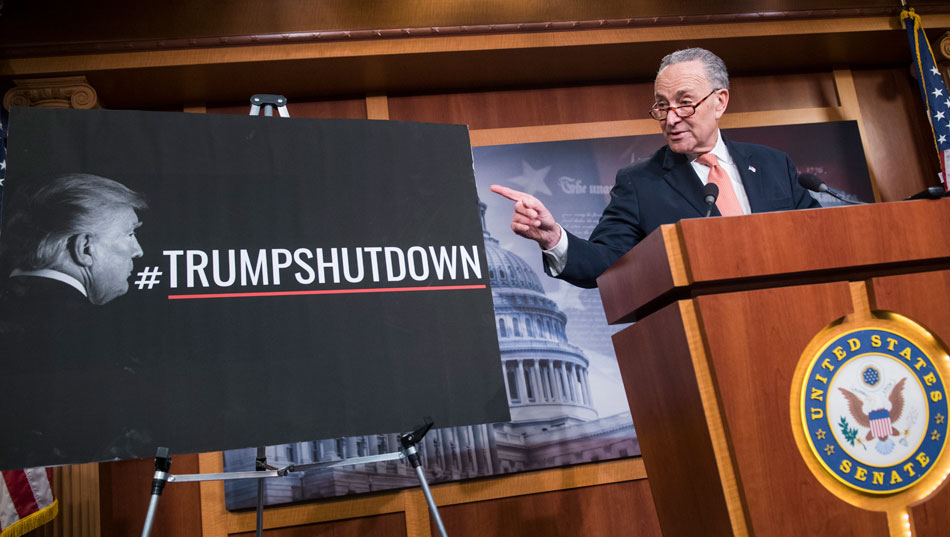 WASHINGTON—Senate Minority Leader Charles Schumer, D-N.Y., and his Democratic colleagues took heat from progressive groups, the Dreamers, and at least one union—Unite Here—for agreeing to a "compromise" on bringing the Dream Act to a future vote, to end a three-day federal government shutdown.
Complainers, including some progressive Democratic senators, expressed concern about the compromise even though they see President Trump and his hard-right anti-immigrant backers as the main enemy. Their concern is that some 690,000 Dreamers—undocumented people brought to the U.S. as youngsters who now face a March 5 eviction by Trump—have to continue to live in fear and uncertainty.
Senate Democrats, facing a push by the Trump administration to pit Dreamers against the American public, agreed on Jan. 22 to approve a temporary money bill to fund the government through Feb. 8. They were able, however, to free one major group being held hostage by Trump. That group was the children who receive health insurance benefits (CHIP). Democrats have won a gurantee that the program would continue for six more years.
Trying to turn the truth inside out, Trump and his anti-immigrant backers accused the Democrats of holding some 300 million-plus Americans hostage in order to curry favor with "illegal" immigrants.
The deal came after a promise by Majority Leader Mitch McConnell, R-Ky., to either include the Dream Act in the next money bill on Feb. 8, which lawmakers must approve by then, or have a separate Senate vote on a Dream Act measure. The compromise reached by McConnell and Schumer passed 81-18, with several progressive Democratic senators opposing it. The GOP-run House approved the Senate bill and Trump signed it.
The Dreamers, several Democratic senators, and at least one major union, Unite Here, voiced concerns about the deal.
The Government Employees (AFGE), the biggest federal workers union, however, lauded lawmakers for ending the shutdown, and said the next time Congress should approve a permanent money bill and solve the problems that bedeviled this one. The union did not specifically mention the Dreamers.
"Congress has ended a crisis of its own making, allowing the government to fully reopen after forcing a shutdown at midnight Friday," AFGE President J. David Cox said.
"Even though the shutdown lasted just three days, it was long enough to cause a massive disruption to our government operations and widespread confusion for federal workers, federal agencies, and the public. None of this would have happened if lawmakers had done their job in the beginning."
The Dreamers and progressive senators were not alone in complaining about the deal. House Minority Whip Steny Hoyer, D-Md., using language unusual for him, said Dreamers and their backers were "screwed."
"There is no way to spin this—immigrant youth will suffer in detention camps and be deported because both parties delayed a breakthrough on the Dream Act today. United We Dream and our members are outraged because our members, including my brother Jonathan, are in greater danger today because of the cowardice of U.S. senators," said Cristina Jimenez, executive director and co-founder of United We Dream.
The group continued to say, however, that Trump was the main culprit in the whole ordeal, calling the federal closure "the Trump shutdown."
"Trump killed DACA"–-the Deferred Action for Childhood Arrivals program, which is set to end on March 5—"and then he and his staff blew up bipartisan progress. Instead of standing up for principle and for the lives of young people, Congressional leaders met the moment with games," Jiminez declared.
"Senators who voted for the promise of a symbolic vote on the Dream Act are not resisting Trump—they are enablers."
Reserving her main fire for Trump and the GOP, however, Jiminez said the president and the Republicans had "played games." They were "holding the Dream Act hostage and pitted the safety of immigrant youth against children's healthcare, proving their cruelty to the world. Senators can and must deliver on the Dream Act by February 8th. We don't need a symbolic vote—we need a breakthrough and a solution."
Dreamers worried about what Schumer and the Democrats got in return for their agreement to end the shutdown. "Another promise, this time from McConnell, that he 'intends' to address DACA by Feb. 8. That's a lot of promises. And a big, big 'What If,'" Dreamer America Reyes, a Nevada college student brought to the U.S. at age 5, told the Campaign for America's Future.
Although he said Trump was the main person to blame in this situation, D. Taylor, president of Unite-Here, said he was worried that "American immigrants saw once again both major political parties continue to fail them and their families." His union has a significant Latino membership.
Trump "precipitated the current crisis," Taylor emphasized. "That's because he lacks an acceptable plan to protect both the Dreamers and another group of immigrants he is throwing out of the country—the tens of thousands on Temporary Protected Status. Trump also isn't forcing his party, which runs Congress, to approve pro-Dreamer, pro-TPS legislation," Taylor said.
Meanwhile, on Jan. 22, Trump yanked TPS for yet another group, El Salvadorans. All the TPS people Trump is evicting—some of whom have been here for decades—are members of minority groups.
"Rather than holding the line and forcing a resolution to this humanitarian crisis for hundreds of thousands of American families, the Democratic Senate leadership chose to once again sell out the Dreamers and TPS workers." If Congress does not pass legislation to protect both the Dreamers and TPS workers, "Unite Here will remember the Democrats' failure to stand with immigrant workers," Taylor said.
"Today's vote cannot be an excuse for more inaction, political power plays or false promises from congressional leaders," added Service Employees President Mary Kay Henry, whose union also has tens of thousands of Latina and Latino members. "Our elected officials need to stop kicking the can down the road and pass bipartisan legislation that respects the values of working men and women."
"Congress must pass a spending bill that protects good jobs and affordable healthcare, keeps immigrant families together, and provides relief to communities torn apart by natural disasters… Real lives are at stake." If lawmakers fail again, Henry warned, SEIU members, too, will vote against them in November.
"I'm disappointed with a conversation that suggests a false choice: You either fund the government or you take care of these kids. We can do both," Sen. Kamala Harris, D-Calif., said. She told reporters it would be "foolhardy" to trust McConnell. Her state has approximately 200,000 Dreamers.
Some Dreamer backers pointed out the lack of a guarantee that the GOP-run House, packed with rabid anti-Latino Republicans, would even consider the Dream Act or a substitute.
The House GOP previously killed Senate-crafted comprehensive immigration reform and its Dreamer "solution"—a draconian measure that creates an underclass—is unacceptable to Dreamers, Democrats, and unions.
In an indication of House Republicans' commitment to finding a solution for the Dreamers, Speaker Paul Ryan, R-Wis. told his colleagues there should be something done, but he didn't say what and he didn't say when. And House Majority Whip Steve Scalise, R-La., said the House "wasn't part of" McConnell's deal with Schumer to hold Dream Act votes.