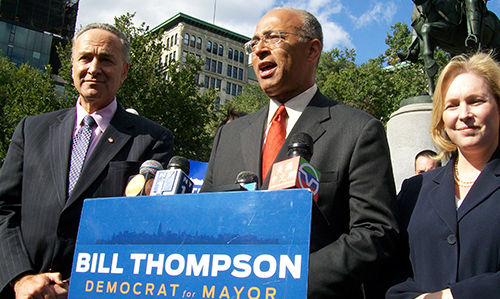 NEW YORK-Current city comptroller and Democratic mayoral candidate received endorsements from both New York's senators, Charles Schumer (D) and Kirsten Gillibrand (D), at a press conference today.
According to Schumer, a Thompson victory is not only a possibility, but likely.
While opinion polls show that, even now, about half of all New Yorkers want to get rid of current Mayor Michael Bloomberg. But his campaign has sought to portray his re-election as inevitable, spending over $60 million already on advertising to reinforce the point.
But in a response to a question posed by the World, Schumer said that "New York has a tradition of electing underdogs. You're looking at one. In 1998, first when I ran against Geraldine Ferraro and Mark Green, I was third in the polls. People said no one could be D'Amato, certainly not me, and I won."
Schumer is now one of the most powerful members of the U.S. Senate.
He continued, "New York has a tradition of electing underdogs, and I think the interesting thing about this race is it is close as it is right now. And I believe it will narrow and narrow and narrow and that Bill Thompson will become the mayor on November 3 of 2009."
Both senators emphasized the pain felt by working New Yorkers under Bloomberg's administration. Working New Yorkers, they said, are being squeezed out of the city, and a Thompson administration would be the beginning of a solution to that problem.
"As mayor Bill Thompson will focus on working class families in all five boroughs, small business owners and those that are self-employed, the lifeblood of our city, Sen. Gillibrand, D, said. "His number one priority is creating job opportunities."
According to Schumer, Thompson has "been a leader in protecting affordable housing, a cause near and dear to me, something we need in NYC if we're not going to become a city of the very rich and the very poor."
In a tacit reference to widespread complaints that current Michael Bloomberg has worked as mayor mainly to benefit the moderately- to extremely- wealthy residents of lower Manhattan, Schumer said that Thompson has "spent his entire life fighting for working families and middle class families throughout New York, and he fights for them in every borough of NYC, not just Manhattan."
Sen. Gillibrand, D, emphasized the plight of working parents. "As the mother of two young boys," she said, "one of the issues that is closest to my heart is the rising cost of child care."
Gillibrand continued that the cost of childcare has increased every year, by $1,600 on average most recently. Currently, the cost for an average family with infants is $16,000 annually.
"That's why, as comptroller, Bill Thompson fought to expand access to childcare services, advocated on behalf of the city's homecare providers, and worked to restore safe conditions in our childcare facilities." Gillibrand concluded that "as mayor he will fight so that we all have access to these resources."
Thompson himself also carried a militant, pro-working class message. "All across the city of New York, families are being squeezed out during these tough times," he said. "Rising costs, rising rents, costs of property taxes, assessments, MTA fares, water rates, you name it-sales tax, parking tickets are squeezing people out of the city of New York. They're pushing our working and middle class families out, one after another, and we need someone to stand up and fight for them."
The two new endorsements add to an already impressive list of endorsements, which includes some of the city's most powerful unions, other elected officials, community organizations and religious leaders.