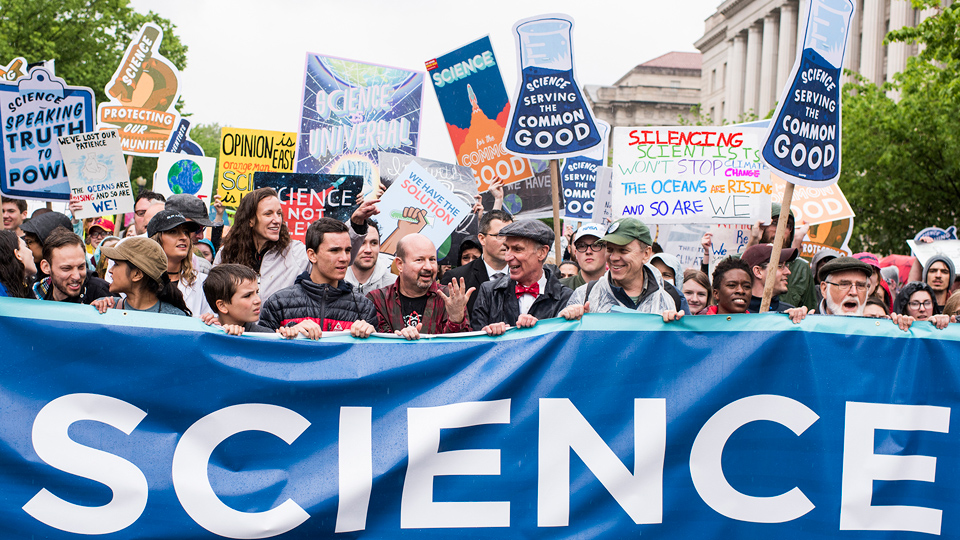 WASHINGTON – It was difficult for speakers at the March For Science here Saturday, Earth Day, to follow the organizers' instructions not to attack the Trump administration, but just to "celebrate the role of science."
Denis Hayes, founder of Earth Day, was one speaker who ignored the official guidelines. The Trump White House, he said, "reeks of greed and sleaze and mendacity."
He pointed out that the term "climate change" has been "scrubbed from all government websites and that Environmental Protection Agency (EPA) staffers "have been forbidden to use the words 'global warming' in any communication."
Hayes asked the crowd, "Did Americans vote to cut funding for EPA by 42 percent or to defund safe drinking water by one-third?"
The crowd, tens of thousands of people, including many who work in all fields of science and scientific research, roared "no!"
They were braving miserably cold rain and filling the National Mall from the Washington Monument almost to the Capitol Building.
Another speaker, Dan Abrams, global director of Earth Day, said "we must move beyond switching our light bulbs and recycling our junk mail. We must do more actions like we are doing today."
Maya Lin, the designer of the Vietnam soldiers' memorial, said that if Trump has his way, "hundreds of animal species will disappear. It will be a mass extinction."
And nine-year-old Mari Copeny, "Little Miss Flint," said "when governments don't believe in science, kids get hurt.
One of the last speakers was Mustafa Santiago Ali, who had established the EPA's Office on Environmental Justice. After 24 years with the agency, he resigned in protest of Trump's budget proposal, which includes gutting EPA funding by $2.6 billion.
Ali stressed that low income communities and communities of color disproportionately suffer from environmental pollution.
For example, he said, 71 percent of African Americans live in counties that violate federal pollution standards. And "Latino Americans are 165 times more likely to suffer from pollution than the general population."
Ali continued that those fighting to save the environment must stand with the people of Standing Rock, who are fighting to save their land; and with the people of Flint, Baltimore, East Chicago and elsewhere who are fighting to clean lead out of their drinking water.
He quoted Jamaican singer/songwriter Bob Marley and urged the crowd, to "get up, stand up, stand up for your rights!"
He concluded, "We must make our collective voice heard."
Soon after Ali spoke, the demonstrators marched to the foot of Capitol Hill, chanting "Science, not Silence! Build Labs, Not Walls!" and "Hey, Trump, have you heard, you can't silence every nerd!"
They carried signs saying things like: "The Oceans Are Rising, and So Are We!" and "Empirical Data Trumps Imperial Alt-Facts."
Earlier in the day, many of the marchers had participated in "teach-ins," held in tents on the Mall. They had discussed everything from "What birds tell us about the world," to "How to stop your climate-denialist uncle in his tracks," to "Whistleblowers: speaking up for science."
Meanwhile, similar marches for science were taking place in every major U.S. city, in countries around the world and on every continent.
Future plans
When Texas postdoctoral fellow Jonathan Berman came up with the idea of marches for science, he got a lot of push back.
For example, according to the New York Times, Daniel Sharoh, who is working on a Ph.D. in cognitive neuroscience, said "wearing the hats of activist and scientists at the same time damages 'our need for insulation from daily politics in order to conduct basic research.'"
On the other hand, some scientists agreed with Andrew Rosenberg, who spent a decade at the National Oceanic and Atmospheric Administration. He told the Times, "It's important for scientists to get out of the lab and talk about what's important.
"You don't check your citizenship at the door when you get a PhD," Rosenberg said. "No one would tell an architect they can't have a view on HUD [the Department of Housing and Urban Development]. That would be nonsense."
And Kenneth Kimmell, president of the Union of Concerned Scientists, wrote in the Guardian, "We've had enough of Trump's war on facts. We're fighting back."
The upshot of the debate was this: in order to assure that large numbers of scientists would take part in marches, Berman and other organizers of the Earth Day rallies decided the marches would stress how science helps society and that they would stay away from partisan politics.
The strategy worked well. Thousands of people who work in science joined demonstrations around the world.
Speaker after speaker at the march here in the nation's capital called for educating the public about the value of science.
However, no speaker said anything about the fossil fuel industry funding the anti-science juggernaut that is now running the country.
It's hard to see how any program to encourage the general public to defend science can be effective without explaining to people why so many Trump administration officials and lawmakers seem to be opposed to it.
Nevertheless, even though the organizers stayed away from "partisanship," the Marches for Science across the nation this past weekend have launched yet another branch of the anti-Trump Resistance movement.
Some speakers all but said as much.
For instance, one of the organizers of the worldwide action, Bill Nye, a well-known TV personality known as the "science guy," said "we march today to remind … our lawmakers of Article 1 Section 8 of the U.S. Constitution, which says that one of the duties of Congress is to "promote the progress of science and useful arts."
Nye said, however, "Lawmakers [today] are deliberately ignoring and actively suppressing science."
What's more, he said, "some [scientists] consider science to be the purview of a special or a certain type of [person] who pursues science for its own sake."
Looking out at the huge crowd, and pointing to the U.S. Capitol, Nye concluded by saying:
"Our numbers here today show that science is for everyone and [that we have the power] to change the world."