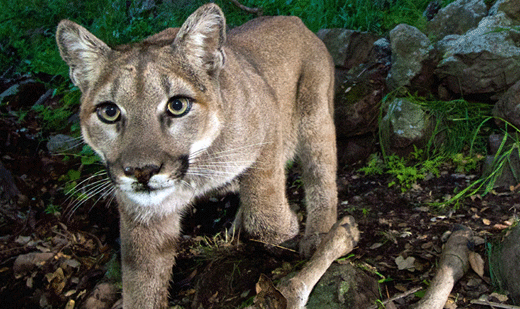 It's a rare thing when a week is filled with good environmental news, but that is precisely what happened. From scientific discoveries to the construction of wildlife corridors, something is definitely in the air, and it's not carbon.
Shell stops drilling in the Arctic
After intense opposition from environmentalists, including kayaktivists who blocked oil rigs in Seattle and Portland, Shell has announced it is suspending its oil exploration in the Arctic. The corporation cited "disappointing results" in the Chukchi Sea – specifically, insufficient amounts of oil and gas to warrant further activity there.
The oil giant has wasted over $7 billion there since the drilling endeavor began. Notably, Shell also mentioned "the unpredictable federal regulatory environment in offshore Alaska," which activists believe is a subtle reference to the environmental, anti-oil drilling movement that emerged there. Shell likely feared that the opposition could create enough pressure to encourage the federal government to implement new regulations on offshore oil drilling, further curtailing the company's already blunder-ridden efforts.
The demise of Shell's plans marks a demonstrable victory for the activists who spent so much time and effort on this fight, intercepting oil rigs aboard kayaks and assailing the corporatists with fierce cries like "Shell No!" and "we don't need an oil spill in the Arctic!"
In an interview on MSNBC, one such activist on the Puget Sound reacted to Shell's announcement. He summarized the people's victory thusly: "First they ignore you, then they make fun of you, then they fight you, then you win."
Evidence of water on Mars
"Under certain circumstances, liquid water has been found on Mars." These were the words of NASA planetary science director Jim Green, as the space agency revealed this information to the public on Sept. 28. "Mars," he said, "is not the dry, arid planet we thought of in the past." NASA kept the discovery a secret for at least a week before going public with it via live-streamed announcement. It has since driven speculation that there could have been life on Mars, as the presence of water would seem to indicate. An even more fascinating possibility, albeit unlikely, is that there is currently some form of life on Mars, even if microbial.
"Our quest on Mars has been to 'follow the water' in our search for life in the universe, and now we have convincing science that validates what we've long suspected," said astronaut John Grunsfeld, who is associate administrator of NASA's Science Mission Directorate. "This is a significant development, as it appears to confirm that water, albeit briny, is flowing today on the surface of Mars."
Though scientists have long thought that Martian water existed only in the form of trapped ice, findings from an imaging spectrometer on NASA's Mars Reconnaissance Orbiter, which has been roving the planet since 2006, proved that actual patches of fresh hydrated salts were there. Those salts are formed by flowing water that has evaporated off Mars' surface, and from afar, they look like dark streaks on the planet.
NASA added that the streaks "appear to ebb and flow, and darken, over time," and "appear to flow down steep slopes during warm seasons, and then fade in cooler seasons."
World's largest wildlife corridor will be built in California
While the Arctic may prosper in the wake of Shell's retreat, the Golden State was dealing with its own oil problems, after a devastating spill of crude earlier this year darkened Santa Barbara's Gaviota Coast. Birds and dolphins were found coated in oil or dead, and other wildlife was affected, with the overall ecosystem sure to take a hit from the disaster. But if conservationists were looking for a silver lining in this black plume, they might have found it this week, because good news came for at least one species on Sept. 27.
The Mountains Recreation and Conservation Authority, a Los Angeles area regional public lands agency, announced a five-year plan to construct the largest wildlife corridor in the world. The project involves creating a bridge that will help a small mountain lion population in the Santa Monica mountains gain access to larger public lands up north. It would also allow such felines from up north to come down south, replenishing and diversifying the currently largely inbred and endangered Santa Monica cougars.
The bridge is to be built at Liberty Canyon, near a nature preserve, and when finished will be 200 feet in length and 165 feet wide. It will have a natural look and be designed to blend in with the hills and brush, while also blocking traffic noise and other manmade sounds to make the crossing more conducive to wildlife. The estimated cost of the project is $57 million, $1 million of which has been donated by the State Coastal Conservancy. The National Wildlife Federation also plans to begin a fundraising drive for the project, asking contributors to match that $1 million bestowal.
"The future of pumas [aka mountain lions] in the Santa Monica mountains got a little bit brighter today," said National Park Service spokesperson Kate Kuykendall. "Hopefully this funding will lay the groundwork for a safe wildlife crossing that will connect populations that are currently separated by [an obstructing] freeway."
Obama administration, China determined to reach climate agreement
On Sept. 25, President Obama and China president Xi Jinping said they are committed to reaching an international agreement on climate change this year. The talk of such comes at a time when China is implementing new policies to address greenhouse gas emissions, including a cap-and-trade system that will go into effect by 2017. Obama equated that development to his own administration's emission reduction for power plants, particularly the electricity sector.
This development comes not only as good news, but a roadblock for Republican anti-environment rhetoric. Several GOP presidential hopefuls have ceased the previous strategy of outright climate change denial, and tried instead to dismiss concerns over carbon emissions and the need for clean energy, by pointing to other countries – like China – that are worse off, pollution-wise, and not doing anything about it.
"China's doing nothing," said Donald Trump during a CNN interview. Now, as China seeks to tackle its own environmental problems, many hope it will set a good example for stateside efforts to do the same, and will curb some of the misleading remarks Republican politicians have made.
Endangered sea turtles are returning – in record numbers
And finally, there's one more victory this week for conservationists. Sea turtles are making quite the comeback. The endangered reptiles are nesting in record numbers in the southeast U.S. from North Carolina to Florida, showing that efforts to protect them have been successful. Researchers from the University of Central Florida (UCF) declared that sea turtles have broken records for the second time in the past three years – they counted 12,026 nests this year.
These turtles have long been put in harm's way by everything from predators to man-made problems, particularly artificial lights and sea pollution. The lights, in particular, cause them trouble. Hatchlings rely on the natural light of the ocean horizon when they begin their nighttime treks out to sea, with the important signs along the way being "the slope of the beach and the white crests of the waves," according to SEE Turtles, a nonprofit organization dedicated to sea conservation through ecotourism. The artificial light humans produce can throw those baby turtles off course, interrupting this process and steering them in the opposite direction, often stranding them and leading to their deaths.
But clearly, something has changed now. Though conservation efforts have largely paid off, it is not yet known what other factors have led to the resurgence.
"This is really a comeback story," said Kate Mansfield, assistant professor of biology at UCF and head of the Marine Turtle Research Group. "It is really a remarkable recovery and reflects a 'perfect storm' of conservation successes, from the establishment of the Archie Carr National Wildlife Refuge, to implementing the Endangered Species Act, among many other conservation initiatives. It will be very exciting to see what happens over the next 20 plus years."
Photo: A female mountain lion explores the Santa Monica mountains. These cougars will be further protected by, and will benefit from, a planned 200-foot-long wildlife corridor connecting one portion of the population to the other. This is just one of the many positive environmental, scientific, and ecological developments in the news this week. | National Park Service/AP