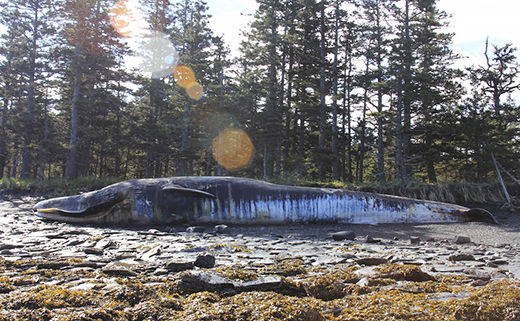 What's killing the whales? That's exactly what scientists are trying to determine, now that at least thirty have been confirmed dead off the coast of Alaska. The investigation has pinned down a large toxic algae bloom off the West Coast as a likely culprit, as it has already affected fish populations from California to Washington. But experts remain uncertain.
The news came Aug. 20, when the National Oceanic and Atmospheric Administration (NOAA) confirmed the deaths, noting that it was an "unusual mortality event" and that it "demands immediate response." The dead include 11 fin whales, 14 humpback whales, one gray whale, and four that have yet to be identified. The carcasses have all been found around the islands of the western Gulf of Alaska or near the Alaska peninsula. It has also been determined that the whales were not beaching themselves, but rather, dying at sea and then washing ashore.
While experts maintain that they do not yet know the precise cause, all signs seem to point to the enormous algae wending its way from the Golden State to Alaska. "It's a bloom of phytoplankton in the ocean that actually releases toxins," said Bree Witteveen, marine mammal specialist at the University of Alaska. "Those get accumulated into various prey and it works its way up the food chain, and it can cause paralysis and death. We always see a handful of carcasses every summer, but when you see so many in such a short period of time, it's quite shocking."
"NOAA Fisheries scientists and partners are very concerned about the large number of whales [dying] in recent months," said Teri Rowles, NOAA Fisheries' marine mammal health and stranding response coordinator. "Our investigations will give us important information on the health of whales and the ecosystems where they live." The administration has cautioned that it could take months – years, even – for a solid conclusion to be formed based on data collection and analysis. Some factors have, however, been ruled out; the NOAA mentioned that it's "highly unlikely" that the deaths were caused by radiation from Fukushima.
This has led many to speculate that the algae bloom, which is more widespread than scientists had initially predicted, is indeed responsible. And some experts are inclined to agree. "Our leading theory at this point is that the harmful algal bloom has contributed to the deaths," said NOAA spokesperson Julie Speegle. "But we have no conclusive evidence."
Rowles said the investigation could be hindered by the sheer difficulty of conducting the required analysis. For one, tests for biotoxins like domoic acid, which is released by the algae bloom, have so far been inconclusive. [Domoic acid is a kainic acid analog neurotoxin. It is produced by algae and accumulates in shellfish, sardines, and anchovies. When sea lions, otters, cetaceans, and humans then eat contaminated animals poisoning may result.] And procuring samples of such toxins from living specimen is a difficult task. "Trying to investigate large whale mortality events provides a lot of logistical complications," she said, "including getting access to good samples, getting access safely to carcasses, and even finding a place for carcasses to be towed and examined."
It's possible that use of sonar "may also be a cause" in the whale strandings, according to Witteveen. "To our knowledge, however, the most recent Navy sonar exercises in the Gulf of Alaska were not initiated until nearly three weeks after the carcasses began to be sighted."
Spencer Fire, an expert on the effects of algal blooms on whale populations at the Florida Institute of Technology, suggested that the NOAA's prevailing theory is the more likely one. "Some algal toxins mimic neurotransmitters in the brain and cause seizures and death of brain tissue," he remarked. "Some interfere with normal nerve function and can cause respiratory paralysis. Some cause gastrointestinal problems."
"The most critical thing," said Rowles, "is our ability to get to these animals, document them, and, if possible, perform sample collections either at sea or on the beach if they strand. It's going to take a bit of time to pull it all together."
Photo: A dead fin whale, one of the 30 confirmed dead. | Dr. Britt Witteveen & Alaska Sea Grant Marine Advisory Program, via AP