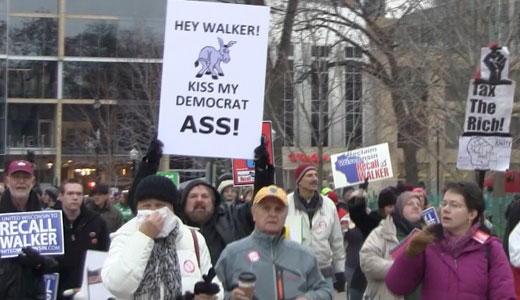 MADISON, Wis. – This past Saturday more than 30,000 fired up Recall Walker activists rallied at the Wisconsin statehouse in Madison. According to polls, 58 percent of Wisconsin voters want to recall Gov. Scott Walker because of his attacks on public worker unions and working families. In a festive mood activists gathered signatures on recall Walker petitions, picked up petitions to circulate in their neighborhoods and generally celebrated a tremendous start to their recall efforts.
(Article continues after video)
Scott Walker's Got to Go! from Scott Marshall on Vimeo.
Firefighter union members, some playing bagpipes, kicked off the event marching from their union hall to the statehouse. A "Cops for Labor" contingent joined them. The rally also featured a food drive for the poor called "Can Walker." Publicity for the rally had asked people to bring cans of food.
Thousands more spread out all over the state to set up signature gathering tables at busy intersections. Lines formed at the tables while passing cars and trucks honked their horns in support.
Petition collecting began on November 15th. In the first 48 hours over 50,000 signatures were collected. Then in the first four days, before the rally even began, they had collected over 105,000 signatures. Organizers estimate that an additional 30,000 were collected at the rally. The recall effort requires 540,000 signatures of registered Wisconsin voters. Organizers plan to gather 700,000 to guarantee enough signatures to overcome any signature challenges. Organizers say they must collect 9,000 to 11,000 signatures every day to reach the 700,000 goal by the filing deadline of January 17th.
Only two times in history have voters successfully recalled Governors, North Dakota in 1921 and California in 2003. Wisconsin recall organizers are fighting to make sure Walker will be number three.
Photo: Scott Marshall/PW