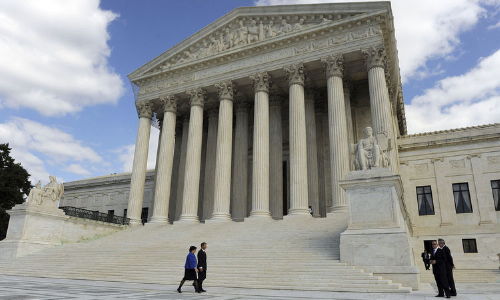 WASHINGTON – Can retirees get lifetime health care benefits under a union contract? That question, which now affects retirees at a West Virginia firm whose employees are Steelworkers, but which could affect millions of workers in the future, hit the U.S. Supreme Court on Nov. 10.
At issue in M&G Polymers USA vs Robert Tackett et al is how to interpret contract provisions that apparently gave the retirees those benefits, which the company now wants to stop. Tackett is the lead plaintiff among the M&G retirees.
As Justice Anthony Kennedy put it in questioning the retirees' lawyer, Julia Clark, the issue is "a big deal."
M&G, a West Virginia firm now owned by a foreign company, but formerly owned by Shell, has a contract with a Steelworkers local. The contract, rolled over and inherited from the days when Shell owned M&G, is ambiguous about whether M&G workers who retired after Jan. 1, 1996, get lifetime health care.
Those retiring before that date get the care, and as a practical matter, M&G paid for the post-1996 retirees' health care benefits, too. Now, it doesn't want to do so.
"Is it your position that once the contract expires, the employer is free to say 'No health coverage for retirees, period?'" Justice Antonin Scalia asked Allyson Ho, M&G's attorney. "If there has been no vesting, yes," she replied.
"In this case, the company, each successor company and the union entered into a series of agreements" to provide the retiree health care benefits, Ho added. Now M&G's latest owners can change that, because the contract, she claimed, is silent on the issue.
"You answered the question. The answer is yes, right? The company can terminate. You're saying it hasn't terminated here, it's a nice company; but it doesn't have to be a nice company, does it? Isn't that your position?" Scalia responded.
"Your Honor is as a general matter, correct, yes," Ho said. "The terms" for providing retiree health care "don't outlast the terms of the agreement." If the two sides wanted lifetime retiree health care benefits to be paid, "we would expect to see it" in the contract, and it's not there, Ho said. "Silence is no promise of vesting here."
About 60 percent of all union contracts explicitly ban lifetime retiree health care benefits, Ho told Justice Elena Kagan. But not this one, and that was the point that Julia Clark, attorney for the retirees, made.
"Our argument is simply that contract disputes relating to retiree health benefits should be decided like every other dispute under a collective bargaining agreement — to determine what the parties intended without applying any presumptions," Clark told Chief Justice John Roberts.
But Roberts said a prior Supreme Court decision, the Yardman case, "says retiree healthcare benefits are not subject to the stricture of ordinary contract interpretation." The justices would have to overturn that ruling "if we're going to say 'Apply the normal principles'" of contract law, he added.
Clark pointed out, however, that even Yardman distinguished between contract benefits that ended when the contract did and those that kept going, or rolled over, until the union and management negotiated a new contract. She specifically cited retiree health care benefits.
In the Yardman contract, retiree health care benefits rolled over, she told Roberts, but health care benefits for a retiree's surviving spouse ended when the contract did.
"Is it a traditional principle of contract interpretation that if you're dealing with something as big a deal as health benefits for life, you might expect that to be addressed more specifically?" Roberts asked. "No. There are many contract provisions that are a bigger deal than this," Clark replied.
"It is not the traditional rule of contract interpretation that the courts look to see which party had a bigger stake and punish them if their language is ambiguous. Quite the contrary, it's treated like any other issue of contract interpretation: 'Is the language reasonably susceptible to more than one interpretation?'" she said.
That produced a blunt question from Justice Anthony Kennedy: "You want us to write an opinion saying that whether or not health care benefits survive in a collective bargaining agreement is not a big deal?"
"No, Justice Kennedy, that's not what I'm saying," Clark replied. "I am saying there are many contract issues that come before the courts that are a big deal. This is one of them, particularly for the retirees. It is a big deal.
"But the point is simply that traditional rules of contract interpretation don't treat ambiguity any differently when it is in a contract provision that's a big deal for one side or the other, or both sides."
Photo: AP