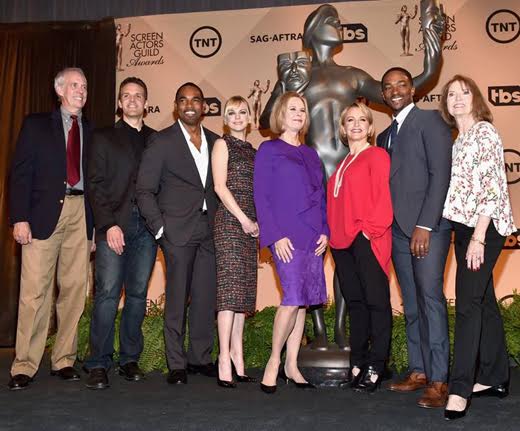 LOS ANGELES (PAI) — Leonardo DiCaprio and Cate Blanchett are union members. So are Clare Danes, Louis C.K., and Peter Dinklage. They'll all be in Los Angeles on Jan. 30 as nominees for their union's highest honor – the Screen Actors Guild Awards.
Unlike the better-known Academy Awards, SAG Awards are decided exclusively by their fellow practitioners: All 116,741 members of SAG-AFTRA get ballots and can watch the entries online.
The SAG Awards are also unlike the Oscars in that they are for film and television, and include categories that honor outstanding performances by entire casts, not just individuals.
With a gala dinner, an auction, and sales of bleacher seats to the red carpet affair, the event also raises funds for the SAG-AFTRA Foundation, which funds a children's literacy program and provides scholarships and health and financial aid to members and their families.
"Yes, it's glitzy and glamorous, but really it's about celebrating our union," says SAG-AFTRA national board member Mary McDonald-Lewis, a Portland, Ore., voice actor and dialect coach.
McDonald-Lewis said she's especially excited this year about the nominations for Trumbo, a true-to-life film about Hollywood radicalism, and for performances in The Big Short and 99 Homes, both which are about financial fraud in the mortgage industry.
You can watch the 22nd Annual Screen Actors Guild Awards live Saturday, Jan. 30, 5-7 pm (PST) and 8-10 pm (EST) on TNT and TBS. And there's another reason to watch: The history of the Oscars – the Motion Picture Academy Awards-themselves.
Everyone's heard of the Academy Awards but few know the anti-union origins of its sponsor, the Academy of Motion Picture Arts and Sciences. Metro-Goldwyn-Mayer studio boss Louis Mayer founded The Academy in 1927 by to prevent unionization in the film industry.
As an invitation-only professional organization, the Academy was meant to be a more prestigious alternative to unionization. With separate branches for producers, actors, writers, directors, and technicians, it would settle workplace disputes and eliminate the need for unions and strikes – while remaining controlled by producers.
From 1927 to 1933, the Academy functioned as a company union. In competition with the Screen Actors Guild and other unions, it developed a standard contract covering terms and conditions of work.
Hollywood unionized anyway in 1933, and company-controlled unions were outlawed in 1935. But the Academy continues on as a way to promote the film industry. To this day, its membership is self-selecting, and secret.
Don McIntosh is Associate Editor, The Northwest Labor Press
Photo: (L-R) SAG Awards Committee Vice President Daryl Anderson, Committee members Woody Schultz and Jason George, actor Anna Faris, SAG Awards Committee Chair JoBeth Williams, SAG-AFTRA Executive Vice President Gabrielle Carteris, actor Anthony Mackie, and SAG Awards Executive Producer Kathy Connell. Screen Actors Guild Awards Facebook.