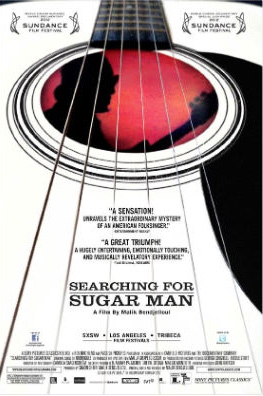 Searching for Sugar Man is an uplifting documentary film about the life of Detroit based Mexican American working-class singer Sixto Rodriguez. He not only sang working-class songs; he lived a working-class life.
"Rodriguez," as he was know on his albums, wrote some of the finest protest music of the 1970s and has been compared to Bob Dylan and Neil Young as one of the most important American songwriters after Woodstock. Yet almost nobody knows about him. In fact, his album "Cold Fact," released in 1972, sold very few copies here in the U.S., even though his singing (which to me also sounds like Jose Feliciano) was superb, his music was beautifully arranged and his lyrics were all great poetry, full of the meaning of life, relationships and struggle.
Almost unknown in America, in the 1970's Rodriguez was a mega-star in apartheid South Africa. His music had a huge impact on discontented Africanist youth, who were growing weary of the censorship, the mandatory military draft and the war in Namibia.
The most incredible thing was that Sixto Rodriguez, who gigged regularly in the dive bars and beer joints along Detroit's riverfront, had no idea of his massive popularity in South Africa. Rodriguez never received a dime in royalties from the sale of his music there. In 1975, he actually gave up his music career after his first albums weren't selling here in the U.S.
In order to preserve apartheid, the South African racists tried to completely shield their population from outside influences. Even white South Africans lived under almost total censorship. There was no Internet back then; in fact, South Africa had no television until 1975.
South African white youth lived privileged lives next to the fascist oppression that the black majority had to endure. But apartheid had a corrosive effect on the freedom, stability and moral integrity of the whole society.
Rodriquez's progressive music, which had a Motown feel to it, was politically and culturally liberating to a lot of white youth who were becoming more and more opposed to the apartheid system.
Rodriguez became an underground success. His music was smuggled into the country on tapes and circulated by the tens of thousands among young white South Africans. One of the music executives from South Africa said that in his country back then Rodriquez was bigger than Elvis.
The documentary is about a South African radio personality in the late 90s who was trying to find out what happened to Rodriguez.
The rumors in South Africa were that Rodriguez became deeply depressed and had committed suicide after a performance in Detroit.
The radio disc jockey went on a mission to find out what happened to Rodriguez, who didn't make another album and, as far as South Africa could figure out, he literally dropped out of site.
It turns out the Rodriguez was alive and living in Detroit. When he decided that his music career had run its course, he became a construction worker, mainly doing demolition, the hardest, most backbreaking work one can do. He spent all of his effort raising his two daughters, who appear in the film.
Sixto Rodriguez was born July 10, 1942, in Dearborn, Mich. He lost his mother when he was three years old and spent many years in an orphanage, his father visiting him on Sundays. He worked in auto for a time, meaning he was likely a UAW member.
His music was drawn from his hard life as the son of Mexican immigrants, and having to deal with the harsh realities as a Latino worker and a single parent. He raised his daughters and, despite working hard all of his life, he still lived in near poverty.
He called himself a "musical political." He ran for mayor of Detroit twice and for State Representative, and received his largest vote (7,000) when he ran for Detroit City Council. He described himself as a worker and he always ran as an independent on a pro-working class platform.
The high point of the movie for me was when Rodriquez was found and told that he was bigger than Elvis in South Africa; he was so happy.
He has since done two huge concert tours in South Africa. He played to sold out concert halls of mostly whites who were all cheering at the top of their lungs for their iconic people's artist. At his first South African concert he shouted, "Thanks for keeping me alive."
In the film, which shows him at his concerts, he still had his modest working-class manner, which, along with his music, makes him very likable – especially knowing all he went through.
"Searching for Sugar Man" shows that his life had come to a wonderful fruition. Sixto was glad to be performing again and to receive the full recognition that had been denied him for so long.
The movie is playing around the country, mainly in art theaters. Swedish director Malik Benjelloul directed the film. Sony has picked it up and, yes, there is talk that an Oscar nomination may be in the offing.
Sixto Rodriguez has appeared on the Letterman show with a full orchestra with strings. In a CNN interview, he said, "I sing about social issues, not boy- girl stuff."
He is presently on a nationwide tour. My wife and I caught him at the Highline Ballroom in NYC and he was great. He had on his signature outfit – black from head to toe. In between every song, he'd give a short political comment, like "Free love is very expensive" and "Women are stronger" – the crowd just loved it. People were yelling out their favorite song during the set.
His music and his politics are fiercely against the 1 percent and at one point he told the packed house to vote for Obama, which was met by cheers. Most of his tunes where written back in the 1970s, but as he said in a recent interview, "The issues are as urgent today as when I first wrote these songs."
At the end of his concert received a standing ovation. In response, he held up a clenched fist and declared 1960s style, "Power to the People." Bendjellooul, the director of the film, told CNN, "It was the most beautiful story I ever heard in my life."
Searching for Sugar Man is definitely a must see.
Movie Review
Searching for Sugar Man
Directed by Malik Benjelloul
2012, 86 mins., Rated PG-13