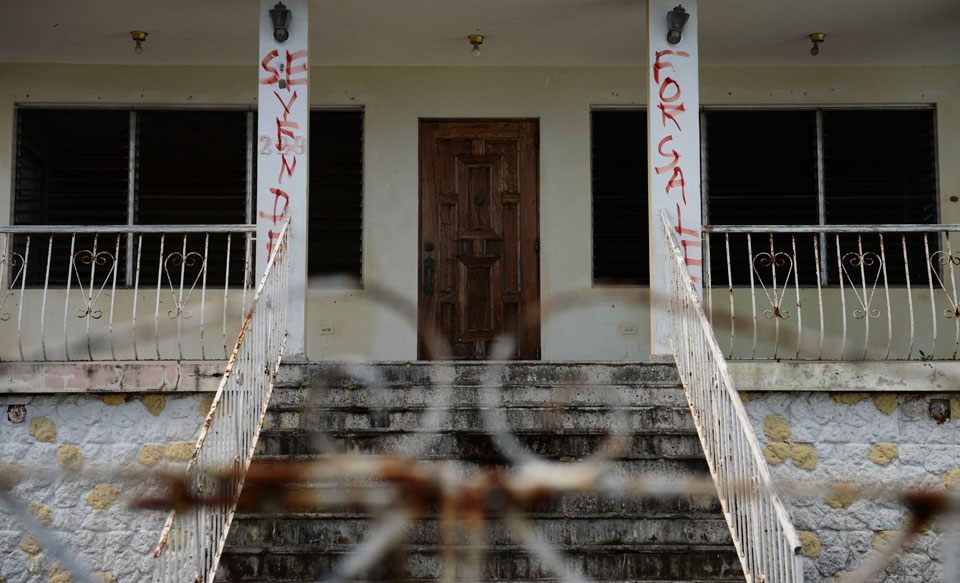 Activists from all parts of the people's movements as well as the international community came together in a People's Tribunal recently and dealt a searing indictment of U.S. colonialism in Puerto Rico.
Human rights activists from around the globe heard and deliberated on charges of U.S. colonialist crimes delivered by Augusta Zamora, former ambassador of Nicaragua to Spain, who functioned as the prosecutor in the mock trial.
The International Tribunal on U.S. Colonial Crimes in Puerto Rico was held in the Holyrood Church in the Washington Heights area of New York City as several hundred attendees filled the pews of the spacious venue to hear the testimony of representatives from all areas of life in Puerto Rico.
During dozens of testimonials, which were delivered both in person and as videotaped presentations, Puerto Ricans and supporters described the disastrous inequities suffered by the people of Puerto Rico as a result of the colonial relationship with the United States.
The crimes of colonialism were described by activists from the island and experts in the fields of environmental and climate justice, education, healthcare, economics, labor, and political and anti-war struggles.
As the tribunal procedure unfolded throughout the day, members of Puerto Rican delegations representing dozens of organizations condemned the role of U.S. corporations, banks, hedge funds and other finance capital interests in harming the economy, culture, environment, education and day to day lives of Puerto Rican families.
Judy Sheridan Gonzales, President of the NY State Nurses Association, which has played a prominent and role in recovery efforts on the island in the wake of Hurricane Maria a year ago, recounted how "thousands of people died and continue to die in the aftermath of the hurricane due to the lack of healthcare, electricity to power life-saving equipment and lack of safe, clean drinking water and food."
She pointed out that the population's health status was far worse than that of any state in the United States, even before the hurricane hit, with high mortality, morbidity, pulmonary diseases and organ failure rates caused by toxins in the environment. She pointed to chemical poison dumping and water contamination by the pharmaceuticals and the military, fuel exhausts from ground transportation, and dangerous pesticides from Monsanto.
"All of these," she said, "contribute to elevated levels of cancers and respiratory disorders." She added that colonialist-imposed laws such as the Jones Act, which restricts shipments into the island, make healthy food unaffordable and contributes to disease.
Representatives from the Puerto Rican climate action movement presented documentation condemning the disastrous effects of decades of pharmaceutical and military pollution. "The pharmaceutical industry dumped chemical pollutants, the fossil industry dumped coal ash among other pollutants and the U.S. Navy's radioactive and nuclear waste contamination have caused havoc," especially for the residents of Vieques, charged moderator Deborah Santana and others. Respiratory diseases, skin diseases and legions, tumors and cancers are among the tragic health consequences of capitalist colonial plunder, they charged.
Videos were shown where several residents showed the skin lesions caused by the exposure.
Photos were shown that depict mountains of coal ash dumped by the U.S. corporation, Applied Energy Systems (AES), in the town of Guayama. They were displayed by Alvarado Guzman from Comité Diálogo Ambiental. Despite studies showing that AES ventures would have detrimental health effects on residents, "for 16 years the company continued dumping tens of thousands of tons of coal ash in 12 municipalities. Over a period of 9 years, 2.4 million tons had been dumped near aquifers," he said.
In 2016 and 2018 Puerto Rican groups met with the EPA and were told there was "no money to monitor AES with evidence of the dangers to health," Guzman added. Guayama has the highest cancer rate in Puerto Rico. Surrounding municipalities are also affected by windblown contaminants.
Local residents have held protests against the coal ash dumping for years and the Puerto Rican authorities have provided police protection for the AES trucks. West Virginia legislators, Guzman charged, colluded on behalf of AES, using their "colonial powers" to lobby Puerto Rican government.
One of the photographs showed a 420,000-ton mountain of coal ash 120 meters tall.
"I don't think it is just that residents of these municipal sectors have to pay with their health, and the health of their families and neighbors so that 2 or 3 people can become multimillionaires," he said.
"It is immoral that a company amasses millions on the backs of an entire people's health. We demand that the Puerto Rican government cancel its contracts with AES and take steps for a complete cleanup."
Mari Cruz, environmental activist and NYU professor, whose family lives in Vieques, spoke of the heroic fight to remove the Navy in 2003 by mobilization of people from the island of Vieques, part of the Puerto Rican archipelago, where 10,000 people for over 60 years lived "wedged between an ammunition depot and a live target range."
"Military waste is still there with unreliable records and military secrecy. Community activists and scientists demand an honest investigation and disclosure of what's there. The Navy used napalm, agent orange, depleted uranium, triphosphate and other substances that filled Vieques with heavy metals and other pollutants," she said. Tests have shown abnormal levels of mercury in women of child-bearing age higher than in the rest of Puerto Rico, high enough to cause neurological damage in unborn babies. Vieques has higher morbidity and mortality rates than expected in the rest of Puerto Rico.
Unrelenting protests, civil disobedience and international support and legal actions led to Vieques being included in the Superfund cleanup program but, despite this, she charged that currently there is no end in sight to the clean-up process.
Faring disastrously under the colonialist stranglehold has also been the Puerto Rican public education system. Maria de Lourdes Santiago, vice president of the Puerto Rican Independence Party, said that among the hardest hit have been children with special needs, who've been left without much-needed therapy, assistance and special education teachers.
Since the start of the school year some have not received a single day of instruction, she charged. The U.S. policies are making life insufferable by attacking the poor, special needs students and their families and more than 50,000 of these children's families felt forced to migrate to the United States.
She called attention to the fact that the educational system and the most vulnerable have always been a prime target of colonial powers, pointing to past efforts to eliminate the Spanish language from schools and thwart Puerto Rican culture and national identity since the beginning of the 20th century.
Mercedes Martinez, president of the Puerto Rican Teachers Federation, emphasized that many of the schools that have been closed were actually in excellent condition even after Hurricane Maria. Students have been crammed into portable classrooms without air conditioning and at a high cost to the government. She charged that privatization threatens the public school system in Puerto Rico even more vehemently than in the United States. Ten percent of the schools were targeted, double that of the percentage slated for privatization in the U.S.
The government of Puerto Rico, complicit with the U.S. federal government, has embarked on a step by step dismantling of the public schools on the island, Martinez charged. "Schools that were in excellent condition were closed down and the students are now crammed like sardines into portables as part of the Machiavellian design to privatize the public schools." She said the school buildings are auctioned off and converted into money-making charter institutions. She pointed out that the U.S.-imposed fiscal management board under the PROMESA law had targeted hundreds of schools as part of austerity measures that cut hundreds of millions of dollars from the public education system.
"The United States is trampling over our rights and those of our children," she said. "If anyone wants to enrich themselves in our country, they can negotiate with the Department of Education where there are abundant contracts and resources available for private enterprise."
Schools are sold off, private investors take over and "this contributes to disenfranchising entire communities," she said. "The United States is accessory to these educational crimes."
Milagros Cancel, parent of a special needs student in Puerto Rico, told the audience that the communities feel trampled on. "The U.S. is a monster, violating our civil and human rights in Puerto Rico." She charged that although hundreds of schools are closed by the budget cuts, special needs children have no transportation to attend the few schools left open."
Eva Ayala, a teacher and president of the advocacy and labor group EDUCAMOS, drew parallels to the struggles for full funding of public schools in New York City and the school closings in Puerto Rico. The Puerto Rico Education Secretary, Julia Kalaher, "is working hand in hand with privatization advocates in New York City to undermine public education, spending $1.26 million on trailers while closing school buildings." She denounced such measures as educational crimes.
Following the scores of presentations, documentation and powerful testimony, the twelve jurors, which included human rights activists from the international community as well as labor, religious, indigenous and peace movement leaders, deliberated and rendered a unanimous verdict that found the United States guilty of colonialist crimes that for over a century have "deprived the people of Puerto Rico of the right to self-determination,  are in violation of international law, and have used military conquest to subdue and to maintain the colonial regime."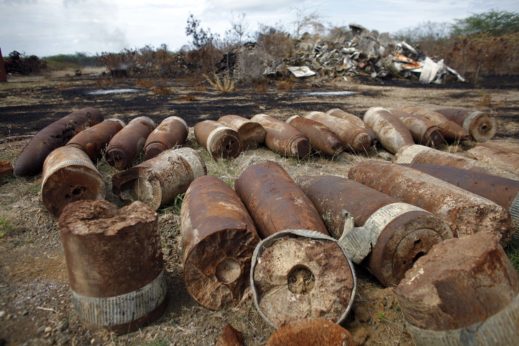 Further charging that independence movements "were suppressed with great bloodshed," in  attempts to legitimize colonialism with Free Associated State status, the colonialist system has "profoundly and adversely affected Puerto Ricans in every area of life."
The verdict underscored the theft of land for U.S. military exercises "that have contaminated soil, air and water and resulted in widespread disease, health deterioration and death as well as destruction of wildlife and domestic farm animals that has further resulted in forced displacement, dispossession and loss of homes and exile."
In addition, "colonial imposition through the so-called fiscal control board is directly responsible for the disastrous conditions that still exist in Puerto Rico more than a year after Hurricane Maria, in which U.S. corporations and banks, under the guise of helping with reconstruction, have expropriated billions of public dollars creating a humanitarian crisis." The United States uses the hurricane as a pretext to further impose right-wing policies and to privatize fundamental social services and destroy labor movements, especially in the fields of education and electricity.
The verdict goes on to charge that the "U.S. government-imposed protocols that allowed and encouraged corporate looting of Puerto Rico's natural resources and wealth and the exploitation of Puerto Rican labor," adding that this dispels any notion that Puerto Rico owes the U.S. anything and in fact, "extraordinary debt is owed to the Puerto Rican people by the U.S. corporations."
The jurors further charged the United States with "genocide against the Puerto Rican people, including decades of sterilization of Puerto Rican women, medical experimentation, suppression of Puerto Rican culture, exploitation of Puerto Rican youth to fight imperialist wars, denial of basic human needs, including clean water, healthful food and denial of international humanitarian aid from various nations such as Cuba, Mexico and Venezuela following Hurricane Maria."
The activists and Puerto Rico supporters assembled in the church applauded and waved Puerto Rican flags as the verdict was read aloud. The day ended in a rendition of the Puerto Rican National Anthem and chants of "Viva Puerto Rico Libre."