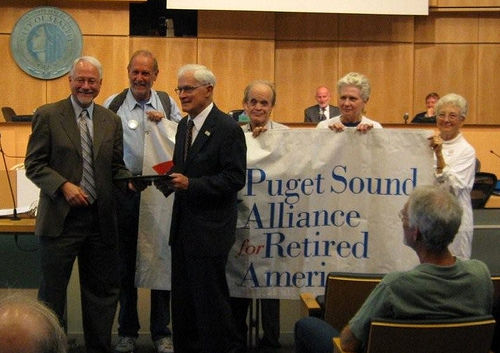 SEATTLE-The Seattle City Council honored veteran trade union activist, Will Parry, July 19, for his "lifelong commitment, and work, to achieve social and economic justice for all the residents of Seattle."
With the entire City Council listening, President Richard Conlin read the proclamation hailing Parry for his "leadership, optimism, and humility" especially in founding the Puget Sound Alliance for Retired Americans (PSARA).
Conlin then stepped down from the council platform walked over and handed the document to Parry as a crowd of PSARA friends and co-workers applauded. Parry thanked the council, pointing out that his great grandfather, Byron Phelps, served as mayor of Seattle and his father, as president of the Seattle City Council.
Parry joked that his record in the low-hurdles set in 1937 at Queen Anne High School mentioned in the proclamation still stands because they later changed the way it is measured.
He voiced pride at PSARA's role in defending the vital needs of senior citizens in Washington State, adding, "I'm not through yet as long as I can string two words together, grammatically."
Parry was the first president of PSARA, and now is the editor of the PSARA's newsletter, Retiree Advocate.
Robby Stern, the current PSARA president said, "This public recognition of Will is richly deserved. Will has been an optimistic and determined advocate for progressive change for more than six decades. His leadership has sustained PSARA as a vibrant and cutting edge force in our community. We are pleased that the Seattle City Council is recognizing Will's continuous effort to make our community, our state, our country and our world a kinder and more just place."
Parry told the World he is as active as ever. He is a lifelong reader of the People's World, a member of the Communist Party of Washington State and an outspoken advocate of socialism. His current focus is the defense of Social Security.
When he spoke at the July 18 People's World picnic here in Seattle, he pointed out that Social Security is now celebrating its 75th anniversary, "the greatest government program ever enacted."
He blasted "that damnable Commission on Fiscal Responsibility and Accountability" appointed by President Obama and co-chaired by retired Wyoming Senator Alan Simpson, a rightwing Republican and Democrat Erskine Bowles. Both propose cuts in Social Security in the name of reducing "budget deficits," even though the Social Security trust fund is running a two trillion dollar surplus and adds nothing to the deficit.
The commission is the brain child of hedge-fund billionaire Pete Peterson, a fanatical advocate of Social Security privatization.
Parry pointed out the commission held 20 field hearings across the nation to drum up support for draconian budget cuts and attacks on Social Security in the name of deficit reduction.
"They stacked the deck but the instant polls they conducted right after the hearings showed no tide of support for Social Security privatization, cuts in cost-of-living adjustments that undermine benefits or extending the retirement age. That is very encouraging."
Photo: Will Parry, center front, receives a proclamation from the Seattle City Council for his work in the labor union movement and among retirees. (Alliance of Retired Americans)