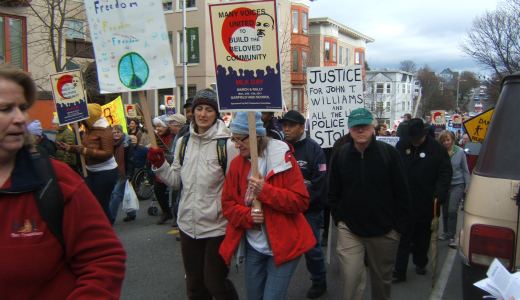 SEATTLE – More than 2,000 people marched through downtown Seattle on Martin Luther King Day, many carrying signs protesting brutality and use of lethal force by officers of the Seattle Police Department.
Sprinkled in the crowd were placards with a photo of First Nation woodcarver John T. Williams, shot to death by SPD officer Ian Birk last August 30. Members of Williams' family, including his brother, Ricky Williams, traveled here from British Columbia, and joined the King Day actions at Garfield High School.
Jay Hollingsworth, a leader of the John T. Williams Organizing Committee told a workshop on police violence chaired by the Rev. Harriet Walden, president of Mothers for Police Accountability, that there has been an outpouring of grief and anger at the killing of Williams, especially among Native Americans and other people of color who have suffered from SPD racist brutality.
"We hope that justice will be served," Hollingsworth told the People's World. "We're asking the King County prosecutor to file charges of murder and aggravated assault against Birk. This case is shining a spotlight on the total abuse of power by the police. None of the witnesses who have testified at the inquest and none of the videos have shown the late John T. Williams as an aggressor. Two of the witnesses identified Officer Birk as the aggressor."
The inquest began last week at the King County Courthouse, packed with grieving relatives and friends of Williams, who was revered as one of the most gifted Native American Indian woodcarvers in Seattle. Ricky Williams, also a renowned woodcarver, was scheduled to testify Jan. 18 to the gentle nature of his slain brother.
Birk claims that Williams refused to halt and drop a knife he was holding. In fact, a police officer at the scene testified that Williams was holding a folded jack knife with a three-inch blade, the tool of his woodcarving trade. He was known to be partially deaf. Birk opened fire four seconds after ordering Williams to drop the folded jack knife. The police video shows Williams lying prone in his own blood at least forty feet away from Birk, hardly a plausible threat.
Rev. Walden said Birk had just returned from his second tour in Iraq and did not think Williams had displayed enough respect for his authority. Said Walden, "This is the officer's ego at work. Ego has no place in policing. They bring their anger and pride along with their guns. It is disgraceful." Walden added that many of the victims of police lethal force are homeless and mentally ill, yet programs to hire police officers trained to deal with them have been cut.
Distributed to the workshop was an article from The Guardian, a newspaper circulated exclusively among Seattle police officers. "The city, using its Race and Social Justice Initiative… is inflicting its socialist policies directly on the Seattle Police Department," the article states. The writer was attacking the SPD's "Perspectives in Profiling" program, an 8-hour course seeking to instill some racial sensitivity among white police officers. So far 1,800 officers have taken the course sponsored by the SPD's Office of Professional Accountability.
In the Guardian article, SPD Officer Steve Pomper denounces the course as "one of our 'de-policing' classes" which, in his words, "served as a good way to learn what the enemy is up to. (Yes, enemy. A liberal after my money in taxes may be my opponent, but a socialist attacking the Constitution and my liberty is my enemy.)"
Rev. Walden told the workshop that it is appalling that Seattle police officers view the people as "enemies," adding, "They work for us. They are our employees. We need to take the power back. When we speak about police accountability, we can't accept what they did to John T. Williams."
She pointed out that two former U.S. Attorneys, both Republicans, have filed a lawsuit on behalf of a 17-year-old African American youth who was kicked to the ground and kicked again in the face by a white police officer. A surveillance camera on a nearby shop recorded the entire incident. "Even these law-and-order former U.S. Attorneys are saying there is something wrong with the SPD."
A coalition of 34 organizations, spearheaded by the American Civil Liberties Union, sent a letter to the U.S. Justice Department's Civil Rights Division Dec. 2, urging a federal investigation of a "pattern and practice of civil rights violations" by the SPD. The letter cited "disturbing instances of excessive force" by the SPD warning that "distrust of the police by communities of color grows as a result." Among the signers are the NAACP, El Centro de la Raza, and Mothers for Police Accountability.
Image: Tim Wheeler/PW