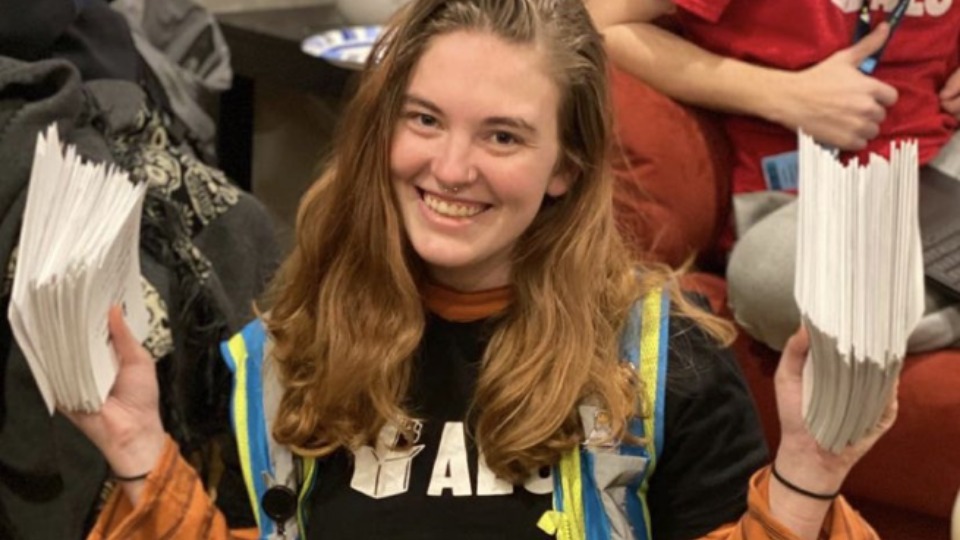 STATEN ISLAND, N.Y. – The Amazon Labor Union (ALU) has just filed for a union election at a second Amazon warehouse on Staten Island. News came on Feb. 2 after the National Labor Relations Board (NLRB) announced the filing at the warehouse, known as LDJ5. This filing comes just one week after another Amazon warehouse on the Staten Island campus, JFK8, received news that they had successfully been approved for a union election this spring.
LDJ5, a sorting center where employees organize and sort thousands of boxes each day, currently represents more than 1,500 sortation workers. This is in addition to JFK8's approximately 6,000 fulfillment center workers who filed. Together the ALU is leading a total of 7,500 workers toward the victory of unionizing Amazon. For LDJ5 and JFK8, the petition and NLRB approval, respectively, are just one step toward the ultimate goal of fair treatment and equal wages for Amazon workers.
Filing for both warehouses comes after nine months of struggle for the ALU, which includes two election petitions, numerous firings of organizers, and continued anti-union attacks on the ALU by Amazon. This included a multi-million dollar union-busting campaign as well as police violence with an arrest of worker-organizers at Amazon on Staten Island. In order to move forward with filing, at least 30% of the workforce at these buildings had to sign union authorization cards stating they support a union election.
Abuse during the pandemic
Amazon particularly abused the workers during the pandemic, employees say. The company refused to give out personal protective equipment, leading to increasingly high levels of COVID – conditions so bad that the New York State Attorney General's Office is leading an investigation into Amazon over the issue.
Workers say they are looking for an avenue to meet their essential needs. The company, they say, fails to pay a livable wage and subjects them to dangerous working conditions and economic exploitation.
With the announcement that JFK8 fulfillment center successfully filed on January 26th, the ALU mentioned no plans of stopping there. Up until the union vote is conducted, the ALU will continue building workers power by instilling trust in the union's ability to support them.
In addition to speaking to workers near the entrance of buildings, the ALU at LDJ5 and JFK8 has stepped up internal organizing by speaking to workers in the break-rooms, structuring workers into organizing committees by department, and taking over break-rooms to have weekly union meetings. Maddie Wesley, one of leaders at LDJ5 who has been instrumental in organizing the sort center, stated that workers have been anticipating pushing forward with the union.
"There were moments where we were getting over 60 signatures a day, like this week leading to us filing. So everyone is feeling really excited."
In December, the ALU succesfully carried out a campaign to pressure Amazon to suspend workers accused of sexual assault in LDJ5, a huge victory for the union, and one that has helped win many workers over to the real material protections unions can provide.
In the beginning of January, the ALU helped win an historic national settlement agreement with Amazon that covered more than a million workers nation-wide, making it easier for workers to unionize and to hold Amazon management accountable when they interfere.
Another historic win is the NLRB asking Amazon to train management and even union-busters at JFK8 — something which has never been done since the implementation of the NLRA in 1935. This is in response to finding merit to ALU's charges of illegal interference with the rights of workers to unionize.
Lastly, after a vicious storm on Jan. 28, for the first time since the opening of the facility in 2018, Amazon workers were given the night off with pay. Because of the ALU's continued pressure, the warehouse was forced to concede out of the fear that workers will again be outraged by unjust working conditions. These achievements not only reflect individual victories for the union, but it shows the concrete threat the union poses when putting pressure on Amazon.
Filings at the two buildings highlights management's fear that they'll be unable to control workers for their own economic incentives toward profit. The warehouse bosses will not have the ability to convince workers to sacrifice their personal safety for a paycheck. Indeed, during the snowstorm, Amazon had allowed workers to opt out of work by appealing to them through favorable working conditions. But Amazon workers also know that temporary consolations only provide a temporary improvement in their lives. The workers will prepare to fight until the ultimate goal is won and their working conditions are improved permanently. Once the details of the elections are finalized with the NLRB, the ALU will conduct a full campaign to canvas and phone-bank to speak to employees directly to discuss the benefits of the union. As the recent ALU newsletter on Feb. 4 exclaimed:
"As soon as we reach an election agreement with the details and date of the election, and we get our hands on that employee roster that Amazon management jealously guards, we will be kicking into high gear on our Get Out The Vote campaign with all of our JFK8 co-workers. Then we'll do the same thing for LDJ5, then for DYY6, DYX2, and for warehouses throughout the country."
Support coming from others
Support is coming in from across the labor movement including from the United Food and Commercial Workers (UFCW), United Steelworkers (USW), and Communication Workers of America (CWA) who are offering to mobilize their members to help talk to Amazon workers about the benefits of unionization.
Wesley described some of the work of the campaign:  "We're going to do house visits and work on establishing a field team. That's all getting ready for a door knocking and phone banking campaign. We're also working on showing our presence in the building, getting people to wear union T-shirts.
"We've been organizing LDJ5 for a really long time.  Amazon's turnover rate is 150%, so everytime you talk to a worker, oftentimes the next week they're gone. That's been a big challenge to our organizing and that's why it's taken so much time. But we finally reached a point where we have a lot of momentum and we're ready for an election. We decided to file."
Workers contend with constant anti-union propaganda. Anti-union posters are put up all over the building, from the breakroom to the staff lounge walls. Wesley also pointed out that this anti-union sentiment is indoctrinated into new workers from the first day they arrive to their shift through a section in their "orientation." It is meant to be used as a tool to convince workers that it is not in their own interests to unionize for better working conditions. Before workers hear information about basic safety training, they are hearing flagrant lies about how the union won't help them.
"Since they started hiring all these new people, they started doing anti-union slideshows during the day 1 presentation. So before these people even know how to stack carts full of boxes, they learn about Amazon's propaganda against the union. It's definitely specifically an anti union tactic with all the new hires," Wesley said.
In Amazon fulfillment centers around the country, anti-union activities are nothing new. In Bessemier, Alabama, during the first planned election on Feb. 8, 2021, there were instances of suppression against individual organizers, in addition to voting mailboxes being rigged. The Alabama Political Reporter documented the insidious efforts Amazon conducted to stop the union election from happening. The NLRB recently ordered a second election because of this tampering. In a decision to have a new election at the Bessemer facility, the NLRB described the first round of elections. It was documented that Amazon "installed false ballot boxes, created an "impression of surveillance" surrounding the unionization efforts, and "engaged in an extensive campaign of polling employees and/or interrogating them with respect to their support for the Union." in the time leading up to the first election."
A second election is currently underway in Alabama, as Amazon workers continue to struggle against the bosses for a union with the RWDSU. But the fight to suppress workers has certainly extended to Staten Island as well.
This is not only through previously mentioned strategies of anti-union propaganda and quickly hiring and firing workers, but also through intentional retaliation against employees. Many workers such as Christian Smalls, current president of the ALU, were unjustly fired in March 2020 for protesting Amazon's inadequate COVID response during the pandemic.
One worker, Daequan Smith, was fired last fall for organizing with ALU, and the union has been fundraising to help with his living expenses. Other workers have received threats and warning letters relating to their union activities.
Many workers have witnessed their coworkers' mistreatment, in addition to injuries at the hands of Amazon facilities around the country to organize their workplaces. After the death of an employee at the Staten Island facility in November, 2021, as well as 6 Amazon worker deaths as a result of being trapped in a warehouse during the deadly Edwardsville, Illinois tornado, members have joined the union to fight against a company that will always choose profits over lives.
The fight toward unionizing Amazon is an essential part of ongoing and future labor struggles. As other companies like Starbucks begin to unionize in multiple locations in New York, still other workers will begin to see the fights at Starbucks and Amazon, and will demand significant changes in their own working environments.