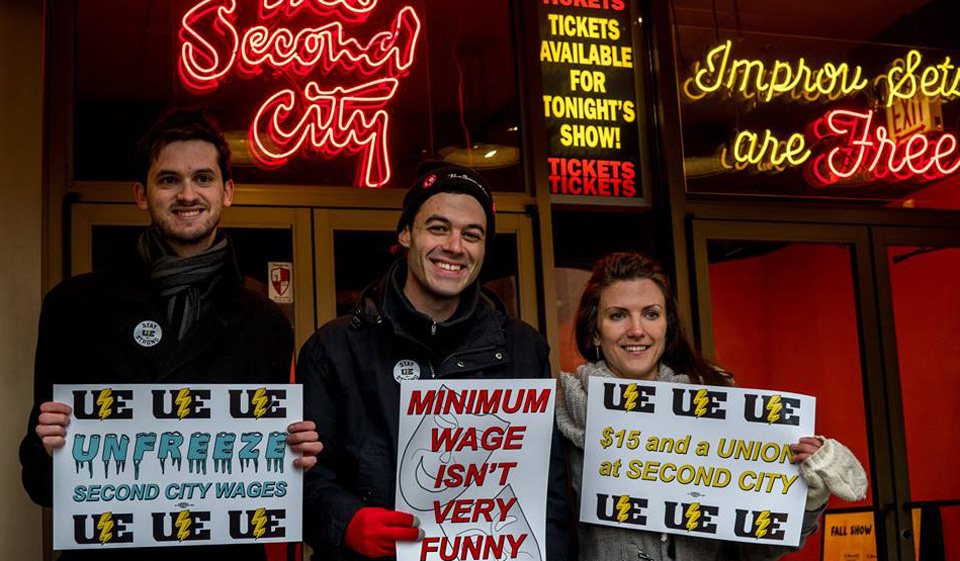 CHICAGO – Approximately 50 Second City theater service employees and community supporters gathered in the slush of the year's first snow to declare their intent to form a union and fight for $15.
Ryan Andrews, part of the wait staff at Second City, told the crowd that gatherings like theirs needed to happen all over the country.
"This is something we've been working on for a long time," said Andrews, "and this is not an affront to the management or an insult to the legacy of Second City. We want a collective voice on the job, we want a fair union contract."
Andrews decried attempts by Second City management to hold "captive audience meetings," where employers routinely attempt to mislead employees about what going union means.
"The union is us, the workers. When Second City is afraid that there'll be some third party coming in, telling what to do, they're talking about us," said Andrews to cheers.
The workers chose to organize with United Electrical Workers (UE), and their election will be held in one week. The prospective bargaining unit is made up of 120 employees. Among the issues they've faced on the jobs are declining healthcare contributions and wage freezes.
Rep. Will Guzzardi of Illinois' 39th District was in attendance. Himself a former improviser, trained at Chicago's iO Theater, Guzzardi is familiar with the Chicago comedy scene.
"These institutional theaters that people come from all around the world to see, they're built on low-wage and unpaid work. That's the undergirding of everything that happens in this building and that's not right," said Guzzardi.
Guzzardi was the chief sponsor of a bill in the Illinois House of Representatives that would have raised the minimum wage to $15 per hour, had it not been vetoed by Gov. Bruce Rauner. He went on to say that "responsible and decent employers are taking it upon themselves" to raise their minimum wages to $15 per hour and he called on Second City to do the same.
Alan Linic, performer on the Second City's ETC stage shared kind words about the people he considers to be "the hardest working people in the building."
"They are the hardest working people in this building," said Linic, "when people come here, maybe the first faces they see are… our faces or the faces of the alumni. The first human face they see are the hosts who seat them, the servers who wait on them, the people who prepare their food. Those people work really hard for the betterment of others, and they deserve better than what they're getting." Linic is a member of Actor's Equity.
Other organizations who sent representatives include SAG-AFTRA, Chicago Jobs with Justice, and a large contingent from Chicago Democratic Socialists of America.
To stay up to date on the struggle at Chicago's Second City, follow this link to their Facebook page.