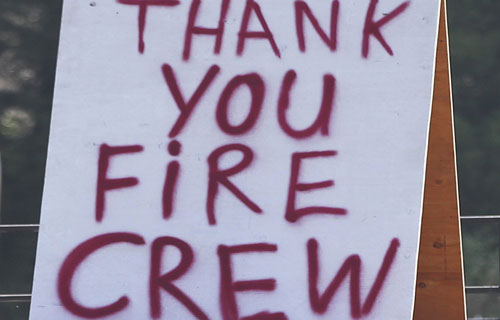 PHILADELPHIA – In yet another move by a plurality Republican group, delegates to the International Association of Fire Fighters convention formally endorsed President Obama and Vice President Joseph Biden for re-election.
Their decision comes weeks after a similar endorsement from the board of another plurality GOP union, the American Federation of Government Employees. And the day of IAFF's move, Obama picked up the backing of a non-union police group.
In a surprise telephone call to the delegates, meeting in Philadelphia, Obama thanked them for their backing. In his call, Obama backed both public safety officers and their right to collectively bargain. Both are under fierce attack by business and the GOP.
"We are grateful for what you guys do every day, and as long as I and Vice President Biden serve we will keep fighting for what matters to fire fighters and the middle class," Obama told the delegates.
IAFF's endorsement is valuable because of its credibility, not just in the union movement but with the wider public, since the Sept. 11, 2001 terrorist attacks. The attacks killed 343 New York fire fighters and their priest, as the NYFF members rushed in to save lives at the World Trade Center, and then it collapsed.
"If you are willing to fight alongside us, I am confident we will win in November and together we will create an economy that gives everybody who works hard a chance to get ahead," Obama continued.
"We have a big choice to make. The other guy running" – presumed GOP nominee Mitt Romney – "has a different view on the importance of what you do. He opposes your rights to bargain. He says our country cannot afford more fire fighters even though he supports huge tax cuts for people who don't need it."
As Massachusetts's governor, Romney tried, unsuccessfully, to curb collective bargaining rights for fire fighters and other public safety personnel, long before destruction of those rights became a general GOP cause.
The day before Obama's call, Biden told the delegates in person that the administration would stand with them and other workers, and that Republicans "have a different value set" regarding workers. "They look at your ranks and see an easy place to cut budgets to accommodate their priorities," Biden declared. And not just fire fighters but "cops, public workers generally" fall to the GOP ax, he added.
"They act as if you're the community's problem, not part of the community," said Biden, who has personal connections with fire fighters from both his days as a Delaware senator and because he remembers how they rescued his sons from a car crash that killed his first wife and his daughter.
IAFF President Harold Schaitberger, introducing Obama's live call to the delegates, said his union's endorsement shows fire fighters "stand with those who stand with us. Our current president has been standing with us. Now it is time for us to be with him."
Photo: A sign is posted at a residence, thanking the International Association of Fire Fighters workers for battling this year's High Park Fire. Laramie Boomerang & Andy Carpenean/AP