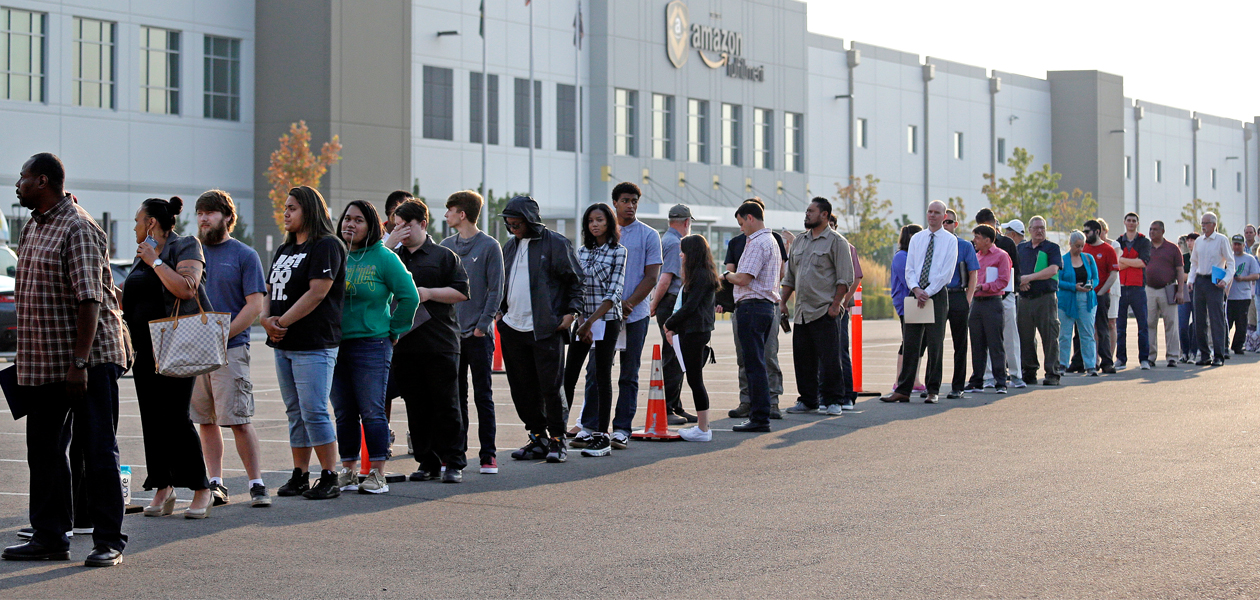 LOS ANGELES—Already known for spending millions on union-busting—with mixed success—the monster retailer and warehouse firm Amazon planned to go far beyond that to gear up against the Teamsters' campaign to unionize it, especially in a key area, Southern California. Its target to exploit: "Vulnerable people."
In a memo leaked to Recode, Amazon honchos said it would hire students from poor households and people just let out of jail after finishing their sentences. The implication is they would be desperate for jobs and join Amazon. Unable to afford advancement through college, for example, they would be trapped into remaining at Amazon. The memo says that those "vulnerable adult workers would become pro-company speakers."
And for California the Amazon memo envisions a "school to warehouse pipeline"—their words—to funnel young L.A. high schoolers and community college grads into its monster facilities. Amazon also proposed eliminating its employment interviewers' questions to job applicants about pot use. The racist implication is that minority youth using the drug would be even more vulnerable and prone to super exploitation.
The memo also calls upon Amazon to launch a PR campaign designed to ingratiate itself with community groups. And Amazon would shine up its image by supporting organizations that campaign for social change, such as better schools and job opportunities for ex-inmates.
It might even raise workers' pay—to $18 an hour.
All this was designed to provide Amazon with a gratified workforce to resist the Teamsters' organizing drive, and Amazon's first target is Teamsters Joint Council 42 in Southern California, the memo said.
If the monster firm succeeds there, the memo specifies it could implement the same tactics in Chicago and Boston, then elsewhere.
Amazon's strategy doesn't surprise Shane Gusman, the Teamsters Legislative Director for California, speaking for JC42, in a telephone interview with People's World. The council's unions represent workers at, among others, the nation's busiest port, Los Angeles-Long Beach.
Including the PR effort and "buying off community groups," Gusman said the memo outlines "classic corporate strategy to find any way to get around unionization."
The council also covers the port of San Diego and, importantly, California's "Inland Empire" of warehouses for storing goods delivered from the ports before transshipment eastwards via truck and train.
Walmart, Gusman added, has done the same thing. "It would traipse community groups through the legislature" to testify to the company's good works while low-balling its workers on pay, benefits, and working conditions, and fighting unionization.
"We've seen it a thousand times," said Gusman. And Amazon, like Walmart, "looks at the political climate and latches onto a do-gooder cause" to promote. "It's totally outrageous."
In the Los Angeles area, dropping the pot questions would let Amazon hire formerly incarcerated people whose past records would otherwise keep them out of jobs. The pay and the pipeline from the high schools and community colleges would appeal to the 80% of L.A. United School District kids who live in families below the poverty line, the memo contends.
Both groups called "vulnerable"
The memo characterizes both groups as "vulnerable people" open to an Amazon message of immediate jobs. According to the Amazon plan,  they then become company defenders against the union.
The memo admitted Amazon began with two big disadvantages: Negative perceptions of its impact on communities and local businesses and its low pay. Though the memo did not say so, the negative impact resulted in civic defeats of Amazon warehouse construction projects not just in Southern California but in Colorado, New York City, and elsewhere.
In those cases, unions, including the Teamsters on the West Coast and Colorado and the Retail, Wholesale and Department Store Union in New York, mobilized community and political support against the Amazon projects by pointing out how Amazon's warehouses would disrupt neighborhoods, how its business tactics drive local firms broke, and its skimpy pay.
Amazon also worried about the Teamsters' size, 1.2 million members, and clout, the memo says. Its honchos drew up the document in spring 2021. In 2020, both Teamsters presidential hopefuls declared Amazon, owned by Jeff Bezos, one of the three richest people in the U.S., is an "existential threat" to the union's core of truckers and warehouse workers.
Amazon may face all it can handle as it takes on Joint Council 42. Council locals cover a lot of Amazon's business area. The council's locals not only cover Los Angeles-Long Beach, where many of its goods enter from China but workers in Inland Empire warehouses. In those, the goods—brought by rail or by port truckers—are stored before distribution.
And for years, JC42 and Teamsters headquarters in Washington have run a multi-step campaign to unionize those thousands of L.A.-Long Beach port truckers and to successfully alert surrounding communities to the negative economic impact of Amazon's warehouses.
The first part of the L.A.-Long Beach drive was to campaign against pollution port trucking firms inflicted on working-class neighborhoods by forcing the truckers to idle, waiting hours on end, for freight. They got state and local environmental officials to crack down.
The second part was to alert the truck drivers, and the public, to port truck companies' exploitation of the drivers by misclassifying them as "independent contractors," and forcing them to buy their own gas, tires, insurance, and supplies while denying them decent pay and the right to unionize. Truckers would often go home with paychecks counted in pennies.
And while JC42 was busy organizing the port truckers and getting them onto informational picket lines—and occasional one-day strikes—the union and its allies went to court under California labor law, which is tougher on bosses than federal law, to win cases against the misclassification. Penalties included not just money but the right to organize.
Gusman pointed out that Teamsters can also take on Amazon's economic arguments that it would use to entice the "vulnerable people" to work in its warehouses.
"There's no reason why the formerly incarcerated can't get a good union job" since union contracts often bar bosses' questions about a worker's past criminal offenses. Some also bar questions about pot use.
Young people targeted
"And the same thing with the young people" who can be attracted to high-paying union jobs, notably through building trades unions' apprenticeships and training, he said. The Teamsters, a member of North America's Building Trades Unions, run such apprenticeships.
Amazon's memo does not discuss its tactics against independent grassroots unions springing up around the U.S. to organize its warehouse workers.
The most successful one, the Amazon Labor Union, impressively won a National Labor Relations Board-conducted union recognition election in a heavy turnout among JFK8 warehouse workers in Staten Island, N.Y.
That win was the first break against Amazon's constant anti-union defenses. Similar independent Amazon unions have sprung up in Chicago and North Carolina's Research Triangle, among other areas.
The leaked memo isn't the first time Amazon tried PR tactics and other dodges to defeat unions, adding to the firm's "normal" hiring of union-busters and frequent labor law-breaking, documented in unfair labor practices charges filed with the National Labor Relations Board.
Left Voice last year uncovered a prior Amazon memo recommending the company film and promote what it called an "inarticulate" Staten Island worker to downgrade the ALU.
That boomeranged. The worker Amazon pilloried was Chris Smalls.
Smalls, who is both very articulate and very organized, co-founded the Amazon Labor Union. It began after bosses illegally fired him in 2020 for leading a lunchtime walkout at JFK8. The workers protested Amazon's refusal to protect them against the spreading coronavirus—or even tell them who got sick, so they could protect themselves by anti-virus tests.
The end result, after two years: ALU's win at JFK8, 2,654-2,331.