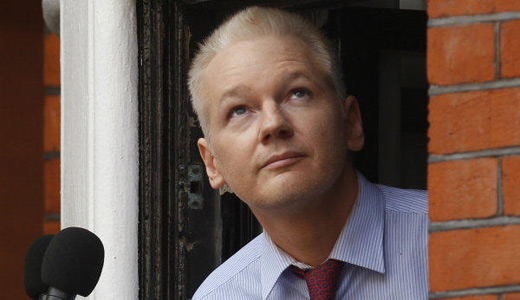 LONDON – WikiLeaks founder Julian Assange says his organization will take action Aug. 25 with the support of twelve Latin American countries.
Various groups in London have announced that on that day they will hold a vigil here for Bradley Manning, a U.S. Army private held in jail for over 800 days. A Virginia grand jury is examining alleged "evidence" that could link Assange to Manning, who has been charged with "aiding the enemy" by passing secret files to WikiLeaks.
After the vigil they plan to march from the U.S. Embassy to the Ecuadorian embassy where they will join an ongoing vigil for Assange.
South America's foreign ministers have met in Guayaquil, Ecuador, at the invitation of Ecuador, to discuss the case. On Friday, foreign Ministers of the Organization of American states are to convene in Washington to discuss the situation.
Assange, whose organization released hundreds of government secrets to the world media, appeared in public last Sunday for the first time since he took refuge two months ago in the Ecuadorian embassy in London.
He sought asylum at the embassy because he feared being captured and taken to the United States to stand trial for leaking thousands of secret documents involving the CIA, the FBI, prisoners being held at Guantanamo and other military operations.
The 41 year-old Australian has also fought for two years against efforts to send him to Sweden for questioning over alleged sexual misconduct against two women. His supporters say the Swedish case is nothing more than a Washington-designed plot to eventually get him to stand trial in the U.S. Britain insists that if he steps outside the Ecuadorian embassy he will be detained and sent to Sweden.
"I ask President Obama to do the right thing, the United States must renounce its witch hunt against WikiLeaks," Assange said, speaking from the first floor balcony of the Embassy. He also urged the release of Manning.
The White House has declined comment on the specifics of the case but said Sunday the issue is for Sweden, Britain and Ecuador to resolve. Assange said that he and others in his organization want to bring important news to the public. "Everyone has the right to freedom of opinion and expression and to receive important information," he said, while praising Ecuador as "a courageous Latin American nation that took a stand for justice."
Assange says that behind the extradition attempts are U.S. plans to punish him for the publication by Wikileaks of what amounted to mountains of American diplomatic and military secrets – including 250,000 U.S. Embassy cables that highlight all kinds of backroom wheeling and dealing.
Photo: Sang Tan/AP