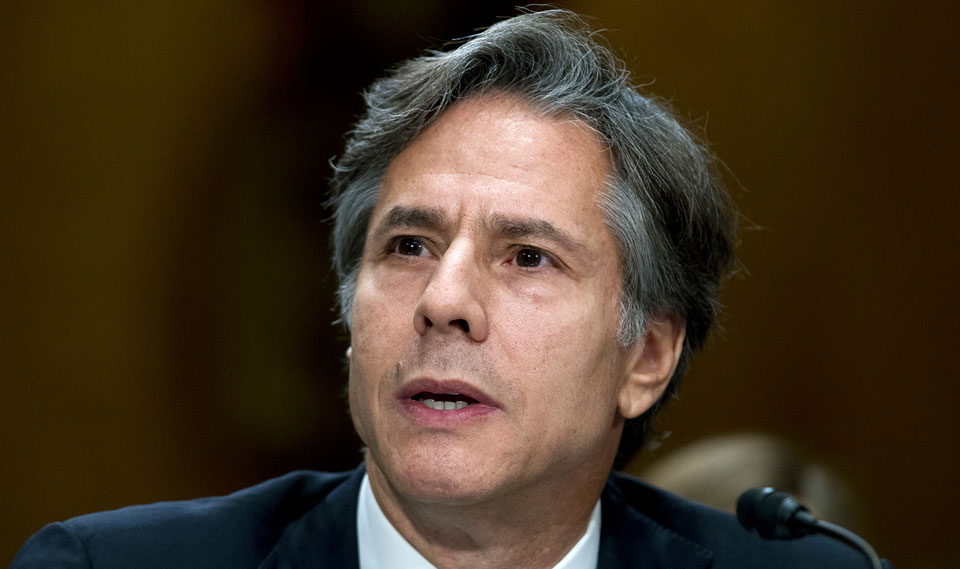 UNITED KINGDOM—Morning Star, the daily socialist newspaper here, while it welcomes the dumping of Trump by U.S. voters, is critical of Anthony Blinken, the man Biden has nominated for the position of Secretary of State. In a recent article, the expressed disappointment that Blinken could end up being just another supporter of regime change.
Nominated for the role of Secretary of State, Antony Blinken, a blast from the Obama administration past, has gone on record supporting Trump's aggressive stance on China, saying: " [Trump] was right in taking a tougher approach to China," even if he didn't agree with all the methods.
When asked by GOP Sen. Ted Cruz whether he agreed with outgoing Secretary of State Mike Pompeo's assessment that China was committing genocide against minority Muslims, Blinken said: "That would be my judgment as well."
"I think we're very much in agreement," he said. "The forcing of men, women, and children into concentration camps; trying to, in effect, re-educate them to be adherents to the ideology of the Chinese Communist Party, all of that speaks to an effort to commit genocide."
China has repeatedly denied the U.S. accusations, And China's embassy in Washington D.C. said in a statement: "The so-called 'genocide' in Xinjiang is simply a lie. It is a farce used to discredit China." The statement went on to say that U.S. accusations were nothing but "gross interference in China's internal affairs." They issued that statement before Blinkin was questioned before the Senate.
The questioning by Cruz continues a long line of attacks on China by the Trump administration and it looks like the GOP will continue to apply right-wing pressure on the Biden administration with its anti-China campaign.
When asked about how he would respond to China in his first 30 days as of Secretary of State, Blinken said: "I think we should be looking at making sure that we are not importing products that are made with forced labor (sic) from Xinjiang … we need to make sure that we're also not exporting technologies and tools that could be used to further their repression. That's one place to start."
Peace advocates find it disappointing that a new Secretary of State would automatically accept assessments of what is going on in China from right wingers who have no interest in developing relations between the U.S. and China that would benefit both countries.
On North Korea, Blinken said, "we have to review, and we intend to review, the entire approach and policy toward North Korea because this is a hard problem that has plagued administration after administration. And it's a problem that has not gotten better — it's gotten worse."
Blinken said the North Korea policy review would be to see "what options we have" in terms of increasing external pressure on North Korea taking a formal seat at the negotiation table, coupled with what other diplomatic initiatives may be possible."
Blinken signaled he would begin consulting with close allies and partners, in particular Japan and South Korea.
One important "option," that the U.S. should reduce or eliminate the nuclear missiles it has pointing at North Korea from all directions was not mentioned.
When asked by Republican Senator Ted Cruz if the U.S. will keep its embassy in Jerusalem, Blinken said "yes, and yes,' without hesitation.
The Trump administration recognized Jerusalem as Israel's capital and moved the U.S. embassy there in 2017.
However, Blinken indicated the Biden administration's willingness to pursue a separate Palestinian state while acknowledging the inherent difficulties.
"The only way to ensure Israel's future as a Jewish, democratic state and to give the Palestinians a state to which they are entitled is through the so-called two-state solution," Blinken said.
Regarding Latin America, Blinken confirmed that the Biden administration will continue to recognize right-wing Venezuelan opposition leader Juan Guaido as Venezuela's president.
"We need an effective policy that can restore Venezuela to democracy, starting with free and fair elections," said Blinken.
Guaido, with support from the Trump administration, has pushed to oust President Nicolas Maduro and has claimed the incumbent's re-election win in 2018 was rigged. Maduro has called Guaido a U.S.—puppet seeking to oust him in a coup.
Maduro has signaled a willingness to reset relations with Washington:
"We must tell the United States: We want to improve our relations, to make it one of respect, of mutual acknowledgment, a relationship with a future," Maduro said Wednesday, Jan 20.
Blinken, a graduate of Harvard University and Columbia Law School joined the State Department under the Clinton Administration in 1994, taking posts in the Clinton White House and Senate Foreign Relations Committee. In 2008, Blinken served as then-Vice President Biden's national security advisor. He was appointed as deputy secretary of state in 2015.