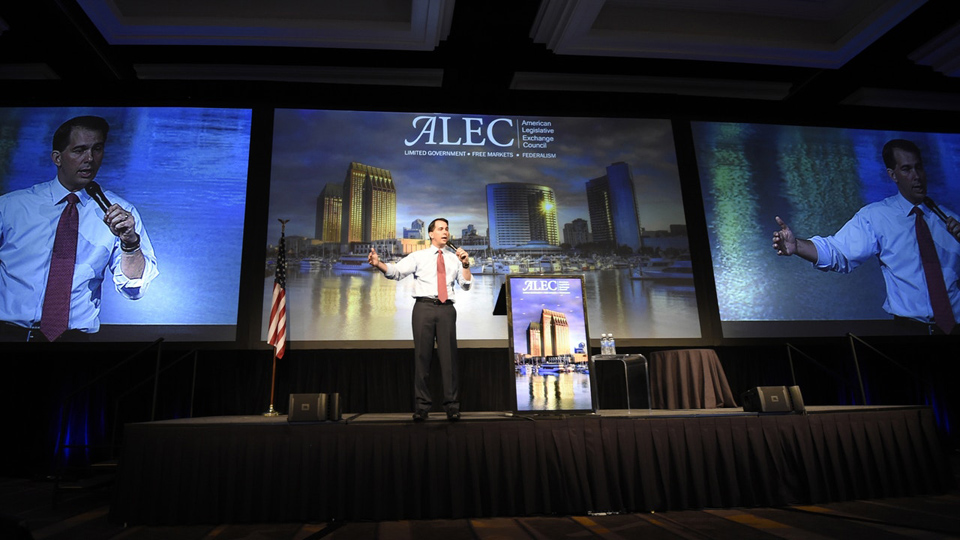 WASHINGTON – Fresh off its big win last June at the U.S. Supreme Court, the secretive right-wing corporate cabal, the American Legislative Exchange Council (ALEC), is expanding its drive to destroy public worker unions.
And it wants to wreck private worker unions, too, statements from its pre-Election Day two-day conference in anti-worker GOP President Donald Trump's luxury D.C. hotel show.
ALEC became infamous for its radical right and pro-corporate agenda when it was first exposed by the fatal shooting of unarmed African-American teenager Trayvon Martin in Florida several years ago. The murderer was able to get away with it by citing an ALEC-drafted GOP-passed "Stand Your Ground" Florida law which let the gunman shoot without provocation.
Later investigation showed the Stand-Your-Ground law was just the tip of ALEC's iceberg of "model" statutes to impose the secret corporate and right-wing agenda, worked out behind closed doors by lawmakers and lobbyists, on the entire country, state by state.
That agenda includes a wide range of anti-worker measures, particularly aimed at public unions. One, making every single state and local government worker a "free rider" who could use union services – bargaining and contract enforcement – without paying one red cent for them was legalized by the High Court in the Janus case.
After giving right-wing former Illinois worker Mark Janus – the plaintiff in the notorious case – a standing ovation at the D.C. conference, ALEC delegates got to work. Here's what they came up with to push through compliant GOP-run states next year:
A national "right to work" law, applying to all public workers, just in case a future High Court reverses the current 5-GOP-justice majority Janus decision.
The "Public Employee Rights Authorization Act" would "avoid having public employees misled into forfeiting free speech rights and suffering financial losses," ALEC says.
"No labor organization may collect a payment from a public employee until the employee provides affirmative consent," in writing, which can be revoked at any time," ALEC's model law says.
"A public agency may not deduct from the wages of an employee any payment meant to financially support a labor organization without affirmative consent from the employee," its next provision adds. "Affirmative consent cannot be presumed. To be effective, the affirmative must be freely given and shown by clear and compelling evidence." And consent given before June 27, 2018 – the date of the court's Janus ruling – is revoked.
The snide and nasty language of the waiver also discloses its intent: "I recognize that I have a 1st Amendment right to associate. My rights provide that I am not compelled to pay a labor organization as a condition of employment, and I do not have to sign this waiver. However, I am hereby waiving my right to free speech and affirmatively consent to allow my employer to deduct payments to a labor organization until such time as I choose to revoke this authorization," it reads.
"This provision shall be written in bold and in all caps and shall be in a font that is equal to or larger than any other font found in the text of the form," the model RTW law adds.
"As wonderful as Janus was," said one speaker, F. Vincent Vernuccio of Michigan's radical right-wing Mackinac Center, "it still gave 'right to work' only to public employees. There are 23 states right now where private-sector unions can still get workers fired for not paying them, and we can't lose sight that we still need 'right to work' in those states as well."
ALEC also would write outgoing Wisconsin GOP Gov. Scott Walker's infamous Act 10, which emasculated public worker unions in the Badger State, into law. ALEC's second model statute that it plans to push next year would force all local public worker unions to stand for recertification by their members every year, and they could win only if an absolute majority of all workers in the bargaining unit – not just union members – votes "yes."
The GOP-run Iowa legislature enacted such a measure two years ago, and public worker unions have had to go through that recertification process ever since. It's backfired: More than 94 percent have won.
Another ALEC measure would make union spending even more transparent – and thus open to the radical right's inspection – than it already is under the 1959 GOP-passed Landrum-Griffin Act. That federal law forces unions to itemize their spending, in public records, on everything from paper clips to individual paychecks.
A fourth would outlaw payment for "official time." That's a favorite GOP and right-wing cause. Outlawing payment for official time deprives public workers of union representation and defense in grievances and bargaining, by forcing shop stewards to handle such issues on their own time and on their own dime. Anti-worker lawmakers have tried to enact it for years.
Led by the president, the GOP Trump administration has tried to ban payment of official time for shop stewards representing the nation's two million federal workers.
A federal judge in D.C. threw out his executive order banning official time payments. But Trump Education Secretary Elizabeth "Betsy" DeVos – whom ALEC trumpets on its website as a financial and political backer – has tried to impose it on her department's workers anyway.
The agency workers' union the Government Employees (AFGE) and the Treasury Employees are contesting DeVos' action at both the bargaining table and in court.