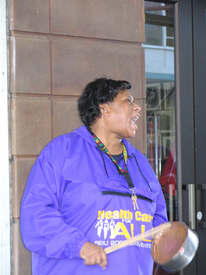 OAKLAND, Calif. — Taking a break from leading chants in front of Oakland's landmark Tribune Tower July 13, Pamela Frazier recalled her experiences working at an unorganized jobsite.
"Before I became active in the union," said Frazier, a 15-year security officer, "I was struck by a car one day right in front of the San Francisco building where I worked. I didn't have any benefits or sick leave. Since I was raising three kids as a single parent, I couldn't afford to take time off. So I came to work the next day on crutches.
"Then when the union rep came around," she added, "I was ready to get involved."
Now Frazier, a member of SEIU Local 24/7, is letting non-union security workers know they, too, can win living wages and decent benefits.
Frazier was participating in an informational picket sponsored by Jobs with Justice — part of a nationwide drive by the Service Employees to win union recognition for security officers. SEIU calls the campaign the largest-ever drive to organize a predominantly Black workforce. It is backed by a wide range of faith, community and labor organizations, including union janitors, among them many Latinos.
Besides providing security for the Tribune Tower, ABC Security Services, a nonunion firm, also holds contracts with the city and Port of Oakland.
SEIU organizer Eric Lerner said the union is calling on the city of Oakland to include in its competitive bidding guidelines language to assure that any firm selected is in compliance with local and federal laws.
While living wage laws cover its workers at public sites, ABC pays many workers at private sites less than $10 an hour, Lerner said, adding that ABC "threatens union standards with its low wages and inadequate health coverage that most workers can't afford."
Organizers say ABC is a holdout among major security companies operating in the Bay Area. Local 24/7's master contract covers some 5,000 members working for 10 private security firms in San Francisco, Alameda and Contra Costa counties.
Los Angeles security officers have been fighting for a union for more than four years, said L.A.-based SEIU spokesperson Gina Bowers. A turning point was reached last spring, when Rob Maguire of Maguire Partners, the largest building owner in downtown L.A., responded to Mayor Antonio Villaraigosa's call to improve security and working conditions for security officers, by saying he supported his security personnel joining the union.
The Stand for Security Coalition of clergy and community groups backing the organizing efforts says nearly 70 percent of L.A. county security officers are Black and most must work two full-time jobs because of poverty conditions in their industry.
Following a meeting with the Rev. Eric Lee of the Southern Christian Leadership Conference, Bowers said, contractors agreed to issue a letter telling security officers of their rights to join a union, and the letter has already been circulated in some buildings.
In New York City, 27 Guardsmark security officers were set to strike July 19 — the first such action by private security officers at a commercial office building there. The officers are protesting Guardsmark's retaliation against two security officers at another building who delivered a union-sponsored petition regarding working conditions to a Guardsmark client. The National Labor Relations Board last year ordered Guardsmark to rescind its rule barring security officers from telling clients of their concerns about working conditions. SEIU Local 32BJ has filed an unfair labor practices against Guardsmark for enforcing the illegal rule.
The city's Empire State Building has been the focus of protests by elected officials, religious and community leaders demanding decent wages, affordable health care and state-of-the-art security training for security officers there.