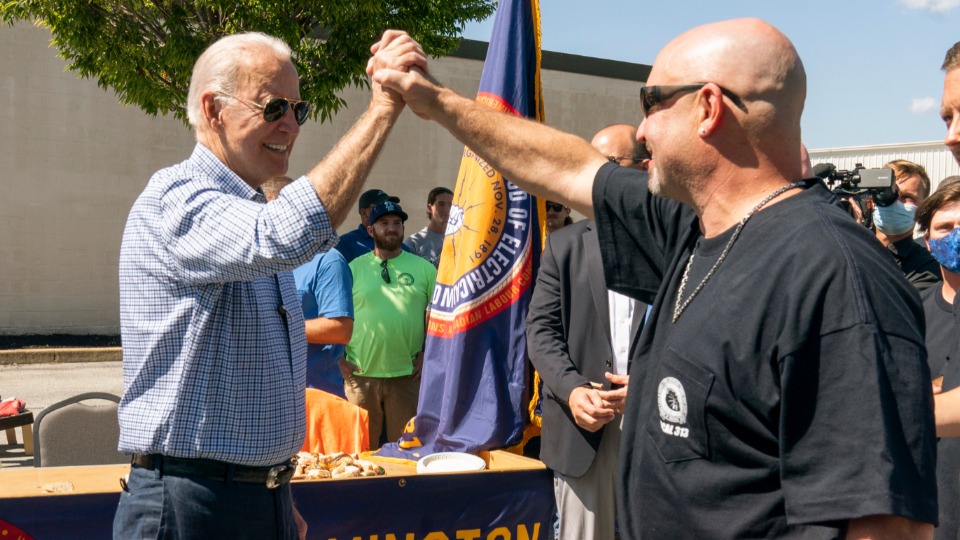 "Laws are like sausages. It's better not to see them being made."

—Attributed, erroneously, to famed

German Chancellor Otto von Bismarck

"Politics is the art of the possible."

—A real Bismarck quote, from 1867
WASHINGTON—There's been a lot of sausage-making going on at the White House and on Capitol Hill over the last several months on Democratic President Joe Biden's Build Back Better legislation. And, at the end, it seems, "the possible" won.
At least that's the conclusion the AFL-CIO and many other organizations reached when Biden and congressional Democrats—forget the GOP—agreed on the latest version of his transformative agenda, after an impassioned last-ditch pitch from the president in person.
It's like seeing the forest, not the trees. Of course some laudatory statements, including the one from AFL-CIO President Liz Shuler, also singled out one favorite cause (tree) or another.
The groups praised the revised Build Back Better bill, headed for congressional floor showdowns next week, though Biden had to chop some trees.
"No one got everything they wanted, including me. But that's what compromise is. That's consensus. And that's what I ran on," he admitted before boarding Air Force One for his trip to Rome to talk with the Pope and for a summit, followed by the international COP26 meeting in Glasgow, Scotland, on combatting climate change.
What got chopped and what survived
One big tree Biden had to chop was reversing the Trump-GOP 2017 tax cut giveaway to corporations and the rich. Another would have given Medicare the power to bargain down prescription drug prices. A third was paid family and medical leave. First Biden cut it from 12 weeks to four, and then opposition from Sen. Joe Manchin, D-W. Va., forced him to dump that.
On the other hand, Build Back Better includes a 15% absolute minimum corporate tax rate and a 50% rate on overseas profits of U.S. corporations.
But if Build Back Better, officially called a "reconciliation bill," succeeds, along with Biden's five-year "hard infrastructure" plan to rebuild the nation's crumbling roads, creaky subways, outdated airports, remove its lead-lined water pipes, and "green" both its buses and electric vehicles, it'll be an enormous achievement for the president and his party.
That's because the number of House Republicans expected to support BBB is one word: Zero.
It'll also be the biggest expansion of the nation's badly frayed social safety net since the Great Society, if not the New Deal—which set up the safety net in the first place. And Biden's plan will also raise taxes on, literally, the nation's 700 billionaires.
That attracted Congressional Progressive Caucus Chair Rep. Pramila Jayapal, D-Wash. Whether it'll attract all 96 members of her caucus, the House's largest, is another matter. Roll Call reported some are balking due to what was cut.
"By guaranteeing the nearly 700 billionaires in America finally pay their fair share of taxes, we can invest in childcare, universal pre-K, climate action, health care, home care, affordable housing, a roadmap to citizenship" for undocumented people "and so much more," Jayapal tweeted. "Let's get this done." (The roadmap may not be in the legislation.)
Left untouched were two other revenue raisers since reconciliation bills are supposed to cover only spending and taxes: Higher fines and broader reach of penalties for labor law-breaking, and taxes on oil, gas, and coal carbon emissions, as a way to fight climate change by encouraging switches to clean green energy. But the AFL-CIO reported the fines stayed in.
The sausage-making was all due to a small batch of so-called Democrats: Nine in the House and Sens. Kyrsten Sinema, D-Ariz., and Manchin of West Virginia. With Democrats holding only a 220-212 House edge and the Senate in a 50-50 tie, broken by Vice President Kamala Harris, threatened defections could sink everything.
Biden realized that. Thus the hours and hours of public sausage—oops, lawmaking.
So did AFL-CIO President Liz Shuler, Teachers (AFT) President Randi Weingarten, and the Communications Workers, while adding their favorite cause: High-speed broadband for all.
"This is an important step toward making historic, overdue investments in working people and good union jobs," said Shuler, whose union, the Electrical Workers, will benefit from infrastructure projects to both green the U.S. power grid and protect it from blizzards and other disasters.
"The reconciliation framework is a pro-worker victory: Child care, home care, clean energy jobs, health care, tax fairness, immigration improvements and support for worker organizing. This framework, together with the bipartisan infrastructure bill, is exactly the type of progress working families need as we carry our country out of the COVID-19 pandemic.
"While there is still more work to be done on paid leave and other priorities, we are closer than ever to building back better. It is time for Congress to finish the job by passing both critical jobs bills," she declared.
Every single Republican will vote no
It's also strictly a Democratic pro-worker victory, aided by pressure from groups ranging from the AFL-CIO to the Working Families Party to you-name-it. That's because except for the "hard" infrastructure bill in the Senate, which may again be bipartisan, every single Republican member of Congress will vote "no."
AFT's Weingarten took the same "forest" view, praising the entire legislation, then posting a toll-free number for people to call their senators: 888-879-2059.
"The investments these bills make together will be transformational for nearly every working family, affecting how they work, live, care for their loved ones, and plan their futures. They make good on the ultimate promise that government can problem-solve to make people's lives better," she said.
They'll also "create good union jobs," especially on the infrastructure bill. Tell senators, she said, "to pass both."
Other supporters cited their own favored issues as reasons to support the overall package.
The Communications Workers praised a multitude of large-scale sections of both bills, then returned to the infrastructure bill's commitment to wire the whole nation for broadband.
The BBB bill "will fund transformational programs that solve real problems working people face. It will also rein in corporations by increasing penalties for violating labor laws, implementing a corporate minimum tax, imposing a surcharge on stock buybacks, and ending tax advantages for corporations that ship jobs overseas. These have long been priorities for our union," CWA said.
"We can't afford to wait any longer for relief these programs will bring. Our families need help making sure children are well cared for—universal preschool, affordable child care, and the child tax credit will do that. Our families need access to health care. Affordable Care Act tax credits and the Medicare hearing benefit will do that." Vision and dental benefits were dropped.
"We also need the jobs the Infrastructure Investment and Jobs Act will create. We need the high-speed internet networks the infrastructure bill will fund, networks built by companies who adhere to high labor standards…from entities that have a demonstrated record of and plan to be in compliance with federal labor and employment laws."
Labor's Council for Latin American Advancement, the AFL-CIO's affinity group for Spanish-speaking people, cheered raising the minimum wage to $15 for home health care workers, part of Biden's child care expansion. And increasing child care access reduces "a major structural contributor to the pay gap."
"Biden's plan, including the Infrastructure Investment and Jobs Act, is a game-changer for our country, public transit, and working families," said Amalgamated Transit Union President John Costa. "It's a down payment on our future. It's time for Congress to put politics aside and do what is right."
The infrastructure bill includes large new investments in subways, electric buses—with charging stations—and Amtrak, among other mass transit. One other section is an ATU cause, too: Requiring transit agencies to protect bus and subway operators against dangerous and occasionally fatal passenger assaults.
The BlueGreen Alliance, a coalition of top environmental groups and unions, including the Steelworkers, the Bricklayers, and the Transport Workers, also praised the BBB bill and its pro-union requirements. But Executive Director Jason Walsh, a former Obama-Biden White House staffer, warned the devil is in the details.
"This is a big deal for workers and the climate. By making smart investments to deploy clean energy and clean vehicles, build up our domestic supply chains, and support growth in manufacturing technologies that will drive the clean economy, we can build good-paying, union jobs for workers across the nation while doing our part in the fight against climate change," he said. Those investments, mostly tax credits, are worth $500 billion over ten years.
"Build Back Better will put our nation on a path to a clean, prosperous, and equitable economy, built for America, by America. However, important priorities are not referenced in the current framework and must be addressed. We urge Congress to get the details right."
The Laborers had their own "tree," the hard infrastructure bill. They posted a petition on their website pushing only that—and only in the House. "You promised us a vote in September but have broken your own deadlines two times," the union chided. "Please get the bipartisan Infrastructure Bill to the finish line now. There is no need to hold it hostage while other legislation is written and debated," a veiled reference to the larger, more controversial BBB bill.
Eliminating permanent paid family and sick leave was a big disappointment for the National Partnership for Women and Families, even as Executive Director Debra Ness said the rest of the BBB bill would greatly aid low-paid working women. "Hourly grocery store workers, frontline health care workers, childcare workers, and domestic workers live paycheck to paycheck and lack paid leave through an employer," she said.
"Without paid leave, millions of women will continue to be forced out of the workplace when an illness or urgent family care need strikes," as they were by the coronavirus pandemic. No paid leave means the U.S. still does not value caregivers, Ness added.
"The first-of-its-kind investment in home care will raise wages, ensure a voice on the job for millions of home care workers—the Black, Latina, Asian Pacific Islander, Indigenous, and immigrant women hit hardest by the pandemic," said Service Employees President Mary Kay Henry. It will also "expand affordable, quality care." And she lauded the BBB bill's "critical investments" in pre-K education and child care "so working people can care for themselves and their loved ones," plus its climate change provisions.
It ain't over
But, to quote another sage, the late, great New York Yankees catcher Yogi Berra, "It ain't over till it's over."
While Manchin, one of the two Senate "moderate" Democrats who forced cuts, leaned towards voting "yes," the other, inscrutable one, Sinema, said nothing. And there were enough cuts in progressive priorities that members of Jayapal's caucus were rumbling, again, about voting "no" on the hard infrastructure bill unless senators passed the BBB first. Besides, as Walsh noted, the devil is in the details—and some are still being worked out.
So stay tuned. The sausage-making is still going.