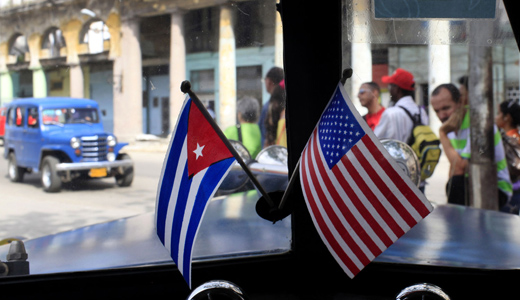 MIAMI – Despite winning the gubernatorial race in Florida last week, exit polling by CNN shows that Republican Gov. Rick Scott lost Cuban-Americans to his Democratic opponent, former Gov. Charlie Crist, 50 percent to 46 percent. CubaNow, a Miami-based organization advocating better relations with Cuba, called attention to this in a news release last week. The group said, "Even accounting for a large margin of error, this outcome pales in comparison to Scott's support among Cuban-Americans in 2010, when he won that coveted vote 68-32 percent. Scott rejected any policy change with regard to Cuba this year and declared himself a staunch supporter of the status quo, while Crist advocated for an end to the embargo."
According to the same poll, Scott also lost non-Cuban Hispanics, earning just 31 percent to Crist's 66 percent.
CubaNow is not a left organization. It advocates ending U.S. isolation of Cuba in order to increase U.S. influence there. This underscores the increasingly broad sentiment for a change in U.S. Cuba policy.
CubaNow Executive Director Ric Herrero, a politically connected corporate lawyer whose parents were Cuban exiles, said in the news release:
"That a statewide candidate in Florida was able to call for an end to the embargo and go on to take the Cuban-American vote and a super-majority of non-Cuban Hispanics highlights just how far the political landscape has shifted in Miami-Dade and across the state with regard to this issue. In the middle of a Republican wave, Democrat Charlie Crist not only won Cuban-Americans, he outperformed the previous Democratic nominee from 2010 in Miami-Dade County, where Cuban-Americans are most concentrated, by approximately 30,000 votes. The results make it clear that Crist's loss had nothing to do with Cuba policy. Domestic political considerations should no longer hamstring America's ability to conduct foreign policy."
Herrero called for the president to "get the government out of the way of the American people" in opening up relations with Cuba.
Photo: Franklin Reyes/AP