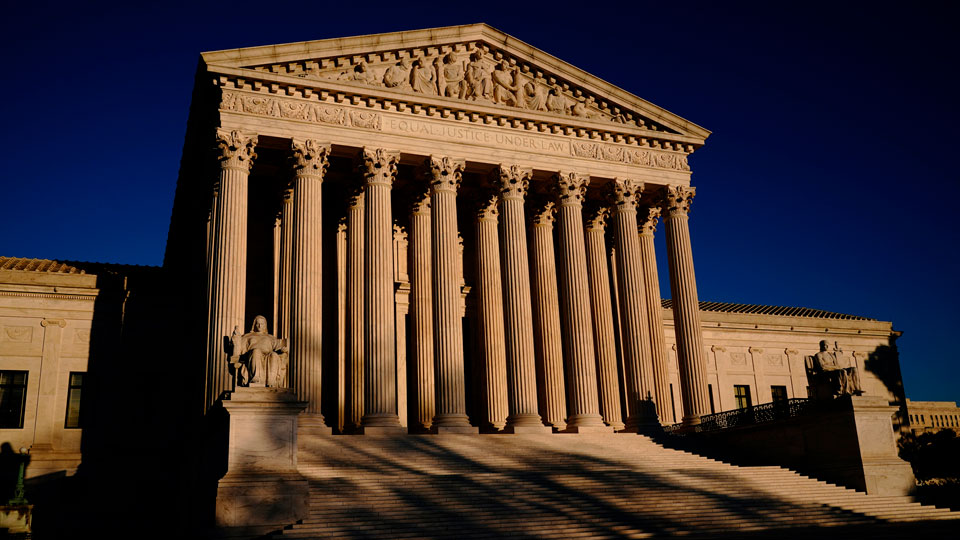 WASHINGTON—If the U.S. Supreme Court's right-wing Republican majority kills the 10-year-old Affordable Care Act, Service Employees Local 503 member Cammie Hering of Portland, Ore., won't be able to afford health insurance.
At that, even with "relapsing-remitting multiple sclerosis" that could eventually disable her, Hering, a personal support worker who earns $15.50 an hour, might be better off than two other ACA beneficiaries, Eva Hagberg and Joseph Palma, the Service Employees say.
Hering would still be alive, even with a debilitating disease. Take away the ACA's protections—such as barring insurers from rejecting sick people (Palma) or banning insurers' lifetime caps on how much they'd pay for care (Hagberg)—and both in all likelihood would be dead from their multiple ills because they couldn't get care at all.
So SEIU, which has a million health care workers among its two million members, brought the stories of Hagberg, Hering, Palma, and other health care workers and patients to the U.S. Supreme Court in a friend-of-the-court brief filed before the justices'  Nov. 10 hearing on the future of the Affordable Care Act.
Their point: To get the justices, especially the court's six-person GOP-named right-wing majority, out of their legal ivory tower and consider the benefits the comprehensive Obama-era health care law gives to hard-working regular people.
Like other briefs defending and attacking the law, SEIU's makes key legal points in the case.  One is that Texas and other red states trying to get the justices to toss the ACA out don't have a legal leg to stand on because states aren't physical people, who are hurt if it dies
Another is Congress specifically said if the law's tax provision is dropped, that doesn't invalidate the whole ACA. The tax provision is still in the law, SEIU notes, though the 2017 GOP tax cut for the rich changed the tax on people who refuse to buy health insurance to zero.
The attackers, led by Texas and other "red" states, say that no tax equals no law, because the ACA was constitutional in the first place only because it had that $700 per person yearly tax on people who didn't buy insurance. The money was supposed to help defray the costs of covering the uninsured.
Before the states sued, the then-ruling House Republicans voted at least 60 times since its 2010 passage to kill the ACA without replacing it, thus throwing consumers and the country back into the hands of rapacious, venal, and greedy private insurers in a health care system that unions say "puts profits before people." They lost that repeal in a dramatic Senate vote.
So the Republicans turned to right-wing federal judges in deep-red Texas and the federal appeals court in New Orleans to outlaw the law, SEIU said. "In the final analysis, plaintiffs' [the red states'] arguments are an effort to win in this court the policy battle ACA's opponents lost in Congress. But making law contrary to the will of Congress is not this court's role," SEIU's brief says, deadpan.
The GOP Donald Trump regime joined the Republican-run states in demanding the justices outlaw the ACA and will join those AGs in arguing that to the justices. Repeal is part of Trump's four-year-long hate campaign against his predecessor, Democrat Barack Obama. Racist Trump hates Obama, who is Black. So Trump's spent his whole term destroying Obama's gains—such as the ACA–for the country as a whole and for workers in particular.
Defenders of the ACA, led by California and joined by the House Democrats as a group, argue for keeping the law and for "severing" the tax provision from the rest of it. A wide range of health care groups has joined them in the fight, filing friend-of-the-court briefs.
So have SEIU and, in another brief, both teachers' unions, AFSCME, the Coalition of Labor Union Women, Planned Parenthood, the National Partnership for Women and Families, the National Women's Law Center, and the National Abortion Rights Action League. But the key point for SEIU is how the ACA helps low-income people like Hering.
"Access to affordable healthcare allows people to successfully manage potentially disabling conditions and become contributing members of society," the union says of Hering's health. After being diagnosed with multiple sclerosis in 2007, "a potentially disabling chronic illness," she was still able to work because she doesn't exhibit any symptoms.
That way, "she can support herself," even on only $15.50 an hour, the union adds.
"To remain asymptomatic, however, Hering requires ongoing medical care, including daily medication and regular appointments with her neurologist." With the low pay she gets, "managing her condition would be prohibitively expensive without insurance."
Obama's ACA has federal subsidies to help people like Hering pay for health insurance. If the justices toss out the ACA, they toss out the subsidies, too.
"My health insurance is $800 a month. I make $2,000 a month. My rent is $1,600. That's negative $200. I'm not willing to live in my car, so I'd pay rent before I'd pay [for] health insurance," she told SEIU. The union added: " Even if she started making more money, insurance companies might refuse to cover Hering because of her preexisting condition," multiple sclerosis.
Take away the ACA and the subsidy, and Hering believes that without insurance and thus without care her MS will deteriorate and she won't be able to work anymore.  "I'm fully able as long as I have medical care. Preexisting conditions don't mean someone is unable to work, but in many diseases such as mine, unsupported it will become a problem. We will become wards of the state and a burden to society," Hering told SEIU.
"People will get sick and die if the ACA falls," SEIU bluntly told the justices. "The ACA provided millions of Americans with affordable health insurance, implemented critical reforms to the individual insurance market, and improved the quality of healthcare in the United States." And the Obama-era law not only opened access to health care, but it also put a financial floor under health care providers while "saving countless lives."
Between federal subsidies for people like Hering and its expansion of Medicaid to more people—an expansion Texas and other red states refuse to accept—the number of uninsured in the U.S. fell from 48 million people before the law was passed to 28.6 million now. And that smaller group includes, though SEIU didn't say so, all 10.5 million-11 million undocumented people. One line in the massive law bars the ACA for people without papers.
Before the ACA passed, insurers were free to discriminate against, or bar coverage from, other groups of people, SEIU noted. Though SEIU didn't say so, insurers called pregnancy a "pre-existing condition" and barred coverage for pregnant women, charged them higher premiums, and/or limited how much they would pay for care, all to make profits.
AFSCME, the Teachers (AFT), the National Education Association, and their allies did. "One critical purpose of the ACA was to ensure that women's health care needs are met. But the ACA's protections against sex discrimination in health care and health insurance apply to all, including transgender and gender non-conforming individuals," their brief said.
"Congress enacted the ACA in the wake of growing recognition that entrenched health insurance practices systematically discriminated against women and thus left many—particularly women of color—without access to necessary care and treatment."
"Before the ACA, insurers in the individual market excluded coverage, or required substantial out-of-pocket payments, for essential women's health services such as maternity care and mammograms, while charging women higher premiums based solely on their sex. Insurers also denied coverage to many women based on common medical conditions and procedures, such as pregnancy or prior cesarean delivery. And insurers imposed lifetime coverage limits that left women and their families…unable to obtain necessary coverage."
SEIU listed other groups that suffered at the hands of the private insurers: "Lesbian, gay, and bisexual adults, the unemployed, low-income workers, justice-involved Individuals"—legalese for people, mostly of color, caught in the criminal justice system—"homeless individuals, noncitizens, people living in households with mixed immigration status, migrant and seasonal agricultural workers, early retirees, veterans, and people with disabilities, substance use disorders, HIV, diabetes, cancer, and cardiovascular disease."
Now all can get coverage, at reasonable rates through the ACA's exchanges, Medicaid, and even insurers, SEIU said. Take away the ACA, it told the court and you take away their coverage, too. But Palma, one of the patients the union quoted, summed it up best. "All you will do by getting rid of the ACA is kill more people," he said. "It is better to pay for health than for death."