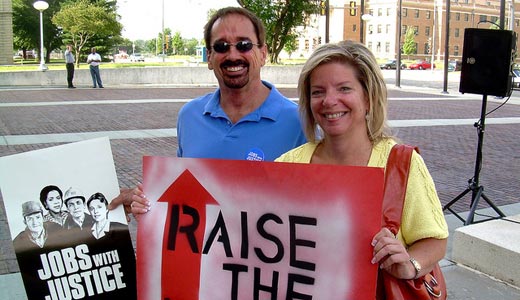 WASHINGTON – The Service Employees and Jobs With Justice joined a last-minute campaign to get Congress to raise the minimum wage. Backers are staging rallies for the hike in cities nationwide on July 23-24.
"The 99 percent need a raise," union President Mary Kay Henry declared in an email blast sent July 17.
The two groups, and a few other organizations, formed 99uniting.org earlier this year to campaign for both raising the federal minimum wage and for more corporate accountability. Sites and details of the July 23-24 events are on 99uniting's website.
The federal minimum wage of $7.25 an hour was last raised during the anti-worker GOP Bush government. Some 18 states – the latest was Rhode Island last month – now have minimums higher than the federal level.
Several Democratic lawmakers introduced bills to raise the minimum wage and then index it to inflation. Senate Labor Committee Chairman Tom Harkin, D-Iowa, includes the hike and indexing in his comprehensive jobs creation package, but that legislation is expected to go nowhere. That doesn't faze Henry, or her allies.
"Join with us for our Rise Up Summer, and together we can put more money in the hands of the 99 percent," Henry challenged web readers, presenting a petition to sign. "Putting more money into the pockets of ordinary Americans would give a much-needed boost to our economy. Small businesses would grow and hire, and we'd put the 99 percent back to work," she said.
Henry explained a minimum wage worker now grosses $15,080 a year, $9,000 below the federal poverty line for a family of four. Engaging in an apt comparison with CEO pay, she added: "We get $7.25. They get 725 percent; the federal minimum wage hasn't kept up with inflation, but CEO pay has risen 725 percent over the last 30 years.
"We've got some catching up to do: If the federal minimum wage had kept up with inflation over the past 40 years, it would currently be at $10.55. People who work for a living should be able to live off of their wages."
Besides a June 23 rally in the D.C. suburb of Silver Spring, pro-minimum wage rallies on the 24th will be in Los Angeles (Inglewood), Chicago's Loop, Minneapolis (in front of GOP Rep. John Kline's office), St. Louis, Cleveland, Portland, Ore., Peoria, Detroit (Southgate), Pittsburgh and Kansas City, outside GOP Sen. Roy Blunt's office, among other sites.
Photo: Demonstrators at a Jobs with Justice rally. Sign reads "Raise the minimum wage." Jobs with Justice // CC 2.0