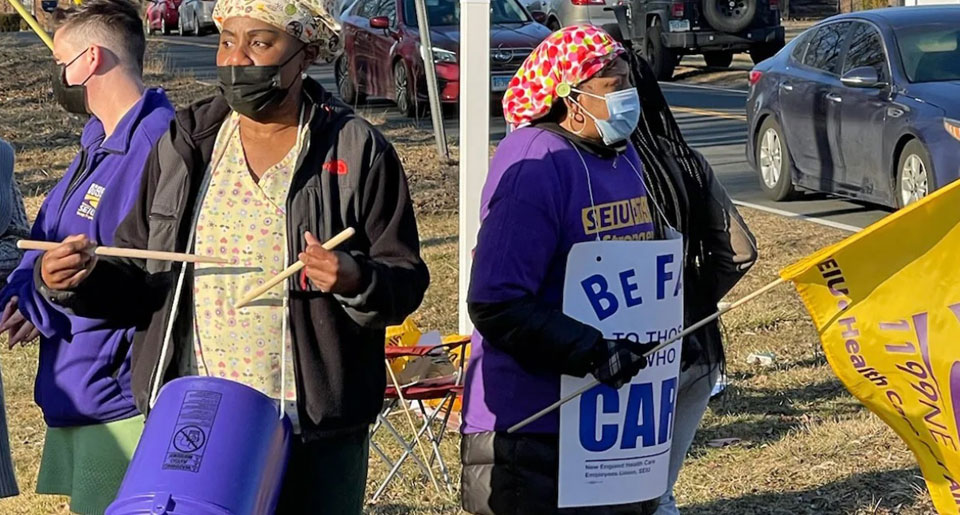 WASHINGTON —Nursing home workers nationwide demonstrated in 12 states on June 8 for quality care for their patients, better pay on the job, and safe staffing in the facilities. The campaign, organized by the Service Employees, emphasized the workers are undervalued for the care they give.
"On June 8th, nursing home workers across the country are coming together to demand good union jobs and quality care," their lead tweet read. "70% of nursing homes are for-profit institutions and yet the majority of nursing home workers make only $14 an hour? Something doesn't add up.
"This is just the beginning," it warned. "Nursing home workers and residents are fighting for quality care, safe staffing, and the choice to join a union.  We are demanding that nursing homes and elected officials: Respect Us, Protect Us, Pay Us."
Campaigns occurred in California, Connecticut, Florida, Missouri, New Jersey, New York, Ohio, Oregon, Pennsylvania, Washington, and West Virginia.
Federal data show health care workers as a class are some of the lowest-paid, most-exploited in the country. They're also a high proportion of victims of workplace violence, as frustrated families or mentally ill patients hit them or worse.
Legislation is pending in the House, with National Nurses United leading union lobbying, to order the Occupational Safety and Health Administration to write a rule forcing health care bosses to draft and implement plans to protect their workers against such violence.
Nursing homes alone employed 1.35 million workers in May, the Bureau of Labor Statistics reported. Related facilities—for residential mental health care, community care, and other care services—employed 1.64 million more. But they're among the nation's lowest-paid workers, BLS added: Education and health care workers as a class earned $936 weekly, a number pushed upwards by the significantly higher pay for teachers.
The coronavirus pandemic only made a bad situation worse, one nursing home worker tweeted: "We have worked tirelessly through the pandemic. Juggling our personal health and our families to take care of others. Nursing home corporations have continued to profit while putting workers and residents at risk. It's past time to: Respect Us. Protect Us. Pay Us."
"I am here to fight for family: My residents, who are my adopted parents and grandparents, my coworkers, and finally, my union family. Together, we can make better nursing homes now." nursing home worker Karen Hipple said on a video on SEIU's website.
The union said nursing home workers have identified common demands nationwide: Safe staffing, unions for all, and quality, affordable care for residents. Besides the June 8 mobilizations, they plan lobbying and "investment aimed at reaching federal regulators, state officials, and nursing home employers directly" to demand action.
"Nursing home workers from coast to coast are united in our demands for nothing short of transformation in our nation's nursing home industry, which starts with listening to the residents and workers like me who care for them," New York LPN Gloria Reed told the union.
"While our country tries to move on from COVID-19, our pain from these past few years remains. We've lost friends, coworkers and residents we care about. To make matters worse, we're still overworked, underpaid, and under-appreciated. Now is the time for action. We refuse to wait any longer."
SEIU President Mary Kay Henry said the burden of nursing home care, and bosses' exploitation, falls disproportionately on women of color. And bosses care so little that workers are leaving the profession in droves, even as demand for care increases as the population ages, Henry warned.
"The status quo in our nursing homes is not working—not for workers, residents, or for families. As the nation looks to move past COVID-19, nursing home workers and residents are facing a system on the brink of collapse," added Henry.