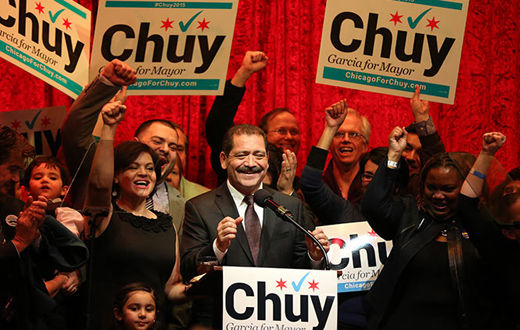 One of Chicago's most influential labor groups took a stand Sunday in support of the candidacy of Jesus Garcia, the Cook County commissioner who is challenging Mayor Rahm Emanuel's bid for a second term.
Charging that Emanuel has eliminated many good jobs and outsourced others to companies that slash wages, SEIU Local 1 President Tom Balanoff pledged the support of the union's Illinois State Council which represents 150,000 janitors, home care and child care providers, security guards, public employees, and social service workers.
The endorsement is expected to bring both financial and "people power" resources to the challenger's campaign. With tens of thousands of Chicago members, SEIU has a seasoned activist corps whose purple shirts stand out on the city's picket lines, at immigrant right protests, low wage worker campaigns and impressive get-out-the vote activities.
"While our rank and file members can't match the tens of millions of dollars that Emanuel's friends are funneling into his campaign, our volunteerism and our votes can make a real difference," Balanoff pledged.
The union's State Council had declined to make an endorsement before the first round of voting, Feb. 24. At that time, many observers expected the incumbent mayor, fortified with a $30 million campaign fund, to sail to victory without a run-off. But Garcia's unexpectedly strong outcome – 34% – seems to have encouraged SEIU to throw its lot in with other major Chicago unions, including the 30,000-member Chicago Federation of Teachers, the two ATU locals representing the city's bus and train operators, 10,000-member Teamsters Local 743, Steelworkers, UE and Workers United.
Balanoff told the Chicago Sun Times, "Among membership, there was never support to endorse Rahm." During Emanuel's first year in office, 400 union janitors lost their jobs at O'Hare Airport when his administration switched the window-washing contract to a non-union company.
But union endorsements have not been a slam dunk for Garcia, the progressive candidate. In a city with a long history of patronage, many labor leaders find themselves between a rock and a hard place; their members' welfare seems to depend on the benevolence of an administration with the power to cut jobs, health care, and pensions, contract out union work, withhold new construction projects, and, as any boss can do, make life miserable for the work force.
Nevertheless, for the first time in Chicago electoral history, the Chicago Federation of Labor declined to endorse an incumbent in this year's mayoral race despite a strong push in that direction from the city's building trades. The Building Trades represent construction workers not only in the city's workforce, but also in skilled trades in what is materializing this Spring as a long-hoped-for construction boom.
SEIU's support comes as the latest in a string of endorsement gains for Garcia this week. Last Sunday, West-Side Congressman Danny Davis endorsed Garcia. On Monday a group of South Side African American ministers brought together by Rev. Jesse Jackson lent their support. Citing 50 closed schools and neighborhoods replete with vacant lots but no grocery stores, Jackson said, "We are tired of this," then added, "Chuy has the consistent track record of service to become mayor of Chicago." On Thursday, Willie Wilson, who came in third after Garcia with 10 percent of the Feb. 24 vote total, declared, "Chuy Garcia is the only candidate in this race we can trust to put the needs of Chicago communities first."
Photo: AP