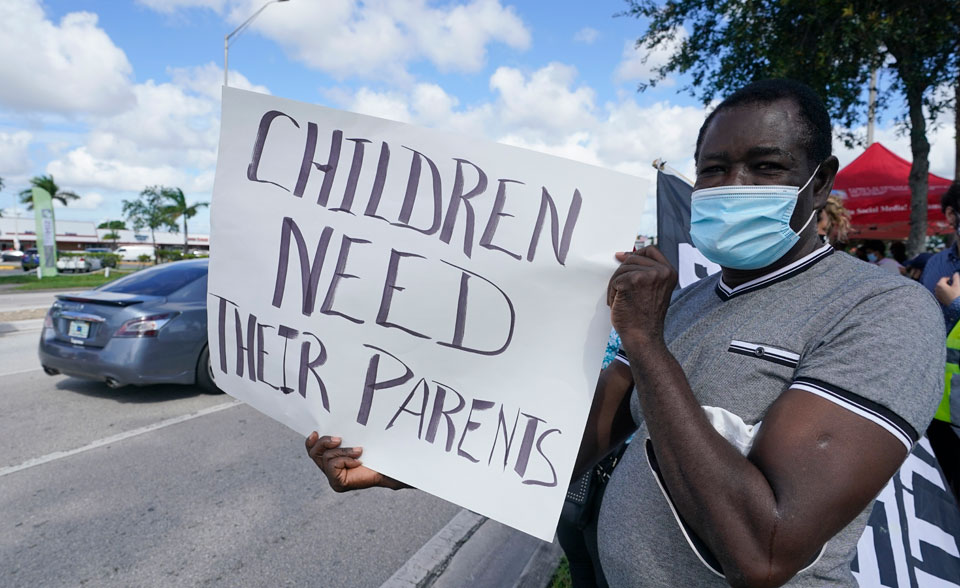 WASHINGTON—Pro-migrant advocates, including Service Employees President Mary Kay Henry, hailed Democratic President Joe Biden's decision to reverse a Trump-era expulsion order, which will now allow up to 150,000 Haitians who fled natural disasters and the Caribbean nation's continuing crises can stay in the U.S. Now they want Biden to take the next steps, too.
Those next steps, they said in a May 24 press conference, include keeping Temporary Protected Status coverage for at least 410,000 TPS migrants, total, whom former GOP Oval Office occupant Donald Trump schemed to toss out of the country. Those migrants, many of whom have lived here legally for decades, are mostly people of color.
And then there should be comprehensive immigration reform, legalizing TPS cardholders, Dreamers, political refugees and asylum seekers, and undocumented people, Henry said. That includes a path to citizenship, speakers added.
"It's time for our elected leaders to answer the call: All immigrants, all workers must be respected, protected, and paid," Henry declared.
The top lawmaker speaking, Senate Majority Leader Charles Schumer, D-N.Y., agreed, pledging to push for that, despite expected GOP opposition. Biden agrees, too.
That's not necessarily the case with the Haitians and other TPS card-holders. They must keep renewing their papers, paying fees each time. And if the U.S. government takes take their nations off the TPS list, the migrants can be tossed out of the U.S. on short notice.
Catering to his white nationalist and nativist base, the corporate class, and their GOP puppets, that's what Trump wanted. Lawsuits and court decrees stopped him. But the TPS program for Haitians in the U.S. was due to expire. Biden instead extended it for 18 months.
"Racism and bigotry" was why Trump wanted to force the migrants out, said another speaker, Wade Henderson, acting executive director of the Leadership Conference on Civil and Human Rights. "It was an act of bigotry—pure, plain, and simple," added Schumer.
Unions, including Henry's SEIU and a five-union coalition headed by Painters President Ken Rigmaiden, have campaigned for years for permanent protection for TPS cardholders and their families, plus comprehensive reform. Henry and the other advocates pushed both causes in their May 24 press conference. TPS allows, with the payments, residence to continue, but not citizenship.
The Haitian "health care providers in our union are jumping for joy" at Biden's decision, said Henry. "We need to continue" to advocate for TPS cardholders not just from Haiti but from Central America, Mauritania, Yemen, Syria, and elsewhere.
"Many of our Haitian members and their families will be able to remain here safely and be non-deportable," she explained. "Haiti is still recovering from natural disasters" including hurricanes "and a continuing political crisis."
Without Biden's decision, infamous Immigration and Customs Enforcement (ICE) raids, sometimes literally snatching Haitians and other TPS recipients on their way to work or shopping and putting them on flights to their native lands—without checking their papers or their coronavirus status—would continue to occur, she noted.
"ICE, a rogue and unaccountable agency, continued to carry out raids targeting Haitians," added another press conference speaker, Rep. Ayanna Pressley, D-Mass. Her district, which includes much of Boston, is home to the third-largest Haitian community in the U.S., including permanent residents, citizens, and TPS recipients.
Rigmaiden, who was unable to join the press conference, has led the coalition to keep TPS recipients in the U.S. because his union, like the four others, has a high proportion of TPS-cardholders. He's estimated it at 30%.
"These decisions affect our sisters and brothers who are leaders in their communities, hard workers in their professions, and loving members of their families," the Painters say on their website. "Many TPS holders, particularly from Central America, have lived, worked, and been part of our communities for nearly two decades."
Labor's Council for Latin American Advancement, the AFL-CIO constituency group for Latino/Latina and Haitian workers, also hailed the Biden move, announced by Homeland Security Secretary Alejandro Majorkas. His department runs TPS. It also runs ICE.
The public outcry coupled with concerns over human rights abuses and the crippling impact the coronavirus has had on Haiti proves we must continue fighting for those facing injustices," LCLAA said.
"In addition, we urge the Biden administration to ensure TPS for other nationals at risk of deportation and seeking refuge, opportunities, and family reunification in the United States. Finally, this is also a call for Congress to provide a clear path to citizenship for the nearly 11 million undocumented people."
"This decision comes after constant pressure and movement building from organizations like the Haitian Bridge Alliance, UndocuBlack Network, and other Black immigrant led organizations who have seen firsthand the suffering of thousands of people who are deported to Haiti every single day," said Erika Andiola, chief advocacy officer for the Arizona-based Refugee and Immigrant Center for Education and Legal Services."
Her organization has "seen the consequences of inaction for our clients."