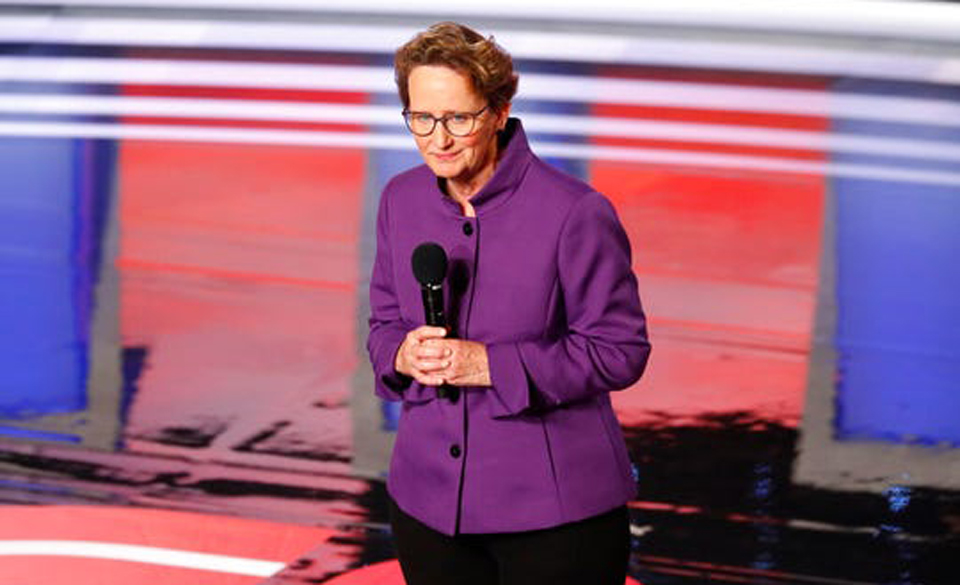 WASHINGTON—The Service Employees have launched a $150 million political registration and organizing drive, from now through November's election, to mobilize hundreds of thousands of new voters, get them to the polls and – not so incidentally – defeat anti-worker GOP President Donald Trump.
The drive, disclosed by the Associated Press on Feb. 27, was confirmed by a memo from union Political Director Maria Peralta sent to Press Associates Union News Service and other "interested parties." It actually started in January, the memo says.
To put the sum in perspective, spending $150 million on just this effort in key battleground states would be ten times as much as the $14.476 million the international union alone spent on all candidates and ads in the 2016 presidential election, according to OpenSecrets.org. That doesn't count spending by SEIU locals, regional councils and other affiliates.
In her memo, entitled "SEIU plan to turn the country around in 2020," Peralta explained the union is jumping in because "the top-tier candidates have released the most ambitious labor plans in a generation, tackling the issue of diminished worker power head-on," and the union wants to build on both their ideas and the successes of its "Fight for $15 and a union" drive among low-income workers nationwide.
And while Peralta does not mention defeating Trump in those words, her memo declares the union's top objective is "to ensure we elect a president who will be a champion for working people."
That's not Trump, SEIU President Mary Kay Henry, a Democratic national platform committee member according to the memo, told AP.
"He's systematically unwinding and attacking unions. Federal workers' rights have been totally eviscerated under his watch. We are on fire about the rules being rigged against us and needing to elect people that are going to stand with workers," Henry said.
The drive emphasizes reaching out to and campaigning among workers of color. Two-million-member SEIU is majority-female and has a high proportion of members of color.
"Motivating and turning out infrequent voters in communities of color, particularly in the Midwest, is key to how we win back power for working people," Peralta's memo says. Trump won the 2016 election by breaking through the "blue wall" around the Great Lakes, narrowly capturing Wisconsin, Michigan, Ohio, and Pennsylvania and narrowly losing Minnesota.
Those states, plus Florida, gave him electoral votes he needed to win the White House.
"Outreach to Black voters in Detroit and Milwaukee has already begun, building on the work done to elect" Michigan Democratic Governor "Gretchen Whitmer and" Wisconsin Democratic Governor "Tony Evers" in 2018. Evers unseated the nation's most-union-hating GOP Governor, Scott Walker. Whitmer, a teachers union member and political veteran, won an open GOP-held seat.
"We will be working closely with Hmong and Somali communities in Minnesota through our Member Political Organizer program," the memo continued. "In Wisconsin, Colorado, Florida, Virginia, Pennsylvania, and Nevada we will have outreach programs to Latinx voters. Nevada and Pennsylvania will have programs focused on Asian-Pacific Islander voters. Programs will reach voters in as many as five different languages where appropriate."
Overall, SEIU's goal is to have troops on the ground in at least 40 states, while concentrating on eight key swing states: The six with the outreach programs, plus Michigan and Minnesota. Peralta emphasizes members – not Henry – will drive the political program.
She also says the overall program goal is to contact six million individual voters, all of them at least five times. That includes 20 million voter texts, one million individualized digital ads and through at least 30,000 volunteers. Other than the digital ads, the union will spend little on advertising and plow its funds into boots on the ground.
The union's already gotten a head start in Florida, with 500,000 texts, and Detroit and Flint, Mich., with 70,000 more. Volunteers have already knocked on 251,000 doors in the swing states of Wisconsin and Michigan, combined.
The point, Peralta said, is to get infrequent voters, especially voters of color, registered, mobilized and to the polls. It also may, though, she did not say so, overcome GOP voter suppression, including a purge of 200,000 African-Americans from Wisconsin voting rolls.
SEIU also will urge voters to pay attention to down-ballot offices in addition to the presidential race. That's particularly important this year: Voters will elect state legislators who will redraw congressional state legislative district lines in 2021 that cover the following decade.
With labor concentrating on Congress a decade ago, the GOP off-year sweep of governors and legislatures let them entrench political control in many if not most states – including the swing states – through massive gerrymandering. It also led to rafts of anti-worker legislation and voter suppression targeting African-Americans, Hispanic-named people, young people, the old and most importantly, workers.
SEIU does face one interesting problem, Peralta admits: The 20% of its members who consider themselves conservative. Her memo's solution, for them and everybody else: "Give them information about where the candidates stand on the issues they care about, such as supporting working people and our unions."