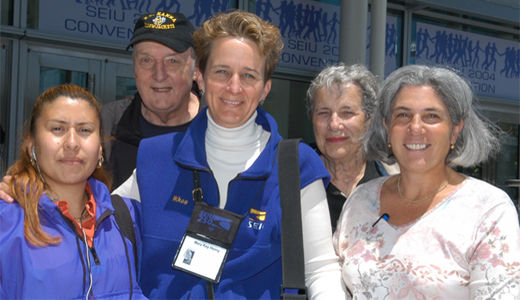 The Service Employees International Union and Unite Here, two of the nation's most influential unions, this week announced a settlement that brings to an end a dispute that has troubled the labor movement for over a year.
SEIU represents workers in health care, public services and property services while Unite Here represents workers in the hotel, hospitality, restaurant and gaming industries.
Disagreement between the two unions came to a head in early 2009 when the part of Unite Here that represents workers in the "needle trades" and laundries formed Workers United, an entity that then joined SEIU.
The leadership of Workers United was part of the old garment workers union that had merged with the hotel workers to form Unite Here in 2005.
The merger, for a variety of reasons, encountered problems and in February 2009, Unite Here President Bruce Raynor, who was about to be removed from his post, walked out with a significant portion of the membership and finances, forming the Workers United Group, which affiliated with SEIU.
A major issue has been who would get ultimate control of the Amalgamated Bank, which with $5 billion in assets, is the only union-run bank in the United States. The bank was originally set-up by the garment workers union.
Under the agreement between the SEIU and Unite Here, SEIU's Workers United gets control of the bank. Unite Here gets control of the union's 28-story office building in New York, valued at $85 million.
Unite Here will also get control of $75 million in funds the two sides have been disputing, money that had been frozen by a federal judge.
Another important part of the agreement is that SEIU has agreed that for the next 24 years it will not compete with Unite Here in the unionization of hotel and gaming workers anywhere in the U.S., Canada or Puerto Rico.
This piece of the agreement is significant for Unite Here because the hospitality and gaming industries are rapid growth industries. This leaves room for a significant growth in Unite Here's membership.
SEIU, with more than 2 million members, is already one of the nation's fastest growing unions.
While Workers United appears to have gotten the better financial deal, the trades and laundry industries it represents are seen as much slower growth industries and more difficult to organize.
Unite Here President John Wilhelm said, "I credit SEIU President Mary Kay Henry for personally devoting her energy to making this agreement."
For SEIU's Henry, it's a matter of focusing on the bigger issues.
"We cannot be spending our time fighting one another over workers who are already represented when there are far too many people who want and need a voice on the job," said SEIU's Henry. "Our resources and our attention must be put towards solutions for the crisis workers face right now."
Henry added, "There are 26 million people out of work and far too many who are facing cutbacks, layoffs, and benefit reduction. This moment calls on all of us in the American labor movement to dedicate ourselves to being part of the solution."
Photo: SEIU President Mary Kay Henry, center, with others from SEIU. (seiu.org)