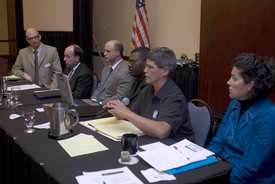 CLEVELAND — An array of labor leaders, public officials and policy experts gathered here recently to detail the promise and perils for Ohio in the transition to a clean energy, green jobs economy.
More than a hundred union members and others listened, and spoke out, as leaders including U.S. Sen. Sherrod Brown, D-Ohio, talked about the potential of green-collar jobs.
Brown, an outspoken advocate of revitalizing Ohio and its hard-hit industrial communities by adapting old-economy jobs for the emerging 21st century clean-energy economy, energized the activists gathered for the Ohio Conference on Labor in the New Energy Economy, May 18 at the Crowne Plaza City Centre Hotel.
He advocated using federal stimulus dollars coming to Ohio to help manufacturers, construction workers and other union laborers adapt their skills for "green jobs" that pay family-sustaining wages.
"The current downturn in manufacturing predates this economic crisis," Brown said. "Since 2001, more than 230,000 Ohioans have lost good-paying jobs in manufacturing. Our state and our nation have a proud manufacturing heritage, and we have an unprecedented opportunity now to restore this legacy. Clean energy will help reinvigorate U.S. manufacturing and rebuild the American middle class. Investing in clean energy manufacturing can create technologies to spur new economic development, halt climate change, and renew the promise of success to working families."
Brown is considered one of the most influential U.S. senators in the area of green technologies and the future of labor in the clean-energy economy.
The current economic crisis is a major obstacle on the path to green jobs in the new economy, warned Jeff Rickert, director of the AFL-CIO's Green Jobs Center. A strong flow of capital is needed to fund new projects in renewable energy and advanced manufacturing, Rickert said.
Throughout the daylong conference, panelists spoke about gaining the tools and knowledge they'll need to support the emerging clean energy economy. Ron Ruggiero, of the Apollo Alliance, encouraged Ohio unions to pursue a variety of avenues. "Federal resources are available for labor to train workers in clean energy practices, and there are tools to help labor develop green job apprenticeship programs," Ruggiero explained.
Others emphasized the need for unions to form partnerships with community groups and education institutions in order to provide multiple entry points to green career pathways, especially for minorities, women and others who have not historically had access to good jobs in construction and manufacturing. "Quality apprenticeship preparation programs with strong connections to labor could help Ohio's unions grow and create a strong role for labor in the new energy economy," said Shanelle Smith, the Ohio coordinator for the Apollo Alliance.
Amy Hanauer, executive director of Policy Matters Ohio, voiced appreciation to conference attendees. "It's affirming to see unions taking the lead to get workers trained for green jobs, promote smart policy, and embrace a clean energy economy,' she said. 'With the right policies, Ohio workers can get jobs manufacturing parts for renewable energy equipment, retrofitting buildings to be more sustainable, and building a green economy. After a generation of job loss, this is an infusion we need."
The Labor in the New Energy Economy conference was sponsored by Policy Matters Ohio, the Center on Wisconsin Strategy, the North Shore Federation of Labor, AFL‐CIO, and the Apollo Alliance.