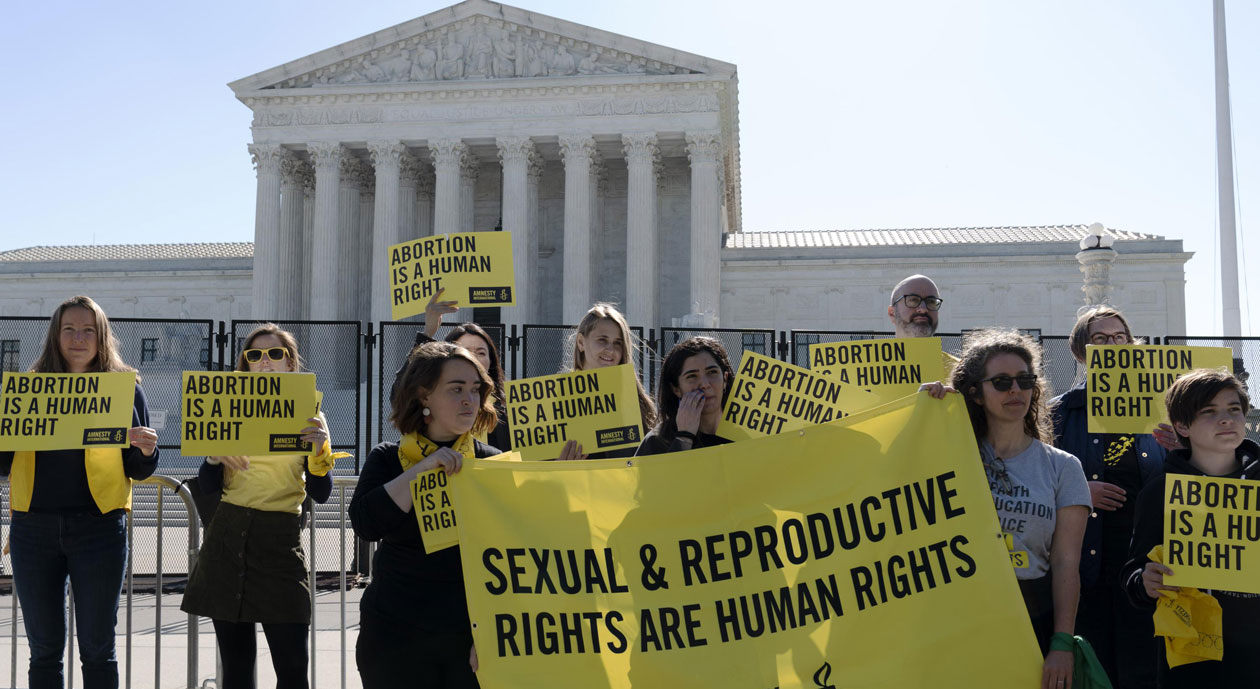 WASHINGTON—The U.S. Senate's 49-51 vote against abortion exposes, once again, the power of minority rule in the U.S.
That's because all 50 Republicans plus renegade Sen. Joe Manchin, D-W. Va., represent states with a minority of U.S. residents, no more than 30 percent of the total population of the country. The 49 Democrats and Independents who voted for women's rights represent some 70 percent of the population. The undemocratic nature of the Senate, which gives tiny white majority states the same strength, two votes in the Senate, as a state like California with 40 million people, is behind the ability to impose minority rule on the United States.
But there's a second, even more devastating piece of evidence of minority rule. That is the attempt by Republicans pushing what anti-abortionists really want, and what the five-justice Republican-named U.S. Supreme Court majority would open the way for: A total national ban on all abortions, even including those needed in cases of rape, incest and to save the life of the mother.
Public opinion favors abortion rights
The latest in-depth study, by the Pew Research Center, released May 6, shows only one religious group that has a huge proportion of people opposed to abortion in all cases: White evangelical Protestants. Who just happen to be the Republican Party's base voters.
Pew reported 21% of those white evangelicals—two and a half times the national percentage–say abortion should be illegal in all cases, and another 53% say it should be illegal in some cases, but not in others. That includes 51% of the white evangelicals who say abortion should be legal if the pregnancy threatens the life or health of the woman.
Even Catholics aren't as opposed to abortion, Pew reported—though Catholic church leaders, following Pope Paul VI's 1968 Humanae Vitae encyclical, are. And the Republicans believe their rigid anti-abortion stand appeals to Catholics, too.
Religion didn't come up in the Senate debate before the vote defeating Majority Leader Charles Schumer's try at bringing the pro-abortion rights bill, the Women's Health Protection Act, S4132, to the floor. Nor did the small state-large state split.
Women's rights—and threats to other rights from the Supreme Court's looming decision to obliterate the 49-year-old constitutional right to an abortion—did.
Didn't mention their base
Those Republicans who spoke didn't mention their base, or used older and vaguer polls than the detailed Pew survey to justify their stand. And they, and Manchin, didn't mention that another minority protection device, the filibuster, stands in the way of a vote on abortion rights, or other issues, including civil rights, election reform, gay marriage, LBGTQ+ rights, and workers' right to organize.
Sen. Tina Smith, DFL-Minn., said an abortion ban is a class issue and a citizenship issue as well as a women's issue.
"This is the result of a decades-long campaign by Republicans and their dark money donors to put anti-choice justices on the Supreme Court, to overturn Roe, and strip women of our constitutional rights," Smith told her colleagues.
"For the first time in memory, the Supreme Court is about to take away a fundamental constitutional right, and it is important Americans can see who is on their side, and who is responsible.
"This vote is about who has the power, who has the freedom to decide, when your own health, livelihood, and life are on the line."
Supreme Court Justice Samuel Alito, author of the draft opinion to obliterate the right to abortion, Senate Republican leader Mitch McConnell of Kentucky, "Senate Republicans, and radical Republican state legislators across the country believe they should have the power–-that they know better than American women, whose lives and stories they will never know," to take rights away.
"To that I say: How dare they?
"When I worked at Planned Parenthood, I saw firsthand the capacity of women to make good decisions about their health, their bodies, and their lives. To suggest otherwise is insulting to the dignity of women as full adult humans, and as equal citizens of this nation."
Sen. Tammy Duckworth, D-Ill., who is disabled from the waist down, said Alito's draft ruling, which S4132 would halt, is so broad it would outlaw in vitro fertilization, too. Duckworth and her husband used IVF so she could give birth to her two daughters, one now aged seven and the other aged four.
"Some Republicans are saying this is all a tempest in a tea pot. Don't worry, they say, all the Supreme Court is about to do is hand power back, for the states to decide on abortion. Do not believe this.  The American people deserve to know where this goes next.
"Today we are fighting on the Senate floor to preserve in law the basic protections of Roe v. Wade. But extremist Republicans have been clear: Their end goal is to secure a nationwide ban on abortion.
Not a secret
"As Sen. McConnell said, it's not a secret the Senate Republican caucus is opposed to reproductive rights. And if Senate Republicans win the majority, a nationwide ban is, quote, 'worthy of debate.' That is the post-Roe future with Republicans in charge."
Two Republicans who say they are pro-abortion rights, Alaskan Lisa Murkowski and Maine's Susan Collins, again pushed a vote on their "alternative," allegedly codifying the 1973 Roe v Wade original pro-abortion decision and its 1992 follow-up, the Casey case, into law, but that's all. They too, voted against S4132.
Just enacting their alternative would still leave open other ways for anti-abortionists to stop abortions: Picketing clinics, harassing women seeking abortions, establishing "pregnancy centers" which don't really aid women and—-at the most-extreme–fire-bombing clinics, as occurred in D.C. in 1985, and killing at least eight doctors. Doctors died in Wichita, Kansas, Colorado Springs, Colo., Amherst, N.Y., and Pensacola, Fla., among others.
The Murkowski-Collins alternative would leave in place the Hyde Amendment banning use of federal funds to pay for abortions and even if agreed to by the Democrats in the Senate, would not overcome a Republican filibuster.
Se. Smith went further in condemning Republicans. "Republican state legislators are brazenly moving forward extremist policies that go way beyond depriving women of their essential freedoms," Smith warned. "They punish and criminalize women.
"Take for example, a Missouri mother of two, facing a high-risk pregnancy, who travels to Illinois for an abortion because she is worried about being there for her existing children. Missouri Republicans want her to be labeled a felon when she returns home.
"Or take the woman in Louisiana, who has an abortion after her IUD failed and she had an unexpected pregnancy. Louisiana Republicans want her convicted of homicide.
"Or take the Texas woman, who hoped and prayed for years for a baby, only for her doctor to find a fatal fetal anomaly at 22 weeks. Texas Republicans want her to carry the pregnancy for another 18 weeks, no matter the risk to her life,"
Smith actually understated the Texas woman's dilemma.
The Republican white male-dominated state legislature passed—and the U.S. Supreme Court majority has upheld—a Texas "bounty" law criminalizing all abortions after six weeks, and putting enforcement in the hands of self-appointed vigilantes seeking $10,000 rewards for pursuing women, doctors, nurses, and even spouses and taxi drivers who take the women to clinics.
Other Republican-run states, most of them small and with Oklahoma in the lead, are already following Texas's example.
Alito's ruling, assuming it stands, and even the Collins-Murkowski bill, would let such abortion bars stand.