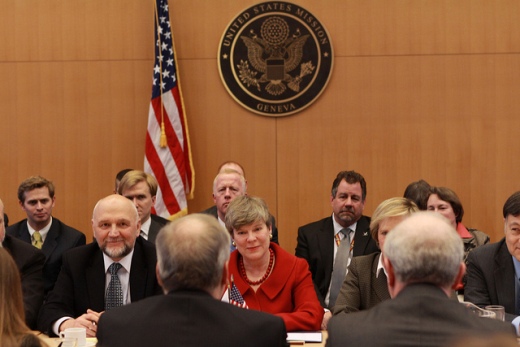 In an unusual show of bipartisan backing for an Obama administration initiative, the New START nuclear weapons reduction treaty signed by President Obama and Russian President Dmitry Medvedev earlier this year was approved by the Senate Foreign Relations Committee Sept. 16 by a vote of 14-4.
Joining the 11 Democrats on the committee were ranking Republican Senator Richard Lugar of Indiana and Republican Sens. Bob Corker of Tennessee and Johnny Isakson of Georgia.
Calling the pact "a small but necessary step toward President Obama's vision of a world free of nuclear weapons," Peace Action Communications Director Paul Kawika Martin said his organization hopes the treaty will come to the Senate floor as soon as possible, "so it can be voted on by the complete Senate with what we hope is another bipartisan showing by senators."
The committee action was accompanied by a resolution Republican committee members insisted on, stating that the treaty does not significantly limit development of missile defense systems, and is not meant to keep the U.S. from developing long-range missile systems using conventional warheads. The resolution also contains a non-binding commitment to modernize the U.S. nuclear arsenal.
Peace and disarmament groups "will continue to press Congress and the administration to take bigger, bolder steps on nuclear weapons issues," Martin said. "But we have to remember the difference between this administration and the last one, which was looking to build new, smaller nuclear weapons, wasn't supportive of the Comprehensive Test Ban Treaty, and had a nuclear posture review that clearly stated we would have no problem using nuclear weapons on non-nuclear weapons states."
Though the resolution doesn't affect the content of the treaty, it does spell out some specifics on what is covered and not covered, Martin said. "Certainly some senators want to make sure it doesn't preclude moving ahead with Star Wars, which Peace Action has opposed for a very long time."
Northern California-based Tri-Valley Communities against a Radioactive Environment (Tri-Valley CARES) and its supporters are "celebrating today because New START is in our view a very modest but important treaty," said executive director Marylia Kelley.
Kelley emphasized the importance of the treaty's reinstatement of important verification measures that had lapsed when the previous arms reduction treaty expired. With the U.S. and Russia possessing 90 percent of the world's nuclear arms, she said, it is significant that the agreement commits the two countries to "modest but important" cuts in their arsenals.
But even assuming the pact is ratified, she said, New START "is not in and of itself the global nuclear disarmament that Tri-Valley CAREs seeks." Noting the "ominous cloud of new nuclear weapons spending that hangs over today's committee vote," Kelley added, "There is no technical linkage between New START and new bomb plants. That's strictly a political artifact. Given that, we're calling on Congress to delink them."
New START would limit each country to no more than 1,550 deployed strategic warheads and 800 deployed and non-deployed delivery vehicles. It also streamlines and updates verification provisions, including inspections, to assure each country that the other is complying with the treaty's limits.
New START replaces the 1991 START I treaty which expired late last year. Both countries must ratify it before it goes into effect. Observers predict the full Senate will probably take up the treaty after the Nov. 2 elections. A two-thirds vote is required for approval. Ratification by Russia's parliament is anticipated.
Photo: Head of U.S. delegation Rose Gottemoeller, center, U.S. assistant secretary of State for Verification, Compliance, and Implementation, meets with Russian Ambassador Anatoly Antonov, director of the Department of Security and Disarmament Affairs, at the closing plenary of the New START negotiations on April 9, 2010, in Geneva, Switzerland. (Eric Bridiers/UN Mission)